Arunmozhinangai
From Tamil Wiki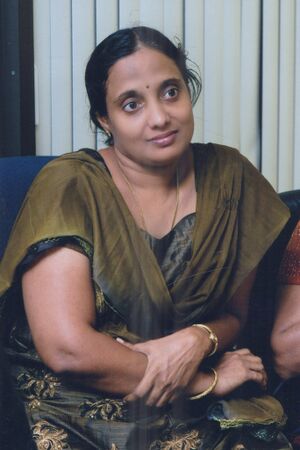 இந்தப் பக்கத்தை தமிழில் வாசிக்க: அருண்மொழிநங்கை ‎

Arunmozhinangai (March 6, 1970) is a critic and writer. Arunmozhinangai received recognition widely for writing biographical articles in literary standards on her blog. Collection of these articles was published as a book titled 'Pani Uruguvathillai' (Snow does not melt).
Birth, Education
Arunmozhinangai was born on March 6, 1970 to Sargunam and Saroja. Her native place is Pullamangalam village near Thiruvarur in Tanjore district. Both her parents were teachers. Her paternal grandfather Ramachandran Pillai was also a teacher and received the Best Teacher award.
Literature and music were introduced to Arunmozhinangai at a very young age. Arunmozhinangai finished her primary education at Alathur and Madukkur, high and higher secondary educations at Savithri Vidyalaya school in Trichy, and completed her Bachelor's degree from Madurai Agricultural College.
Private Life
Arunmozhinangai married writer Jeyamohan on August 8, 1991. Theirs was a love marriage and they have two children: Ajithan and Chaidhanya. Arunmozhinangai joined the Indian postal service at head post office in Tirupattur in 1993. Later Arunmozhinangai worked at Dharmapuri, Nallampalli, Thuckalay, Mulagumoodu and Asaripallam, and took voluntary retirement in 2018.
Literary Life
Arunmozhinangai is an avid follower of music and literature. Arunmozhinangai loves traveling. Arunmozhinangai has visited Europe, America, Japan, Australia, Malaysia and Singapore. She also takes up traveling within India on an annual basis.
Arunmozhinangai's literary icons are Pudhumaipithan, Ashokamitran, Sundara Ramaswamy, Jayakanthan and A. Muthulingam in Tamil, among Indian writers Vaikom Muhammad Basheer, S.L. Bhyrappa, Kota Shivarama Karanth, Tarashankar Banerjee and Atin Bandyopadhyay and from world literature Leo Tolstoy, Fyodor Dostoevsky, Nikos Kazantzakis, Hermann Hesse and Gabriel García Márquez. Above all she feels closer to writer Jeyamohan.
Literary Significance
Arunozhinangai has translated for Subamangala and Solputhithu magazines the stories of female writers such as Isak Dinesen (Karen Blixen) and articles from psychologists such as Richard Restak. Arunozhinangai's literary appreciation on Sundara Ramaswamy's 'Kuzhanthaikal Penkal Angal' (Children, Women, Men) and Neela Pathamanabhan's 'Pallikondapuram novels were published in literary magazines. Sundara Ramaswamy had noted the article as 'the entry of a new writer'. Arunozhinangai did not pursue further writing after these for long. She started writing again after her voluntary retirement from the Postal Department. Arunozhinangai has written critiques on contemporary novels such as M. Naveen's Peychi, Suneel Krishnan's Neelakandam and Nikos Kazantzakis' 'Zorba the Greek'.
Reminiscing on her youth she has written a collection of blog posts which were well received by readers. They were considered a new type of feminine writing in Tamil and also known as a literary work dense with information. They were published as book under the title 'Pani Uruguvathillai. Arunozhinangai continues to write about music in her blog.
Books
References
Links
Videos of Arunmozhinangai's speeches:
‎
---
✅Finalised Page