Sundara Ramaswamy
From Tamil Wiki
இந்தப் பக்கத்தை தமிழில் வாசிக்க: சுந்தர ராமசாமி ‎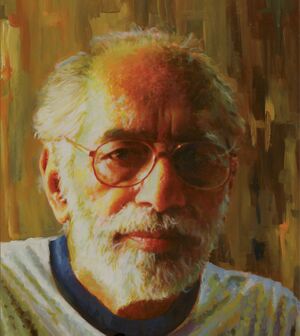 Sundara Ramaswamy (May 30, 1931 - October 14, 2005) was one of the most important writers of modern Tamil literature. He made significant contributions to Tamil fiction, poetry, and literary criticism. He wrote poetry under the name Pasuvaiyya and founded the literary magazine Kalachuvadu.
Sundara Ramaswamy was one of the forerunners and foremost representatives of the 'little magazine' movement that constituted the avant garde in Tamil literature for forty years starting from the 1950s. He was a proponent of pure literature as an alternative to the popular and political writing of that era. He was the convener of a literary gathering called Kaagangal (Crows). He taught the basics and norms of literature to the next generation through literary dialogue. Following K.N. Subramanyam (popularly known as Ka.Naa.Su), he became a central figure in the tradition of aesthetics centered on Tamil modern literature. He wrote realistic fiction with modernist aesthetics. He had a unique language - pithy, witty, and sparkling with modern poetic sensibility. In modern Tamil literature, there exists a tradition that can be identified as the Sundara Ramaswamy School of Thought.
Personal life
Sundara Ramaswamy was born in his mother's hometown, at the Thazhuviyar Mahadeval Koil Agraharam, in the village of Oluginassery near Nagercoil. At that time Nagercoil was part of the princely state of Travancore. Sundara Ramaswamy's mother was interested in literature from a young age. She was related to the founder of the Dinamalar newspaper, T.V.Ramasubbiar. In their youth, they wrote and circulated handwritten magazines. Sundara Ramaswamy developed an interest in literature from his mother. He shared his literary interests with his mother till the end of her life.
Sundara Ramaswamy's father Sundaram Iyer traded in Kottayam as an agent for the Burma Shell Company. Sundara Ramaswamy grew up in Kottayam until the age of eight. When World War II broke out in 1939, Sundara Ramaswamy's family moved to Nagercoil. Sundara Ramaswamy continued to maintain his links with Kottayam. His novels, including JJ Sila Kurippugal (JJ: Some Jottings) and Kuzhandaigal Pengal Aangal (Children, Women, Men) contain illustrations of his Kottayam life. In his old age he managed to locate the Kottayam home where he had grown up, news about this was published in Malayalam Manorama.
Sundara Ramaswamy's father opened a cloth store in Nagercoil with the help of a relative. It later became known as the Sudarshan Cloth Store. Even while his father was alive, Sundara Ramaswamy took charge of it and ran the business successfully. He expanded the house built by Sundaram Iyer in the Ramavarmapuram area on the Kottar Parvathipuram Road and lived there till his last days.
Sundara Ramaswamy did not have formal schooling. He was diagnosed with arthritis in the sixth grade. The resulting cardiovascular weakness was with him for the rest of his life. Through his childhood, he lay confined to bed for may years, and was eventually cured by an exercise regimen prescribed by a doctor - his mother's friend's son. Vignettes of this period of his life can be seen in his short stories like Jannal (Window). In school, Sundara Ramaswamy learned Malayalam and Sanskrit. He learned Tamil from his mother. His writing record indicates that he was not proficient in Tamil till the age of eighteen. In his teens, he regained enough health to be on his school's football team.
Significant political changes took place during his adolescent years. India gained independence when he was sixteen. He bore witness to India's freedom struggle and had seen the freedom fighters of Nagercoil like MV Naidu and Theroor Sivanpillai up close. In 1956, when the states of India were divided up along the lines of language, there were campaigns undertaken in Kanyakumari district to enjoin it with the state of Tamil Nadu. Sundara Ramaswamy had observed these movements closely. He was good friends with Kodikkal Chellappa (later Kodikkal Abdullah) who was involved in these efforts. These observations later made their way into his novel, Oru Puliyamarathin Kadhai (Tale Of A Tamarind Tree).
In the 1950s Sundara Ramaswamy met Azhagiya Nambi, who was writing under the pseudonym Krishnan Nambi. They became close friends and were known as literary twins. Their alliance continued for twenty-five years until Krishnan Nambi's death in 1974.
Sundara Ramaswamy married young. His wife Kamala hailed from Thirukkannakudi. He had three daughters, Soundara, Thaila, and Thangu, and a son, Sundaram Kannan. At present, Sundaram Kannan is the publisher of the Kalachuvadu magazine. He also runs a publishing house by the same name.
Literary life
Sundara Ramaswamy first began reading in Malayalam. One of his early influences was the weekly Kaumudi that came out from Thiruvananthapuram. Sundara Ramaswamy's language was influenced directly by Kaumudi Balakrishnan (K. Balakrishnan). His other influences include M. Govindan and C.J. Thomas.
At the age of seventeen he was drawn to modern Tamil literature through Vallikkannan's pamphlet Koyilai Poottungal (Lock the Temple). Through the writings of Vallikkannan and Tho.Mu.Si. Raghunadhan, he got acquainted with the work of Pudhumaipithan. Ku. Azhagirisami also became known to him at the same time, but he was obsessed with Pudhumaipithan. In 1951, at the age of nineteen, he solicited articles from many important personalities about Pudhumaipithan and published a volume of writings in his memory. The story Mudhalum Mudivum (The Beginning And The End) published in that memorial volume was his first story.
Sundara Ramaswamy was introduced to the Communist leader Pa. Jeevanandam through a journalist and a left-wing activist from Nagarcoil called C.P. Ilango. He became a supporter of the Communist Party and became acquainted with the prominent Party workers in Nagarcoil at that time including Stephen Raj, Pa. Vilasam, Nattalam Soman Nair, and D. Mani. His interest in Communism brought him close to the Progressive Writers Movement. In the 1950s, Sundara Ramaswamy, Jeyakanthan, and G. Nagarajan were known as the faces of the Progressive Writers Movement.
Sundara Ramaswamy's earliest short stories were published in a left-wing magazine called Santhi (published between 1954-56), edited by Tho.Mu.Si. Raghunadhan. In 1954, his short story Thanneer (Water) published in Santhi qualified first in a short story competition. He also published continuously in a magazine called Saraswati brought out by V. Vijayabhaskaran (published between 1955-62), alongside Jeyakanthan. It was in Saraswati that his first novel Oru Puliyamarathin Kadhai was first serialized. However, Saraswati shut down before the novel could be fully serialized. Sundara Ramaswamy eventually published the novel as a book in 1966. Before Oru Puliyamarathin Kadhai (Tale Of A Tamarind Tree), Sundara Ramaswamy had attempted writing a novel about a murder at the Cholamandalam Arts Village in Chennai, instituted by K.C.S. Panikkar. However the novel was never completed and the author is known to have destroyed the manuscript.
In 1956, the anti-Communist Hungarian Revolution took place. Sundara Ramaswamy started having apprehensions towards Communism. He read Arthur Koestler's novel Darkness At Noon about the Stalinist Purges, and the anthology The God That Failed edited by Richard Crossman. This shook his faith in the movement. The events that followed - the split in the Communist Party and the series of allegations hurled at each other by the two factions - made him distance himself from the party. In 1963, after the death of his mentor P. Jeevanandam, he resigned from the party and cut off all communication.
The progression of these developments can be traced in his novel Oru Puliyamarathin Kadhai (Tale Of A Tamarind Tree), begun in 1960 and finished in 1966. In the early parts of the novel, the author exults over the decay of the old feudal order. However in the later part of the novel, the author registers his apprehensions and disappointments about the progressive movements of his day. The author makes note of the changes in his attitude over the years in the foreword to the novel.
Although Sundara Ramaswamy was already acquainted with K.N. Subramanyam, his break with the Communist Party and other left-wingers brought him closer to K.N. Subramanyam. From Progressive literature, he moved towards Modernism. He considered K.N. Subramanyam's Oru Naal a model novel. K.N. Subramanyam visited Nagercoil, stayed with Sundara Ramaswamy and Krishnan Nambi for many days and had long conversations with them.
K.N. Subramanyam believed that literature could only be created and read by a niche group of individuals with a passion for literature, aesthetic sensitivity, and training. At that time, there was a great market for Tamil popular writing. Kalki, Devan, and Kothamangalam Subbu were the stars of the popular Tamil magazines. On the other side, literature coming out of the Marxist and Dravidian movements were made widely accessible to the masses. These writings consisted mostly of propaganda and campaigns for social change. These two movements were the two juggernauts of the day, creating the bulk of writing that Tamil people read. In defiance, K.N Subramanyam strove to create an alternate literary movement, a "little magazine" movement. K.N.Subramanyam and his friend Si.Su. Chellappa began publishing literary magazines, only a few hundred copies of each issue, to be circulated within a tight coterie of readers. K.N Subramanyam published little magazines like Sooraavali, Ilakkiyavattam etc. Si.Su. Chellappa published Ezhuthu. In the pre-Independence era, a well-known magazine called Manikkodi had been established to publish literary and pro-nationalistic ideas. After Independence, B.S.Ramayya revived the magazine that was languishing in ignominy, and started publishing literary short fiction in it. This proved to be a spur for K.N. Subramanyam and Si.Su. Chellappa. Sundara Ramaswamy, who was captivated by the little magazine movement, was one of its champions till the end of his days. He always identified himself as a torchbearer of the little magazine movement and was known as its face.
When a New Poetry Movement sprung up in Tamil through Ezhuthu magazine, Sundara Ramaswamy started writing poems in the magazine under the pseudonym Pasuvaiyya. In 1959, his first poem, Un Kai Nagam, was published in Ezhuthu. K.N. Subramanyam had already outlined his vision of modern Tamil New Poetry based on Ezra Pound's poetics. Following Subramania Bharathi's Vasana Kavidhaigal, Na.Pichamurthi had started writing modern poetry. When his poem Pettikkadai Naranam was published in Ezhuthu, Sundara Ramaswamy was inspired to write modern poems of his own. His poems were published even as early as in the third issue of Ezhuthu magazine. Si.Su. Chellappa, K.N. Subramanyam (Mayan), Nakulan, Thi.So. Venugopalan, C. Mani, Narano Jeyaraman, K. Kasturirangan, Ira. Meenatchi and Pramil were known as the forerunners of modern Tamil poetry. Pudhukkuralgal, a collection of poems from all these masters brought out by Si.Su. Chellappa, was a landmark.
Starting in 1966, for seven years, Sundara Ramaswamy was on a writing hiatus. His father had passed away, and he had to focus on his business and family. In addition, he was examining his political and aesthetic beliefs. It was at this time that he gained the acquaintance of a poet from Sri Lanka, Pramil (Dharumu Sivaram). He also became close to Venkat Swaminathan, a literary critic based in New Delhi. Sundara Ramaswamy wrote the foreword for Venkat Swaminathan's first collection of essays. He was also introduced to the painter Adhimoolam and filmmaker John Abraham. When K.N. Subramanyam went to Delhi, Sundara Ramaswamy became close with the Malayalam writer and critic M. Govindan. He was in constant dialogue with all these personalities. The dialogue grew, through a series of long back-and-forth letters and many personal meetings. Through M. Govindan, Sundara Ramaswamy became interested in the writings of M.N. Roy. Pramil introduced him to the philosophy of J. Krishnamurti. This was the most important period in Sundara Ramaswamy's intellectual development.
Sundara Ramaswamy came out of his hiatus with the poem Savaal written in 1973. It was published in the little magazine Gnanaradham. Then a collection of his short stories, Pallakkuthookkigal, appeared. These stories were different in tone from his earlier works. They no longer bore the influence of Pudhumaipithan's language - the sarcastic tone had disappeared, giving way to a lean, elegant prose. Many of his stories from this period were highly metaphorical. His next short story collection, Pallam, was a mix of metaphorical stories and his earlier style of fiction with realist aesthetics. Until the end Sundara Ramaswamy wrote both kinds of stories. His last few stories are stark depictions of real life, written in a tight, sparse prose. His final novel Kuzhandaigal, Pengal, Aangal (Women, Children, Men) was also written in the same style.
Novels
Sundara Ramaswamy wrote three novels. His first novel Oru Puliyamarathin Kadhai (Tale Of A Tamarind Tree) was published in 1966. It centres around a tamarind tree in a small town, Nagarcoil, and depicts the progression from the time of monarchy to the period of modern democracy.
Sundara Ramaswamy's second novel JJ Sila Kurippugal (JJ: Some Jottings) was published in 1981. This novel depicts the life of a fictional writer JJ (Joseph James), through the eyes of a young writer called Balu who is obsessed with him. The second part of the novel is presented in the form of JJ's diary entries. The character of JJ is based on the real-life Malayalam writer C.J.Thomas. M.K.Ayyappan, a character in the novel, bears resemblance to writer M.Govindan.
JJ Sila Kurippugal introduced a novel narrative form in Tamil fiction. Although Nakulan's Ninaivuppaadhai had previously experimented with the diary entry as a narrative form, it was JJ Sila Kurippugal that was widely read by the literary readers of the day, creating an unprecedented impact on the Tamil literary scene. The novel was devoid of sentiments. On the contrary, there was only a light thread of sarcasm and irony running through it. The characters were not fully fleshed out as three dimensional people, but lightly sketched, like line drawings and silhouettes. The novel was highly intellectual in character.
Sundara Ramaswamy's third novel Kuzhandhaigal Pengal Aangal (Women, Children, Men) was published in 1998. It was an autobiographical novel. It traced the changes that took place in a family over time and the protagonist's development against this background.
Short Stories
Sundara Ramaswamy's first short story collection was called Akkarai Seemaiyile. His second collection Prasadam followed it. Pallakku Thookkigal, his third collection published seven years later, was published in 1974. A collection of novellas Thiraigal Ayiram was published in 1975. A short story collection called Pallam was published in 1981. His last collection was Maria Damuvukku Ezhuthiya Kaditham.
His entire collection is available under the title Sundara Ramaswamy Sirukathaigal.
Poetry
In 1959 Sundara Ramaswamy published the poem Un Kai Nagam (Your Fingernail) in Ezhuthu magazine, during the period of the nascent New Poetry Movement in Tamil. Following that he continued writing poetry under the name pseudonym Pasuvayya.
Essays
Sundara Ramaswamy's non-fiction prose was influenced by Kaumudi Balakrishnan and M. Govindan. His essays do not have the verbosity of his predecessors in Tamil like K.N. Subramanyam or Pudhumaipithan. His language was sharp, with good flow and subtle humour.
Two of Sundara Ramaswamy's essays were much talked about when they were published. In 1963, he wrote an essay called Bharathiyum Naanum at the behest of K.N.Subramanyam. In that essay, he argued that his prose took absolutely no influence from Subramania Bharathi, one of the pioneers of modern Tamil prose writing. This opinion generated much controversy. When Communist leader P. Jeevanandam died, a piece he wrote called Kaatril Karaindha Perosai was hailed as an exemplary form of the personality sketch. This essay bears the influence of Malayalam writer P.K. Balakrishnan's book of personality sketches, Maayaatha Sandhyagal. When Akilan was awarded the Jnanpith Award in 1975, Sundara Ramaswamy's rebuttal essay Poli Mugangal generated a lot of heat. Until the end, Sundara Ramaswamy wrote essays of all three types.
Memorial volumes
Towards the end of his life Sundara Ramaswamy published his dialogues with his close literary friends as small memorial volumes. These volumes, about K.N.Subramanyam, Krishnan Nambi, G. Nagarajan, Pramil, Si.Su. Chellappa, Ku. Azhagirisamy and Thi. Janakiraman were put together by Aravindan and B.R. Mahadevan.
Translations
In 1950, Sundara Ramaswamy translated Thakazhi Sivasankaran Pillai's novel Thottiyin Magan from Malayalam into Tamil. The translation was serialized in Saraswati. However it was published in book form only in the 2000s. His translation of Thakazhi Sivasankaran Pillai's Chemmen was published in 1962. He has also translated the stories of Basheer, Karoor Neelakanta Pillai, and M.Govindan from Malayalam into Tamil.
Sundara Ramaswamy has also translated Chinese and Arabic poetry into Tamil via English. They have been made into a collection, Tholaivil Irukkum Paravaigal.
Kalachuvadu
Sundara Ramaswamy organized a literary gathering called Kaagangal (Crows) at his house since 1973. Rajamarthandan, M.Vedasahayakumar, and A.K.Perumal emerged out of that milieu. In 1987, he wanted to start a literary magazine by the same name. Later, its name was changed to Kalachuvadu. Eight issues of Kalachuvadu came out before it stopped publication. The last four issues were condensed into one volume and released as a special issue.
In 1994 Sundara Ramaswamy's son Kannan brought out Kalachavudu again in a new avatar. In the beginning, Manushyaputhiran and Lakshmi Manivannan were in its editorial board. Then for a few years, Manushyaputhiram acted as editor. Their publishing house, Kalachuvadu Publications, opened up in 1995.
Controversies
Sundara Ramaswamy was always open about his opinions. His opinions often generated much debate and dialogue.
In 1963, Sundara Ramaswamy wrote an essay in K.N. Subramanyam's little magazine Ilakkiyavattam arguing that Subramania Bharathi's influence on modern Tamil literature was negligible compared to Pudhumaipithan, who was almost Bharati's antithesis. Sundara Ramaswamy claimed that Pudhumaipithan was the real forerunner of modern Tamil literature. This idea of his was heavily criticized by the literary critics of the day.
In 1966, in the foreword to Oru Puliyamarathin Kadhai, Sundara Ramaswamy wrote about the lapses of the Communist Movement and his own personal loss of faith in the Party. This was roundly criticized by the critics from the Progressive Movement.
In 1975 when Akilan was awarded the Jnanpith Award, he wrote that the choice would belittle Tamil literature in the eyes of readers and writers from other Indian languages. Vallikkannan, Poovai S. Arumugam, and others were unhappy with this stand and strongly condemned it.
In 1979, when he wrote in an article that MG. Ramachandran (actor and the ruling chief minister of the day) was a komali (buffoon/clown), he received threats from the local ADMK partymen.
In 1992, following the stampede deaths associated with (actress and then chief minister) Jayalalithaa's ritual bath in the tank at Kumbakonam during the Mahamaham festival, Sundara Ramaswamy wrote that they were not deaths but brutal murders. This opinion also generated some controversy.
In 2004, when the then junior pontiff of Kanchi, Jayendra Saraswati, was arrested, Sundara Ramaswamy wrote an article condemning him. "An investigation must be thoroughly carried out into the case," he said, without taking any sides. This article was also widely debated.
In 2005, Sundara Ramaswamy wrote a short story called Pillaikoduthan Vilai. The Tamil Nadu Progressive Writers' Association condemned this story, claiming that it was against Dalits. They demanded that Sundara Ramaswamy be arrested under the Untouchability Abolition Act. However, Dalit activists like Ravikumar argued in support of him. It was a misreading, they said, and Sundara Ramaswamy meant no disrespect towards Dalits.
Awards
Although Sundara Ramaswamy was one of Tamil's most important writers, critics believe that he was not considered for any of the major literary awards because of the controversies generated by his strong literary opinions. He was awarded the following three prizes.
Asan Memorial Prize (1988)
This prize was awarded by the Asan Memorial Association that runs the Asan Memorial School in Chennai. This prize was awarded only once.
Iyal Award (2001)
This prize is awarded by an organization called the Tamil Literary Garden based in Canada, in association with York University.
Katha Award (2003)
This prize was awarded by a New Delhi-based organization the Katha Foundation. This prize was awarded only four times.
Awards Awarded Under Sundara Ramaswamy's name
Award for Contributions to Tamil Computing
The Sundara Ramasamy Award for Contributions to Tamil Computing/Tamil IT is awarded every year to honour personalities who have contributed to the field of Tamil computing. This prize is awarded by the Tamil Literary Garden organization based in Canada, and is sponsored by Kalachuvadu group. At the yearly Iyal award function of the Tamil Literary Garden, the winner of this award is also presented with an award certificate and 1000 Canadian dollars.
Young Writer Award
Every year, the Neythal literary group presents a promising young writer with the Sundara Ramaswamy award. Writers below the age of 40 are considered for this award.
Death
Sundara Ramaswamy died on October 14, 2005 in the United States of America, from complications associated with pulmonary fibrosis. His body was brought back to India and the last rites were performed in his hometown of Nagarcoil, India. Members of all factions of Tamil literature paid homage to him.
Translations into other languages
Oru Puliyamarathin Kadhai was translated into English by C. Krishnan and published by Penguin. A second translation was also published by Penguin. Tale of a Tamarind Tree, Penguin India, New Delhi
JJ Sila Kuruppigal was translated by A.R.Venkatachalapathy into English as JJ: Some Jottings
Kuzhandaigal Pengal Aangal was translated by Lakshmi Holmstorm into English as Children, Women, Men.
Major Works
Novels
Oru Puliyamarathin Kadhai (1966)
JJ Sila Kurippugal (1981)
Kuzhandaigal Pengal Aangal (1998)
Criticism / Essays / Miscellaneous
Na Pichamurthiyin Kalai: Marabum Manidhaneyamum (1991)
Alumaigal Madhippeedugal (2004)
Kaatril Karaindha Perosai
Virivum Aazhamum Thedi
Thamizhakathil Kalvi: Ve.Vasanthi Deviyudan oru uraiyadal
Irandha Kaalam Petra Uyir
Idham Thantha Varigal (2002)
Ivai En Uraigal (2003)
Vaanagame Ilaveyile Maracherive (2004)
Vaazhga Sandhegangal (2004)
Pudhumaipithan: Marabai Meerum Aavesam (2006)
Pudhumaipithan Kadhaigal SuRa Kurippedu (2005)
Moondru Nadagangal (2006)
Vaazhum Kanangal (2005)
Poetry
Sundara Ramaswamy Kavidhaigal Muzhu Thoguppu (2005)
Translation
Chemmeen - Thakazhi Sivasankaran Pillai (1962)
Thottiyin Magan - Thakazhi Sivasankaran Pillai (2000)
Tholaivilirukkum Kavidhaigal (2004)
Memorial Volumes
K.N.Subramanyam (2003)
Si.Su.Chellappa (2003)
Krishnan Nambi (2003)
Jeeva (2003)
Pramil (2005)
G.Nagarajan (2006)
Thi.Janakiraman (2006)
Ku.Azhagirisamy
‎
---
✅Finalised Page