Annogen Balakrishnan
From Tamil Wiki
இந்தப் பக்கத்தை தமிழில் வாசிக்க: அனோஜன் பாலகிருஷ்ணன் ‎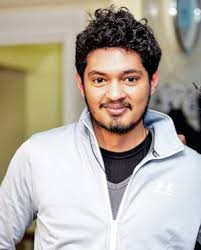 Annogen Balakrishnan (July 30, 1992) is a Tamil writer, critic, essayist and editor.
Birth, Education
Annogen Balakrishnan was born to Sivagurunadhan Balakrishnan and Surendhini on July 30, 1992 in Ariyalai, Jaffna (District of the Northern Province of Sri Lanka). He has an older brother and two older sisters. As his family was forced to move to Kodikamam, Nallur, Kokuvil, Kundukuli before eventually returning to Jaffna, his the circumstances of his life kept changing. He completed his primary schooling in Jaffna and went to Colombo to study further. During this phase of his life, he had the opportunity to interact a lot with Sinhalese and Muslims. He also learnt to speak Sinhalese.
He completed his schooling at St. John's College, Colombo. Between 2012 and 2016, he studied Electrical and Electronics Engineering at Northshore College of Business and Technology, Colombo. He completed his post graduation in Environmental Engineering from the University of Nottingham, U.K., in 2019.
Personal Life
He works as a 'Money Laundering Reporter' at Manex International.
Literary Life
Annogen Balakrishnan's first short story Idham was published in 2015 in Aakkaati, an e-magazine. Three short story collections of his have been published since. Annogen counts Jeyamohan, A. Muttulingam, Su. Venugopal, Shobasakthi, M. Gopalakrishnan amongst his inspirations. His short stories often talk about lust, perversions of lust, the underlying psychology and its manifestations in the form of exploitation in relationships. Generally, he writes about the post-war period. Short stories like Bali, Yanai, Peritchai which raised questions about the Tamil-Sinhala duality were talked about.
From 2020 onwards, he has been managing an e-magazine Akazh along with Suresh Pradeep and Sendhuran. He is one of the founders of a Tamil literary society in London (London Ilakiya Kulumam), started in 2019. This society conducts book review sessions and short story discussions.
In one of his interviews, Annogen spoke about how his literary path deviates from the popular trends in Eelam literature. He says, "Most of [our] writing stops at sensational political ideas. Many are yet to realize that this is not literature's purpose. The discussions about a work too, focus on politics, creating short-lived excitement. It is very rare to see discussions centered around literary quality."[1]
Literary Significance
One of the upcoming writers amongst Sri Lankan Tamils, Annogen also writes against the backdrop of Eelam politics and the circumstances of an immigrant life. In his critical essay, writer Suneel Krishnan says, "Annogen's language has changed dramatically when compared to his previous collections. He has moved away from usage of romantic metaphors. The interiority in his first person narratives express the intended emotions perfectly. With his mastery of craft, he is able to convert anything into a story."[2]
"On the one hand, Annogen's short stories depict the mental struggles arising out of relationships as well as the endless trauma and violence caused by trying to leave them. On the other, they also talk about the psychological issues emanating from the losses caused by the Eelam war, the military abuse and post-war hardships,"[3] says writer M. Gopalakrishnan
Works
Short Story Collections
Sadhaigal - 2016
Pachai Narambu - 2018
Peritchai -2021
Links
Footnotes
‎
---
✅Finalised Page