S. Visalakshi
From Tamil Wiki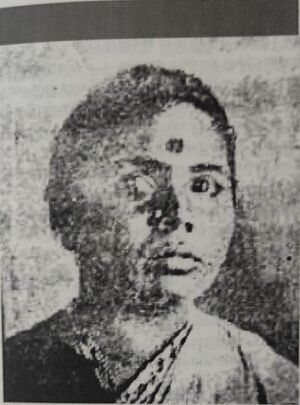 இந்தப் பக்கத்தை தமிழில் வாசிக்க: எஸ். விசாலாட்சி ‎

S. Visalakshi (early 20th century) was one of the earliest women writers of Tamil, Journalist and a Translator. She has written many short stories.
Personal Life
S. Visalakshi was born to Sundaram-Meenakshi couple in Therlundoor, Tiruvarur district. S. Visalakshi was the sister of journalist, writer and freedom fighter Sangu Subramaniam. She knew Tamil, English and French. No other details about her are available.
Literary Life
S. Visalakshi took charge of the 'Mangai' magazine after writer Gugapriyai. She was the editor of the old Kungumam magazine centered in Kilpauk. S. Visalakshi translated Alphonso Dade's short stories from French to Tamil. She wrote short stories like 'Mankooja', Chellakulanthaigal' in Sakthi magazine. Her short stories and articles have appeared in Manikodi, Jaganmohini and Mangai magazines.
Books
Alphonso Dade (Translation)
Short Stories
Mankooja
Chellakulanthaigal
References
Viduthalaikku Munthaiya Tamil Sirukathaigal - 2 (Penezhuthu - 1 : 1907 - 1947) - Thervum Thoguppum: Arvind Swaminathan - 2021 - Yavarum Publishers
‎
---
✅Finalised Page