Sangu Subramaniam
From Tamil Wiki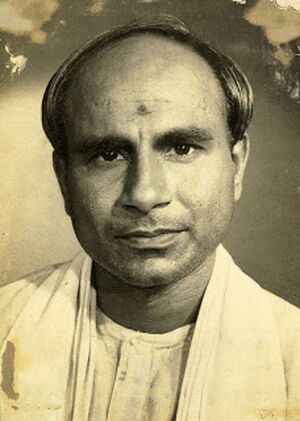 இந்தப் பக்கத்தை தமிழில் வாசிக்க: சங்கு சுப்ரமணியம் ‎

Sangu Subramiam (November 18, 1905 - February 15, 1969) was a writer, journalist, actor and a social activist who took part in the struggle for Indian Independence. He founded the Sangu Magazine.
Birth
Sangu Subramaniam was born on November 18, 1905 in Theralunthur, Thiruvarur district to Sundaram and Meenakshi.
Personal Life
Sangu Subramaniam worked as a School Teacher in Thiruvarur, before joining Sudesamithran magazine as Assistant Editor. C. Subramania Bharati was his colleague in the Sudesamithran magazine. Sangu Subramaniam also worked as the editor in the literary magazines Anuman and Manikkodi.
Sangu Subramaniam participated in Abolition of Untouchability Movement and married Saraswathy Ammaiyar who was exciled from her caste for donating food to the lower caste people. The couple had eight children, five girls and three boys.
Political Life
Sangu Subramaniam was a supporter of the National Movement and a member of the Congress in the liberation struggle. Sangu Subramaniam was fascinated by the principles of Gandhi and worked to abolish untouchability. Sangu Subramaniam was jailed several times for his involvement in Salt Satyagraha Movement and for supporting India's liberation. Sangu Subramaniam translated three of Gandhi's books Arokya Vali, Illara Maharagasiyam and Harijana Sevai. Sangu Subramaniam walked to many villages carrying kadhi clothes on his head, singing Mahakavi Subramania Bharati's songs in support of India's liberation.
Journalism
Sangu Subramaniam along with Sangu Ganesan published a pamphlet called Sangu and later turned it into a magazine called Suthandira Sangu. The magazine sold over one lakh copies in Tamil and stopped in 1934.
Literary Life
Sangu Subramaniam wrote articles and articles for Suthanthira Sangu magazine and wrote short stories in magazines like Manikodi and Kalaimagal. Sangu Subramaniam wrote a short story with a mythological theme titled Vedalam Sonna Katha in the first issue of the story edition. His short story named Siranjeevikathai created controversies.
Movie Career
Sangu Subramaniam along with some of his friends were involved in the production of the film Sriramanujar and also acted as Sriramanujar in the film. The movie which came out in the year of 1938, had Manikodi magazine's editor V. Ramasamy Iyengar writing dialogues. Writers N. Pichamurthy and journalist N. Ramarathinam were also part of the acting crew. Lyrics for the songs in this movie was written by Bharathidasan.
Sangu Subramaniam worked in the Gemini story team and assumed responsibilities for the screenplay and lyrics for their film Chakradhari. Sangu Subramaniam continued working in Gemini story team and contributed to movies Chandralekha and Raji en Kanmani. Gemini's movie called Apoorva Sagotharargal had the following song written by Sangu Subramaniam and sung by Bhanumathi,
"Laddu, Laddu Mittai Venuma?
Rava, Laddu Pooriyum Venuma?"
Spiritual Life
Sangu Subramaniam translated Jeyadevar's book Keeda Kovintham in Tamil. The book was not published for a long time, and was published many years later in Krishna Premi's edition of Bhagavad Gita. Sangu Subramaniam also wrote devotional essays in Kalaimagal magazine.
Sangu Subramaniam found an interest in the tradition of Bajanai towards the end of his life years and started singing Bajans. Sangu Subramaniam developed his own way of singing Bajans by including Alwar Pasurangal and Bharati's songs.
Demise
Sangu Subramaniam died on February 15, 1969 at the age of 64.
References
‎
---
✅Finalised Page