Professor Jesudasan
From Tamil Wiki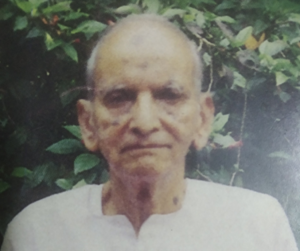 இந்தப் பக்கத்தை தமிழில் வாசிக்க: ஜேசுதாசன் ‎
Professor C. Jesudasan (1919 – 6 March 2022) was a college professor, literary historian and critic who deeply influenced modern Tamil literature. The novelist, Hephzibah Jesudasan, was his wife.
Early Life & Education
Jesudasan was born into a humble family in Vattasenavilai, a village in Kalkulam Taluk of Kanyakumari District, Tamil Nadu. He did his schooling in Colachel and Thiruvananthapuram, and graduated in the Tamil language. He went on to earn a postgraduate degree in Tamil Literature from Annamalai University, Chidambaram. He was the recipient of a grant from the Kingdom of Travancore. Kottar Kumara Pillai was his Tamil teacher. Later, he also learnt the language from Ka. Su. Pillai at Annamalai University, Chidambaram.
Personal Life
Jesudasan was married to the Tamil novelist, Hephzibah Jesudasan. After working briefly at The American College, Madurai, he joined University College, Thiruvananthapuram in 1945. He also worked at The Chittur College, Palakkad. In 1974, he retired from his post as the head of the department for Tamil at the University College, Thiruvananthapuram, but continued there as Visiting Professor for five more years. After retiring from his job, he ran an English-medium school in Pulipunam (also in the Kanyakumari district), his wife's hometown. The couple have two sons, Nambi and Thambi Thangakumar, and a daughter Puvi Thangakumari. Nambi Thangakumar is a college professor, Puvi is a French teacher and Thambi Thangakumar is a professor of Physics.
Life as a Teacher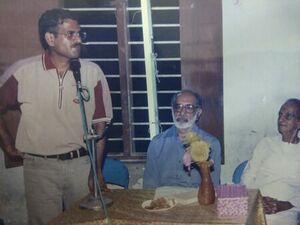 Professor Jesudasan was primarily a teacher. His contributions in other spheres, literary criticism included, were offshoots of his teacherly life. He was known for his elaborate expositions while teaching both classical and modern Tamil literature. His work contributed to the making of many talented students. The well-known amongst them include
A. Subramania Pillai
Tamizhavan
Rajamarthandan
Pa. Krishnaswamy
Professor Jesudasan was part of a long tradition of teachers and disciples. He was a student of M. Shanmugam Pillai, who was in turn a student of S. Vaiyapuri Pillai.
Literary Life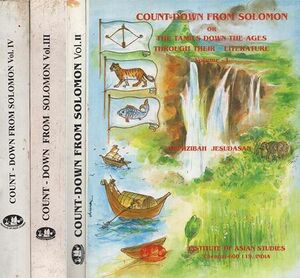 Jesudasan was a Tamil scholar who had a deep connection with the Kamba Ramayanam. The epic travelled with him from the very beginning of his life to his final moments. He was known to deliver lectures on poet Andal's works as well as the Kamba Ramanayam in a way that conveyed a capacious appreciation of their poetry. He belonged to an old school of teaching that rendered the poetry as song.
Jesudasan had an active interest in modern literature as well. At a time when Tamil education departments across the state shunned modern literature, he made every effort to get educational institutions to acknowledge its importance. Tamil writers, such as Nakulan, A. Madhavan, Neela Padmanabhan, Kashyapan, M. Dakshinamurthy, and Malayalam writers like Ayyappa Paniker, K.S. Narayana Pillai worked as a team back then. Kurukshetram, an anthology of short stories widely acknowledged as a turning point in modern Tamil literature (compiled by Nakulan), was published at that time. Professor Jesudasan had a hand in it too. Professor Jesudasan has the distinction of making an effort to introduce modern literature in pedagogy in an organised way. His student, A. Subramania Pillai, put together the first doctorate thesis ever written on Pudhumaipithan, under the professor's guidance. Professor Jesudasan was instrumental to the inclusion of the works of Pudhumaipithan, R. Shanmugasundaram and many others in the Tamil syllabus.
His essays as a literary critic were few and far between. Important among those are his essays on Neela Padmanabhan, R. Shanmugasundaram and Ka. Naa. Subramanyam. Under the professor's able guidance, Hephzibah Jesudasan wrote "Countdown from Solomon or The Tamils down the ages through their literature", a comprehensive history of Tamil literature.
Professor Jesudasan was trained in classical music and he learnt the art from his guru Krishnaswamy, a student of Isaichelvar Lakshmanapillai. He was interested in Tamil Isai too and composed many beautiful songs in the language. A good vocalist, he played the veena as well.
The literary magazine Solputhithu published an extensive interview of Professor Jesudasan in January 2002. "It (the interview) is a great and detailed lesson. It has taken place between an interviewer and an interviewee at a shared plane of high intellect," said writer Ashokamitran, commenting about the interview in the Vriksham magazine issue of February 2002.
Literary Place
Professor Jesudasan contributed to Tamil literature in two important ways. Through the intellectual imprint he left on his students and through the Tamil literary history penned under his guidance by Hepzibah Jesudasan, he made his ideas known to the Tamil world.
Death
Professor Jesudasan passed away on 6 March 2002 in Pulipunam.
Memoirs
M. Vedasagaya Kumar wrote an account of Professor Jesudasan's life for the Indiya Ilakkiya Sirpigal (Makers of Indian Literature), a series of monographs published by the Sahitya Akademi.
Works
Poetry
Mudharkani (First Fruit), 1954 (A collection of classical poetry)
Research
History of Tamil Literature (YMCA Calcutta), 1961
Translation
Pandaya Keralam – Elamkulam Kunjan Pillai, 1979
Links
Jeyamohan's short story மத்துறு தயிர்
Professor Jesudasan's interview - Part 1 [1]
Professor Jesudasan's interview - Part 2 [2]
‎
---
✅Finalised Page