Hephzibah Jesudasan
From Tamil Wiki
இந்தப் பக்கத்தை தமிழில் வாசிக்க: ஹெப்சிபா ஜேசுதாசன் ‎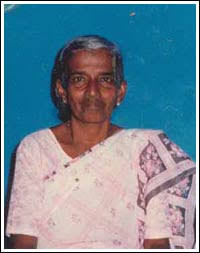 Hepzhibah Jesudasan (1925 - 9 February 2012) was the author of Puthamveedu (translated into English as Lissy's Legacy), a notable novel in the realm of realistic Tamil literature. Hepzhibah Jesudasan also authored a four volume series on the history of Tamil literature, which she wrote in English. She was an English professor and was married to Professor Jesudasan.
Birth and Education
Hepzhibah Jesudasan was born in 1925 in Burma. A native of Pulipunam in Kanyakumari district, she came from a well-educated family. Her grandfather held a B.A degree and worked as head master in L.M.S Boys Higher Secondary School in Marthandam. Later, he resigned from his job and became a pastor. Her mother's grandmother, who was a teacher in L.M.S Girls Primary School, was also a pastor. Hephzibah Jesudasan's father worked as teacher in a government school in northern Burma. She had a younger sister.
During World War II, her family left Burma and settled in Nagercoil. Hephzibah Jesudasan studied at Duthie Higher Secondary School, Nagercoil. She was a favorite student of Madam Duthie, who wanted her to become an English writer. Hephzibah Jesudasan stood first in the state, in intermediate education (i.e. 11th and 12th grades), which she completed at Scott Christian College, Nagercoil. Later, she obtained her undergraduate and postgraduate degrees in English at University of Thiruvananthapuram.
Personal Life
Hebzhibah Jesudasan married C. Jesudasan, a Tamil professor. Though Professor Jesudasan was a great scholar and connoisseur of Tamil literature himself, nurturing and showcasing his wife's talents came to be his sole aim. He encouraged her to write a novel. The couple had two sons, Nambi and Thambi Thangakumar and a daughter, Puvi. Thambi Thangakumar also became a college professor.
Hephzibah Jesudasan worked as an English professor in Women's College (now Government College for Women) in Thiruvananthapuram. She worked as an English tutor for Thiruvananthapuram's royal family. Hephzibah Jesudasan was a devout Christian and she spent most of her final years in religious service.
Literary Life
Puthamveedu (1964) was Hephzibah Jesudasan's debut novel, the primary impetus for which came from Professor Jesudasan, her husband. The novel told the love story of Lissy, a simple young girl who belonged to the Nadar caste. It was published by Tamil Puthagalayam, run by K.N. Muthiah. Hephzibah Jesudasan also authored the novels Maanee, Anaadhai and Doctor Chellapa. She wrote short spiritual essays in English, titled Grandma's Notebook. Maanee was a novel about her childhood in Burma.
Hephzibah Jesudasan wrote Countdown from Solomon: The Tamils Down The Ages Through Their Literature, a four volume series about the history of Tamil literature. It was written in English and spanned Sangam literature, Bhakti literature, Kamban and the post-Kamban era. Hephzibah Jesudasan authored this with the help of her husband, Professor Jesudasan. This work was founded on both the aesthetics as well as the moral codes propounded in the texts of the respective periods. Hephzibah Jesudasan translated Nedunalvaadai into English. She also translated Bharthiyar's Kuyil Paatu into English.
Literary Significance
Puthamveedu written by Hephzibah Jesudasan is one of the important novels in Tamil literature. It is a book that tells the story of how, Lissy, a girl born in the Nadar caste, succeeds in love despite several obstacles, in a direct manner. The simplicity of prose and its realism are what elevate the novel. Written at a time when most novels were set in the Brahmin milieu, Puthamveedu presented the impact of education and modernization in the lives of rural Pannayeri Nadars, a sub-caste of the Nadar community traditionally engaged in palm-tree climbing, with great precision. Written in an era when the usage of regional dialects in novels was frowned upon, a one-of-its-kind novel, Puthamveedu became a precursor to many more works in the genre. Sundara Ramaswamy considered Puthamveedu as one of the best novels written in Tamil.
Puthamveedu in the words of writer and critic Jeyamohan[1]: 'This novel, that has given us a village love story in simple, direct prose, underscores the ability of literature to make us take an honest look at ourselves, by sidestepping the pretense that marks populist Tamil writing. Through the unexaggerated portrayal of Lissy, it becomes possible to not only see the personality of Lissy, but also how Irserippu (the practice of disallowing a girl of marriageable age to step out of the house) is nurtured in the rural social fabric.' The novel also features in Jeyamohan's list of 100 best Tamil novels written before the year 2000. S.Ramakrishnan too has included Puthamveedu in his '100 best novels' list[2].
Hephzibah Jesudasan's novel, Doctor Chellappa, raised existential questions by juxtaposing the life of an educated young man against his ordinary circumstances. It is considered to be the first existential novel in Tamil.
The history of Tamil literature, authored by Hephzibah Jesudasan with the help of her husband Professor Jesudasan, presents a comprehensive and critical view of the entirety of Tamil literature.
Awards
Publications
Tamil Novels
Puthamveedu (1964)
Doctor Chellappa (1967)
Anaadhai (1978)
Maanee (1982)
Works in English
Countdown from Solomon: The Tamils Down The Ages Through Their Literature

Vol. 1 Caṅkam and the aftermath (1999)
Vol. 2 Bhakti, ethics and epics (1999)
Vol. 3 Kampan, 2001
Vol. 4 13th - 20th century A.D.

An Early Sheaf (poems)
Sky Lights (poems)
en-Exercises (essays)
Children's Books
Titbits for Tiny Tots
Story Time Darlings
Translations by Hepzibah Jesudasan
Songs of The Cuckoo and Other Poems (Bharathiyar's Kuyil Paatu)
Works of Hepzibah Jesudasan translated into other languages
Puthamveedu translated into Malayalam
Lissy's Legacy (Puthamveedu translated into English)
References
Footnotes
‎
---
✅Finalised Page