M. Vethasagayakumar
From Tamil Wiki
இந்தப் பக்கத்தை தமிழில் வாசிக்க: எம். வேதசகாயகுமார் ‎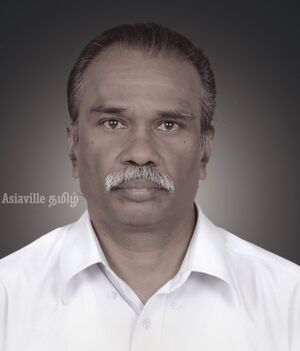 M. Vethasagayakumar (October 5, 1949 – December 17, 2020) was a critic of modern Tamil literature, literary researcher and academician. He published literary journals. He followed both the tradition of Prof. S. Vaiyapuri Pillai's objectivity on the literary researches and the aesthetic approach of K.N. Subramaniam in literary reviews.
Birth, Studies
Vethasagayakumar was born on October 5, 1949 to Muthiah Nadar and Sundara Bai at Aralvaimozhi near Nagercoil. His father Muthiah Nadar was a renowned Siddha doctor. After completing his graduation in chemistry from S.T. Hindu College, Nagercoil, Vethasagayakumar finished his Masters (Tamil) from Chittur Arts College in Kerala. Prof. Jesudasan, a follower of S. Vaiyapurip Pillai's tradition, was his teacher at Chittur College. Vethasagayakumar completed his doctoral thesis at College of Arts, University of Thiruvananthapuram under the guidance of Prof. Jesudasan (1985). His dissertation was 'Pudhumaipithan and Jayakanthan - A comparison'. Rajamarthandan was his college friend when he was a research scholar.
Private Life
Vethasagayakumar married Vaanmati Kausalya on October,19 1981. They have two children: Sunanda and Vijay Chakravarthy. Vethasagayakumar worked as a Tamil teacher at the University College, Thiruvananthapuram and retired as head of the department.
Literary Life
Vethasagayakumar's literary activities were on three platforms; literary magazine, literary research and literary review.
Literary Magazines
When Vethasagayakumar was a research scholar, he worked with Rajamarthandan for Kollippavai magazine. He later associated himself with Sathangai magazine run by Vanamaligai.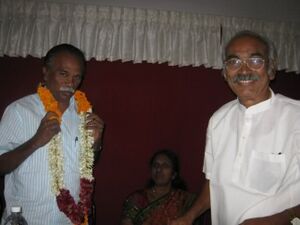 Literary Research
M. Vethasagayakumar's PhD dissertation is considered a pioneer in the field of modern Tamil literary education. He was the first one to find and compile all the works of Pudhumaipithan chronologically. It required ten years of research because the processes for documentations and journal collections were not streamlined in Tamil literary circle. He completed this study by meeting personally the literary personalities like B.S. Ramiah, Kamala Ammaiyar wife of Pudhumaipithan and Si.Su. Chellappa and by examining the personal collections of Roja Muthiah Chettiar and Pudukottai Gnanaalaya Krishnamurthy couple. This study was published as a book Pudhumaipithanum Jayakanthanum by Tamizhini.
M. Vethasagayakumar carried out studies on Tamil musical scholars like Lakshmana Pillai and on missionary and scholar Robert Caldwell. A book was also published on this research work by compiling the articles appeared in magazines like Sol Pudhidhu.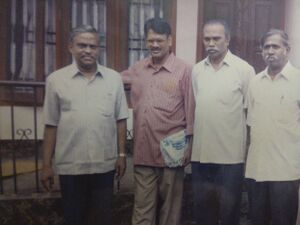 After retiring as a Tamil Professor at the University College, Thiruvananthapuram, M. Vethasagayakumar developed an encyclopedia on Tamil modern literature review Ilakkiya Thiranaivu Kalanjiyam, with financial assistance from University Grants Commission. This literary review repository was his primary contribution from research perspective. Adaiyalam publications published it.
Literary Reviews
Prof. Jesudasan introduced the modern literature to M. Vethasagayakumar. Vethasagayakumar made acquaintance with R. Shanmugasundaram, Si.Su. Chellappa and Ka.Na. Subramaniam who visited the college at the invitation from Prof. Jesudasan. M. Vethasagayakumar was in constant meetings and conversations with writers in Thiruvananthapuram like A. Madhavan, Neela Padmanabhan, Nakulan, Shanmukhasuppaiah and Kasiyaban. In those days, Malayalam scholars like P. Narayana Pillai and Ayyappa Panikkar used to come to meet Prof. Jesudasan in Department of Tamil, University of Thiruvananthapuram. Vethasagayakumar developed relationship with them. In 1972, Vethasagayakumar met Sundara Ramaswamy who was actively involved in the literary gathering "Kahangal". Vethasagayakumar believed in Sundara Ramasamy's aesthetic perspective and progressed in that direction. Premil, who came to Nagercoil in 1973 and stayed at Sundara Ramasamy and Rajamarthandan's houses, greatly influenced the views of Vethasagayakumar.
'History of Tamil Short Stories' written by Vethasagayakumar in 1979 is a historical book based on the review of Tamil short stories. In this book, Vethasagayakumar used the literary values developed by Ka.Na. Subramaniam and Sundara Ramaswamy as a historical tool. It is considered as a pioneering book for reviews. Subsequently, he authored the books Tharkala Tamil Ilakiyam Oru Vasagarparvai (Contemporary Tamil Literature, A Reader's Perspective) and Punaivum Vasippum (Fiction and Reading).
Death
M. Vethasagayakumar passed away on December 17, 2020 at Nagercoil.
Publications
Tamil Sirukathai Varalaru (History of Tamil Short Stories)
Punaivum Vasippum (Fiction and Reading)
Tharkala Tamil Ilakiyam Oru Vasagarparvai (Contemporary Tamil Literature, A Reader's Perspective)
Pudhumaipithanum Jayakanthanum
IIlakkiya Thiranaivu Kalanjiyam (an encyclopedia on Tamil modern literature review)
Memoirs / Biographies
Ilakiya Vimarsagar M. Vethasagayakumar, by Sajan, Kalasagam Publisher, 6/125-29 Bharat Nagar, Vadiveeswaram, Kottar, Nagercoil-62900.
References
‎
---
✅Finalised Page