Kamaladevi
From Tamil Wiki
இந்தப் பக்கத்தை தமிழில் வாசிக்க: கமலதேவி ‎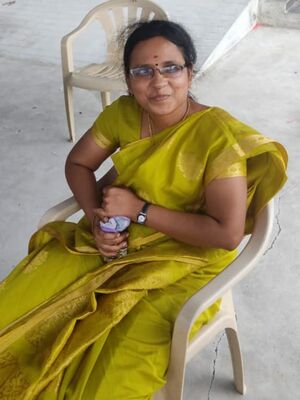 Kamaladevi (June 17, 1983) is a writer of short stories and essays in Tamil. She writes stories narrating the ever changing human relationships in a detached fashion. In her stories, she presents vivid pictures of life in the villages on the banks of Cauvery in and around Trichy.
Birth, Education
Kamaladevi was born on June 17, 1983 to Rajaraman and Annakamu. She had her schooling in Kottapalayam St. Edward's Primary School, Pa. Mettur Panchayat Union Middle School, Kottapalayam St. Lourdes Mother's High School, and Musiri Amala Girls' High School. She completed her Masters in Microbiology and Bachelor of Education from Dhanalakshmi Srinivasan Educational Institutions, Perambalur.
Personal Life
For a while, she worked as a teacher for children with learning disabilities in public schools. She currently lives in her hometown, Pa. Mettur.
Literary life
In December 2016, her first short story Vidaai (Thirst) was published in the Solvanam online magazine. She continues to write short stories for online magazines. Her first short story collection Sakyai was released in 2019 by Vasagasalai Publications. The interviews she did with writers for Vasagasalai's Puravi magazine received attention. She writes reviews of the books she read in her website.
Literary Significance
Kamaladevi is interested in Classical Tamil literature. She notes that personalities like Andal, Periyar, Mohandas Karamchand Gandhi, Pudhumaipithan, T. Janakiraman, Sundara Ramaswamy, S. Ramakrishnan, and Jeyamohan have had an influence in her literary views. Her uniqueness is that she is a female writer of the millennial generation who writes from an agricultural background.
"The inner world of women that Kamaladevi portrays through her natural and straightforward narration of realistic village life is important to Tamil short stories. Her short stories eloquently show, in an intensified and brilliant fictional language, the collapse of the rural economy and the plight of migrant workers," says[1] writer M. Gopalakrishnan.
Writer Suneel Krishnan outlines the central question that arises through her stories[2]. 'The longing for love and the distrust on the dominance of love is the question that she is after. She examines this question through different stories, in light of different levels of relationship."
Works
Short Story Collections
Vasgasalai Publications have released Kamaladevi's short story collections.
Sakyai (January 2019)
Kuruthiyuravu (Blood Relation) (Dec 2019)
Kaduvazhithunai (Sep 2020)
Kadal (The Ocean) (Jan 2022)
External Links
Links
‎
---
✅Finalised Page