Kalki (Weekly Magazine)
From Tamil Wiki
இந்தப் பக்கத்தை தமிழில் வாசிக்க: கல்கி (வார இதழ்) ‎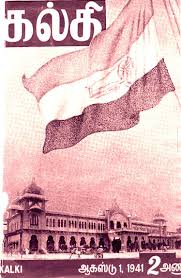 'Kalki' is a weekly magazine founded by writer Kalki in 1941 which still in circulation. Kalki occupies a significant space among Tamil magazines as one offering a variety of topics. Writer Kalki's famous novels Sivakamiyin Sabatham and Ponniyin Selvan were serialized in this magazine.
Magazine's History
Writer Kalki was the co-editor and editor-in-chief of the Anandavikatan weekly since 1931. Anandavikatan's chief S.S. Vasan refused to let Kalki continue at the magazine, fearing a backlash from the government for his participation in the Quit India Movement in 1941. With the help of his political mentor Rajaji, writer Kalki started Kalki magazine. Kalki's became friends with Sadasivam while participating in the Salt Satyagraha Movement in 1930 and eventually he joined Kalki magazine as an administrator. Sadasivam's wife M.S. Subbulakshmi starred in the film Savitri and donated the salary from the movie to start the magazine. D.K. Chithambaranatha Muthaliyar, a friend of Rajaji and Kalki also collaborated in this venture.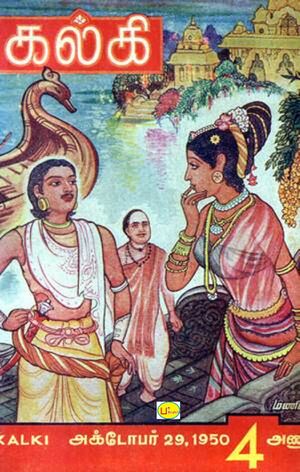 Kalki's office was situated in Gandhi-Irwin Road, opposite the Egmore railway station. Writer Kalki had mentioned about the magazine's policies in the first issue. It was portrayed as a conversation between Lord Vinayaka and writer Kalki, where Lord Vinayaka asks about the magazine's policy, and Kalki responds saying, "Firstly national interest, secondly national interest and thirdly national interest."
Writer Kalki died on September 9, 1954 and Kalki's student and friend, writer M.P. Somu took up the post as the magazine's editor for one year. The post was later held by D. Sadasivam who declared in the New Year edition of 1965, that a magazine's duty was not just to please people, but rather to assess subjects that are in the interest of the people, and strongly express them so as to positively influence people's attitudes towards those subjects. Kalki's son writer Rajendran assumed the responsibilities of editor in 1970.
Kalki's publication was suspended in 1977 due to administrative problems and the workers' strike, but it eventually re-started in a new building in 1978. In 1993, Rajendran's eldest daughter Sita Ravi became the editor of the magazine. Since September 2021, the Kalki Group has acquired all of the magazine's repository licenses. The magazine is being published as an e-magazine at www.kalkionline.com by Lakshmi Natarajan and his team. V. Ramanan is the current Editor-in-Chief of the e-magazine.
Supplementary Magazines
Kalki weekly magazine is published by Bharathan Publications. In 1972, the publications started Gokulam magazine, which carried articles on the History of Science, Stories & Poems written by Vandumama, Revathi and Azha Valliappa. The magazine Mangaiyar Malar for women was started in 1981 and the English version of Gokulam in 1988.
Literary Place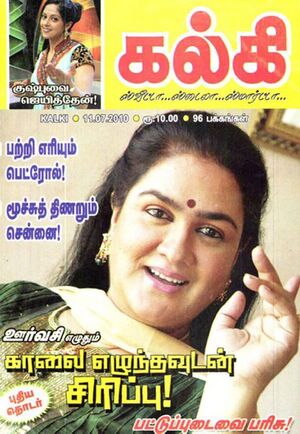 Kalki's famous novels such as Parthiban Kanavu, Sivakamiyin Sapatham, Alai Osai and Thiyaga Bhoomi were published in Kalki magazine. Kalki's daughter Anandi Ramachandran finished writing the series 'Amaradhara', which Kalki was writing and had left unfinished upon his death. Rajaji's 'Chakravarthi Thirumagan' (1958) and Akilan's 'Vengaiin Mainthan' (1960) were popular series published in Kalki. Many writers such as Mayavi, and NA. Parthasarathy (Manivannan) came into prominence through Kalki magazine.
References
‎
---
✅Finalised Page