Kalki Sadasivam
From Tamil Wiki
இந்தப் பக்கத்தை தமிழில் வாசிக்க: கல்கி சதாசிவம் ‎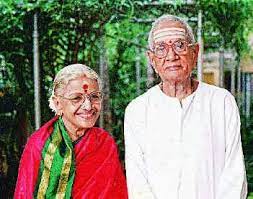 Kalki Sadasivam (T. Sadasivam) (Thiagaraja Sadasivam) was a Tamil journalist, who founded and managed the weekly magazine, Kalki. He was a freedom fighter and he married the singer M.S. Subbulakshmi.
Birth, Education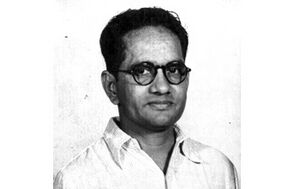 Kalki Sadasivam was born to Thiagarajan and Mangalam in Aangarai on September 4, 1902. He was the third among sixteen children. He dropped out of school to participate in the freedom struggle.
Personal Life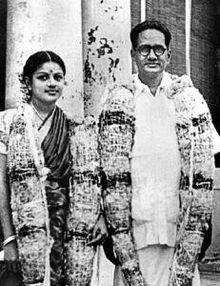 Sadasivam was initially married to Abithakuchambal. They had two daughters, Radha and Vijaya. Radha is a singer. In July 1940, Abithakuchambal passed away. Sadasivam met M.S. Subbulakshmi in July 1936. On Rajaji's advice, he married her in 1940. Sadasivam and M.S.Subbulakshmi had no children.
Political Activities
The Kumbakonam Mahamaham festival of 1921 was an event of both literary and political importance. Many prominent personalities met there for the first time. Sadasivam met the leaders of the nationalist movement, during this festival, at a Khadar stall of the Congress party. He also got acquainted with Kalki Krishnamurti. It was there that he heard Subramania Siva's speeches, which inspired Sadasivam to join his Bharat Samaj movement. In 1920, he was introduced to Rajaji and worked as part of Rajaji's Khadar movement. He went from town to town promoting Khadar through patriotic songs. In 1922, he was jailed for participating in the nationalist freedom struggle. In 1923, he took part in protests against toddy shops and foreign cloth, and was imprisoned for 15 months. In 1930, Sadasivam was arrested and imprisoned for six months was taking part in the salt satyagraha in Trichy organised by Rajaji.
Journalism
In 1941 he founded the Kalki weekly magazine along with 'Kalki' Krishnamurthi. After Kalki Krishnamurthi's death in 1954, he took over its management.
Films
In 1945, Sadasivam produced the film 'Meera' directed by Ellis Duncan, starring his wife M.S. Subbulakshmi.
Biography
Sadavisam's biography can be found in T.J.S. George's biography of M.S. Subbulakshmi, "M.S. - A Life in Music"
Death
Kalki Sadasivam died on November 22, 1997 in Chennai at the age of 95.
‎
---
✅Finalised Page