Amirtham Surya
From Tamil Wiki
இந்தப் பக்கத்தை தமிழில் வாசிக்க: அமிர்தம் சூர்யா ‎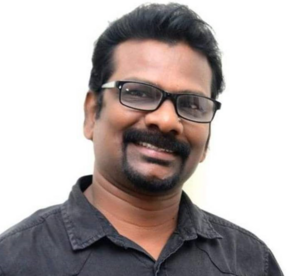 Amirtham Surya (December 16, 1966) is a Tamil Writer, Literary orator, Poet and a Journalist.
Birth, Education
Amirtham Surya's birth name is R.N. Kathiravan. As he did not like the -n- part in the name of Kathiravan, he changed it to Surya. Amirtham Surya ran an independent magazine in the name of his grandmother Amirtham, who lived for a hundred years, he merged it and became Amirtham Surya.
Although Kanchipuram was Amirtham Surya's ancestral home, his parents had settled in Chennai. He was born on December 16, 1966 to the father Natarajan and mother Saroja. Amirtham Surya completed his higher education in Thangasalai Saradha Vidyalaya, Chennai till class eight, Thangasalai Government High School from eight to ten and Adi Dravidar Higher Secondary School in Kanikapuram, Chennai for higher education. He dropped out of the Chemistry department of Sir Theagaraja College, Chennai. He completed his vocational education at the Thangasalai (Mint) in Chennai as a machinist.
Personal Life
Amirtham Surya married Latha on October 29, 1990 at Vadapalani temple. They have two sons, L.K. Kavya Priya Darshan and L.K. Akash Agni Mithran.
Amirtham Surya worked as a machinist in Ambattur Industrial Estate, as a temporary employee in a bank in Anna Nagar, as a company manager in Guduvancheri and as a manager in an export company in Vyasarpadi and completed his 13-year tenure as Chief Deputy Editor of Kalki Weekly before retiring. Along with writing full-time, he also runs a YouTube channel called Karumandi Junction.
Literary Life
Amirtham Surya's started with writing poetry. He continued to write in magazines like Kavithacharan, Naveena Vrutsam, Sundara Sugan, Kanaiyazhi, Kodu, Kodangi. In 2000, a collection of poems titled Uthiri Sayanathai Neeril Alasum Varai was published with a foreword by Jeyamohan. Amirtham Surya cites his predecessors as Devadevan, Devathatchan, Ramesh Prem in poetry, Jeyamohan in fiction, Charu Nivedita and S. Ramakrishnan in essays, and is a great admirer of Chandru Master in paintings and Murugabhupathi in plays.
An ardent theist, Amirtham Surya was involved in Siddhar worship. He wrote a series in the Deepam magazine entitled Aasi Peralam Vanga[1]' documenting the search of Jeeva Samadhi[2] of Siddhars[3] in Chennai. He also wrote a series on female Siddhars in Kalki.
Awards
Award from Tirupur Tamil Sangam
Dinakaran Award
State Bank Award
Ezuchi Arakattalai Award (For Best Play)
C. Kanagasabapathy Award
Annam Award
Souma Award
Books
Uthiri Sayanathai Neeril Alasum Varai (2000), Poems - With Jeyamohan's foreword
Paguthi Nera Kadavulin Natkurippedu (2006), Poems - Chandru's foreword
Vettridathai Neelathal Nirappum Vanam (2012), Poems
Oviya Framilirunthu Veliyerum Paravaigal, Poems - With Manushyaputhiran's foreword
Mukkonathin Nalavathu Pakkam (2001, Essays - With Venkat Swaminathan's foreword
Kadavulai Kandupidippavan 14, Short Story Collection - With Indira Parthasarathy's foreword
Milagu Kodiyil Padarum Kavithai - A collection of essays about poems from important poets
Eravanam (Novel)
References
Footnotes
↑

Let us get blessings

↑

Tombs

↑

A spiritual person belonging to the Siddha tradition in Tamil culture
‎
---
✅Finalised Page