A. K. Paranthamanar
From Tamil Wiki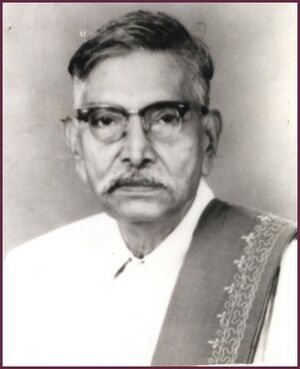 இந்தப் பக்கத்தை தமிழில் வாசிக்க: அ.கி. பரந்தாமனார் ‎

A. K. Paranthamanar (July 15, 1905 - 1986) was a Tamil professor, writer, poet, historian, and lecturer. His full name was Allikuzhi Krishnasamy Paranthamanar.
Birth, Education
A. K. Paranthamanar was born on July 15, 1905 in Chennai, the fourth son of Krishnasamy Mudaliar and Sivanathi Ammal.
He completed his schooling at St. Paul's High School in Vepery, Chennai . Upon graduating from Pachaiyappa's College, Chennai he worked as a clerk in the Carnatic Cotton Mill in Chennai for a year. He studied politics and history at Pachaiyappa's College, Chennai and obtained his bachelor's degree and master's degree in 1949.
Personal Life
After completing his postgraduate studies, A. K. Paranthamanar worked as a Tamil teacher for about 24 years at St. Paul's High School in Vepery, Chennai.
When Madurai Thiagarajar College was started in January 1950, he joined as a Tamil lecturer. He worked there for 17 years and retired in 1967. He participated as an expert in Tamil Nadu Textbook Institute, Thamizhaga Pulavar Kuzhu and such. A. K. Paranthamanar's son Somasundaram also works in education.
Contribution
Historian
A.K. Paranthamanar's primary contribution was the collection of information on Tamil history from research papers and English texts, and the writing of expansive books. His historical tome Madurai Nayakkar Varalaru contains brief but detailed accounts of the Nayaka dynasty and their fall. This book is based on Professor R. Sathyanatha Ayyar's 1917 - 1921 English book Madurai Nayakkar Varalaru, K. A. Neelakanda Shastriyar's Thenindiya Varalaru and Dr. A. Krishnasamypillai's Tamil Country under Vijayanagara. He continued to write historical research articles in the Tamil Nadu daily for about 13 years. He also wrote books named Thirumalai Nayakkar Varalaru and Thalaisirantha Pandiya Manargal.
Simple Grammar
A.K. Paranthamanar was involved in Thanithamil (Tamil linguistic purity movement) development activities and in compiling texts for it. He wrote weekly articles in the Tamil Nadu daily run by Madurai Karumuthu Thiyagarasar, that taught about writing Tamil without grammatical errors. These articles were later compiled and published under the title Nallathamil Ezhuthavanduma? It is considered as an important guide book that introduces grammar close to contemporary Tamil prose. He founded the South Indian Tamil Educational Institute in Chennai in 1925 and conducted Tamil classes.
Awards
"Paindhamil Pavalar" - Madurai Ezhuthalar Mandram, Madurai Thiruvalluvar Kazhagam, presented on the occasion of A. K. Paranthamanar Manivizha.
"Thiru. Vi. Ka. Virudhu" - Tamil Nadu Government, presented at the Tamil University Opening Ceremony in 1981, Tanjore
Demise
A.K. Paranthamanar died on 1986 in Chennai.
Memorials, Research
His son A.P. Somasundaran has established the A.K. Paranthamanar Foundation at Madurai Kamaraj University.
Palthurai Vithagar A.K. Paranthamanar, A.P. Somasundaran, 2009, Alli Nilayam (A collection of research seminars on A.K. Paranthamanar)
Paranthamanar Poems, a research, S. Premakumari
Literary Space
A.K. Paranthamanar always gets quoted in the literary world for his books Madurai Nayakkar Varalaru and Nallathamil Ezhuthavanduma? In the middle of the twentieth century, when Tamil nationalist ideas were prevalent in Tamil Nadu, there was a widespread reluctance in writing about the history of the Nayakkar period. A. K. Paranthamanar's books were widely considered as important contributions to historical writing, as it was raised in defiance to the Tamil nationalist Movement.
When traditional scholars were writing based on vocabularies, by combining words and using traditional Tamil words which made it hard to read, a trend was being followed by writing based on day to day speech and by mixing languages with grammatical mistakes. Through his book, A.K. Paranthamanar has taught the art of writing simple prose in pure Tamil without violating Tamil's grammatical legacy. Two of the books that paved the way to write general prose are A.K. Paranthamanar's Nallathamil Ezhuthavanduma? and C.P. Adithyanar's Nalthal Ezhuthazhar Kaiyedu. Adithyanar's thread created the simple Tamil style circulating in the dailies. Though there was intermingling of languages and grammatical mistakes, the aim was to make Tamil prose easily grasped by everyone, including illiterates. A.K. Paranthamanar's grammar is intended to create a general prose without compromising the norms of literary traditions.
A.K. Paranthamanar is primarily considered as a good teacher. His students Abdul Rahman, Meera, N. Kamarasan, Mu. Metha, Inkulab, and Abhi who studied under him, portrays his abilities as a great teacher.
Creations
Poems
Kathalnilai Kavithaigal (1954)
Engal Thottam (1964) - Siruvar Padal
Pranthamanar Kavithaigal
Guideline Books
Kavignaraga
Nallathamil Ezhuthavanduma?
Tamil Ilakkiyam Karka
Vazhkaikalai
Pechalaraga
Studies
Thirukuralum Pudumai Karuthukalum (1963)
Panmuga Parvaiyalan Bharati
Historical Books
Madurai Nayakkar Varalaru
Thirumalai Nayakkar Varalaru
Thalaisirantha Pandiya Mannargal
Varalatru Katturaigalum Piravum
References
Palthurai Vithagar A. K. Paranthamanar, A. P. Somasundaram, 2009, Alli Nilayam (A collection of research seminars on A.K. Paranthamanar)
External Links
‎
---
✅Finalised Page