Ra. Senthilkumar
From Tamil Wiki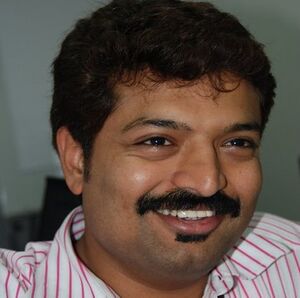 இந்தப் பக்கத்தை தமிழில் வாசிக்க: ரா. செந்தில்குமார் ‎

Ra. Senthilkumar (1976) writes short stories and essays in Tamil. He resides in Japan. His stories set in Japan constitute a novel fictional space in Tamil literature. They depict the frictions between differing cultural milieus. His stories that are set in Tamil Nadu portray the downfall of a traditional feudal society.
Birth, Education
Ra. Senthilkumar was born on July 23, 1976 at Mannargudi, Thiruvarur District, Tamil Nadu to P.S. Ramalingam and Rethna. He was educated at the National Higher Secondary School, Mannargudi. He received his bachelor's degree in Computer Science from A.V.V.M. Sri Pushpam College, Poondi and master's degree from Bharathidasan University, Trichy.
Personal Life
Ra. Senthilkumar married Gayathri in 2004 and has two children Kavin and Kavya. He is a software professional working in Japan. During his college days, he participated in the activities of the Communist Party of India. Later, he was involved for a period in Dravidian politics.
Through Muzhumathi Trust, Ra. Senthilkumar is helping the students of Tamil Nadu as well as Sri Lankan Tamils to continue their education. He has also adopted few government schools in rural Tamil Nadu in order to improve the quality of education and to transform them into "model schools".
Literary Life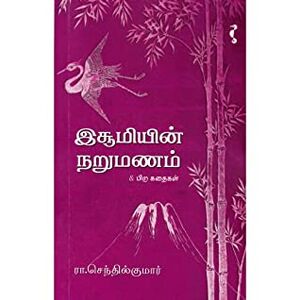 Ra. Senthilkumar's first story was published in the childrens' magazine Gokulam, when he was a student. He circulated a handwritten magazine Chittukuruvi (Sparrow) when he was in school. Ra. Senthilkumar considers the writers Jayakanthan, Thi. Janakiraman, Sundara Ramaswamy, Jeyamohan, Vannadasan and Leo Tolstoy as his literary influences. He has invited the Tamil writers S. Ramakrishnan, Nanjil Nadan, Jeyamohan and Leena Manimekalai to Japan on various occasions to facilitate discussions on Tamil literature.
Ra. Senthilkumar's first short story collection Isumiyin Narumanam (Isumi's Fragrance) was published in the year 2021. Out of the twelve stories in this collection, eight are set in Japan. These stories present the day-to-day life, office culture, family, metropolitan life in Japan and the various characteristics of its people.
Literary View
Most of Ra. Senthilkumar's stories have a Japanese background. However, he observes Japan through the lens of Tamil culture. He also examines Tamil life with symbols derived from Japanese culture and lifestyle. The dispersion of Tamil people across the world, as a consequence of globalization has forced Tamil literature to address how they face these changes. Ra. Senthilkumar's literary work is therefore an important contribution to diaspora literature in Tamil.
According to critic M. Gopalakrishnan, "Many young Tamil writers, who have put down their roots in foreign lands, are enriching our Tamil storyscape with fiction about their lived experiences. Ra. Senthilkumar's Isumiyin Narumanam can certainly be added to this list."
Works
Short Story Collection
Links
‎