Kar Narpathu
From Tamil Wiki
இந்தப் பக்கத்தை தமிழில் வாசிக்க: கார் நாற்பது ‎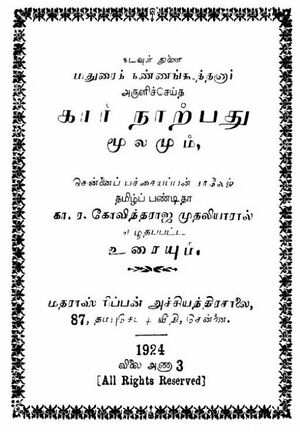 Kar Narpathu is one of the eighteen books of Pathinen Keelkanakku collections of the later Sangam era literatures. It was composed by Madurai Kannankoothanar. In the backdrop of kar (rainy) season, this book, part of Agam genre, deals with the longing of the female protagonist for the arrival of the male protagonist who is away at another place. Kar Narpathu compilation belongs to the category of Nanarpathu (forty) in the minor literary works and is placed under Kaalam genre[1].
Book Structure
Of the four Keelkanakku books categorized by the count Narpathu (forty), the Kar Narpathu and the Kalavazhi Narpathu deal with Agam and the Puram respectively. Inna Narpathu and Iniyavai Narpathu deal with Aram. Jains followed the technique of compiling books on Naanuru (four hundred) and Narpathu (forty) counts. In this way, these books were developed with a customary articulation and theme by them on a fixed count.
Kar Narpathu is the smallest of the Keelkanakku books on Agam genre. Since there are Narpathu (forty) poems in this book and each poem include the portrayal of Kar (rain) period, this book is known as Kar Narpathu.
In Kar Narpathu, the feeling of female protagonist is told along with the Kar period's cultural events such as sacrificial fire (Poem 7) and lighting of lamp on Karthigai day (Poem 26), and the natural events.
Sample Poetries
A poem meaning "Like the lamps lit by the people during the Karthigai lamp festival which is one of the Kar period festivals, the rain has come as a message to announce the arrival of the protagonist so that flowers bloom in rows everywhere "
nalamiku karthigai naattava ritta
thalainaal vilakkir trakaiyudaiya vaakip
pulamelaam poothana thoantri silamozhi
thoothodu vantha mazhai
A poem meaning "O thou of a relaxed nature! a raining sky shining like a sacrificial fire of eternal fame will bring the protagonist who went out in search of wealth for the sake of giving to those who reached out to him, and to defeat the enemies "
nachiyaarku eedalum, nannaarth therudalum,
thar seyvaan senraarth tharooum, - thalariyalaay!-
pochaappu ilaada pukazh vaelvith theep poala
ech saarum minnum, mazhai
Links
References
Footnotes
↑

Kaalam, Idam, Porul, karudi, naarpan
saala uraithal Narpathuve

refers Ilakana Vilaka Paatiyialar about this book which comprises forty poems on Kaalam
‎
---
✅Finalised Page