Kannan Peruntoothu (Short Story)
From Tamil Wiki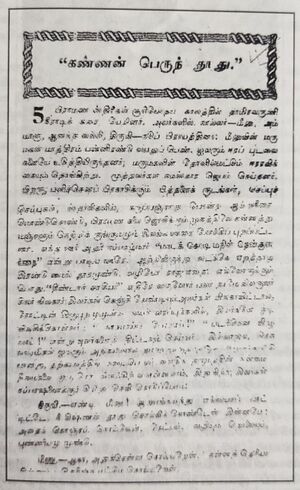 இந்தப் பக்கத்தை தமிழில் வாசிக்க: கண்ணன் பெருந்தூது (சிறுகதை) ‎

Kannan Peruntoothu is the last short story written by A. Madhavaiya. A short story valued by Pudhumaipithan as a great example of characterization.
Writing, Publication
Kannan Peruntoothu was published in Panchamirtam magazine on November 1925. This is a short story published with an anonymous name on Karthikai 1925 in Panchamirtham, magazine, after A. Madhavaiya's death.
Synopsis
"The story unfolds as the first mantra of the song Kannan Peruntoothu is recited, interrupted by those women's tumultuous speech, again the song and then another interruption. In a few seconds, a very large object is buried in a very small area and all the textual attention is focused on the women's speech, the story is structured according to the grammar of Brander Mathews, which is oneness of incident, oneness of character, oneness of feeling" says Citi-Sivapatha Sundaram Duo on the story.
Literary Significance
"This is the best example of casting. The character development in the characters and the story line is amazing" assesses Pudhumaipithan. Writers Jeyamohan and Vedasagayakumar consider it to be the first short story published in Tamil.
References
"Viduthalaikku Munthaiya Tamil Sirukathaigal (1892 - 1947)": Thervum Thoguppum: Arvind Swaminathan: 2021: Yavarum Publications
‎
---
✅Finalised Page