Kaniyan Pungundranar
From Tamil Wiki
இந்தப் பக்கத்தை தமிழில் வாசிக்க: கணியன் பூங்குன்றனார் ‎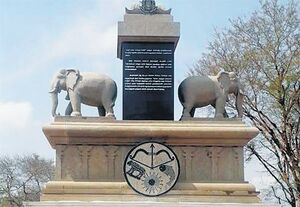 Kaniyan Pungundranar was a poet of the Sangam era[1]. Kaniyan Pungundranar's two poems are part of the Ettuthokai compilations: Natrinai and Purananuru. Kaniyan Pungundranar's poem Yaadum Oore Yaavarum Kelir[2] is known for the Tamil people's universal thinking.
Private Life
The name Kaniyan Pungundranar was derived from his profession and his place. 'Kaniyan' refers to Astrology as he was into Astrology. He was born at Mahibalanpatti in Tirupattur, Sivaganga district. The inscription at Mahibalanpatti temple refers to this place as 'Pungundra Nattu Pungundram'. Hence he was known as Kaniyan Pungundran. Poet Ka. Govindan mentions that he was wrongly quoted as Kanibun Kundran' in some of the texts.
Literary Life
Kaniyan Pungundranar's two songs are compiled as Natrinai (Poem no. 226) and Purananuru (Poem no. 192). The 192nd Purananuru poem is categorized under Podhuvial thinai and Porunmozhi kanchi. This poem is distinguished by the fact that it sings about the truths explored by the sages.
Purananuru: 192
This poem talks about universal thinking, faith, philosophy of life, scientific knowledge and relationship between elders and youngsters of ancient Tamils.
Every town is our home town; every man is our kinsman
Good or evil happen not because of others
Suffering and relief happen not because of others
Dying isn't something unknown
Neither we rejoice at life as a pleasure, nor we distress it as a misery
Since we know from words of wise men that our precious lives follow their destined course like the rafts following the course of a mighty river, clattering over rocks after a downpour from lightning slashed skies,
We aren't impressed by the mighty, even more, we don't scorn the lowly
Scorning the lowly is worse than praising the mighty, hence we don't do that.
Distinction
With music composed by music director Rajan Somasundaram, the poem Yaadum Oore Yaavarum Kelir was sung by several international musicians including the America's Durham Symphony, and was released in 2019[3]. This poem was declared as the anthem of the World Tamil Conference held in Chicago during the same year[4].
Debates
Kaniyan Pungundranar's thinking in this poem are close to the Asivakam religion. Therefore, people like Dr. K. Nedunchezhiyan postulated that Asivakam was the ancient religion of Tamil Nadu. On the contrary, it is refuted that the unity of the universe and the principle of fate mentioned in this poem are the beliefs of the ancient Tamils.
Natrinai : 226
This is the 226th poem of Natrinai depicting Paalaithinai[5] thalavi (female protagonist from desert region) lamenting the departed thalaivan (male protagonist) for finding an earning.
Information from this Poem
Medicinal trees are not to be cut down completely making them lifeless. If it is cut like that, it will be of no use later.
Those who do penance with physical suffering do not do so ruining them completely as this will not help in reaping the fruits of penance subsequently.
Kings do not intend to tax to the extent that the wealth of their countrymen gets depleted.
Earning wealth is for the sake of pleasure. Life is essential for this the enjoyment. If life is destroyed in this course, there is no benefit on the generated wealth.
Memorial
Government of Tamil Nadu erected a memorial pillar for Kaniyan Pungundranar at Mahibalanpatti in Tirupattur, Sivaganga district, where he is believed to have been born.
Poetry Structure
Purananuru : 192
Yaadum Oore; Yaavarum Kelir;
theethum nandrum pirarthara vaaraa;
noadalum thanithalum avatrroa ranna;
saadalum puduvadu antre; vaazhdal
inidhuena makizhntdhandrum ilamae; munivin,
innaa thendralum ilamae; minnodu
vaanam thanthuli thalaie, aanaadhu
kalporudu irangum mallar paeryaatru
neervazhip padooum punaipoala, aaruyir
muraivazhip padooum enpadu thiravoar
kaatchiyin thelinthanam aagalin, maatchiyin
periyoarai viyathalum ilamae;
siriyoarai ikazhthal athaninum ilamae.
Natrinai : 226
Maram saa marundhum kollaar, maandar;
uram saach seyyaar, uyarthavam; valam kedap
ponnum kollaar, mannar - nannudal!
naam tham unmaiyin ulamae; adhanaal
thaam seyporul alavu ariyaar; thaam kasinthu,
enroozh niruppa, neel idai ozhiya,
sentroarmandra nam kaadhalar; endrum
inna nilaimaithu enba;
ennorum ariba, iv ulakathaanae.
References
Purananuru Vilakaurai, Ovai Duraisami Pillai, First Edition, Tirunelveli Thennindia Saiva Sithantha Noorpathippu Kazhagam 1947, Reprinnt - Poompuhar Pathippagam 2009
Hindu Tamil Thisai, February 4, 2020
Poet Ka. Govindan - Tirunelveli Thennindia Saiva Sithantha Noorpathippu Kazhagam: Vanigari Pulavargal – Sangam Tamil Poet List - 9
Links
‎
---
✅Finalised Page