Kangal Urangavo (Novel)
From Tamil Wiki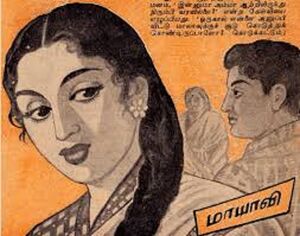 இந்தப் பக்கத்தை தமிழில் வாசிக்க: கண்கள் உறங்காவோ ‎

Kajani Urangavo (1969) is a novel written by Mayavi, serialized in Kalki magazine. It is one of the best novels written by Mayavi. A work for common reading. The story occurs in a family environment with an ultra romanticized tone.
Writing, Publication
Mayavi (S.K. Raman) serialized this novel in Kalki Weekly in 1969.
Synopsis
Dr. Veena, a young widow, comes to a small village. Sundaram wants to remarry her. But it creates a big commotion in the town. Dr. Veena knows that Sundaram's cousin is in love with him. She also knows Sundaram is trying to marry her only because he was triggered by Veena asking him 'if it were you, would you remarry a widow?'. So Veena wants to marry a friend named Vikas. Dr. Veena leaves town because Vikas was killed by the Village head Tanavathi. "We may not be able to do what we thought. But because of our struggle, some people's minds have changed" she says.
Assessment
Kangal Urangavo is an action-packed novel for common reading. But it shows what kind of social turmoil a widow remarriage created in the last century.
References
‎
---
✅Finalised Page