Kadavul Thodangiya Idam (Novel)
From Tamil Wiki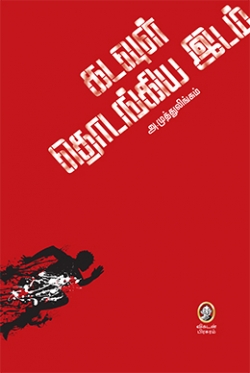 இந்தப் பக்கத்தை தமிழில் வாசிக்க: கடவுள் தொடங்கிய இடம் ‎

Kadavul Thodangiya Idam (2012) is a novel written by A. Muttulingam. The work portrays the tragedies of migration of Tamils from Eleam, how they accepted the challenges and settled their lives in many countries.
Writing, Publication
Kadavul Thodangiya Idam by A. Muttulingam was serialized in Ananda Vikatan Weekly in 2011. It was published as a book in 2012 by Vikatan Publications.
Synopsis
The novel depicts the lives of war-fearing emigrants from Eelam from 1992 to 2003. The novel tells the journey of Nishant, a young man who left as a refugee from the small village of Kuplan in Sri Lanka at the age of nineteen in 1992, crossed the borders of several countries through Russia and Germany, and entered Canada in 2003, eventually getting Refugee permit and settling down in a permanent job. Through his experiences, what he sees and hears, the overall picture of refugee life unfolds.
Literary Significance
There are many novels in Eelam literature that depict the tragedy of migration with an autobiographical and political perspective. Where Kadavul Thodangiya Idam differs from them in its non-sensational, light-humored approach and its non-political outlook. The novel also provides a worldwide vision through a story line that passes through different countries. Instead of the talking about the current political reasons for war and migration the novel portrays the psychology of migration happening throughout human history, the novel differs in this distanced yet universal point of view.
A musical tribute by Rajan Somasundaram celebrates this novel that portrayed the struggles of immigration, the author Muttulingam as well as the success and contributions of Tamil immigrants across the globe[1].
References
Footnotes
‎
---
✅Finalised Page