Kadarkarai Kaviyarangam
From Tamil Wiki
இந்தப் பக்கத்தை தமிழில் வாசிக்க: கடற்கரைக் கவியரங்கம் ‎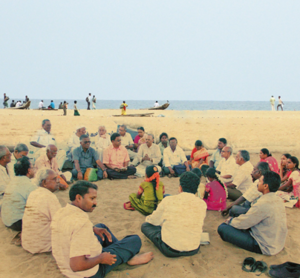 Poet Ponnadiyan has been conducting the Kadarkarai Kaviyarangam since 1971 at the Marina Beach, Chennai. The Kadarkarai Kaviyarangam includes sessions of poetry reading, discussions and debates in the open air beach setting behind the statue of Thiruvalluvar.
History
Kadarkarai Kaviyarangam was started by Ponnadiyan on June 13, 1971, with the help of Dr. Naventhan and Professor Vanmugil. Film lyricist Ku. Ma. Balasubramaniyan, presided over this first event.
The Kaviyarangam is open to all and meets on the first Sunday of every month at 6 p.m. and its occurance has continued uninterrupted even during natural disasters. Announcements about the event are published in Mullaicharam, the magazine run by Ponnadiyan. An anthology of all the poems discussed through the year is published at the end of each year.
Participation
The event has featured artists such as Kannadasan, Vaali, Vairamuthu, Balakumaran, Pudhumaipithan, Muthulingam, Pazhanibharathi, and Suba. Veerapandiyan. According to Ponnadiyan, poet Vaali wrote the lyrics "Kaatru vaanga ponen, oru kavithai vaangi vanthen," in memory of the Kadarkarai Kaviyarangam event.
References
‎
---
✅Finalised Page