Ka. Appadurai
From Tamil Wiki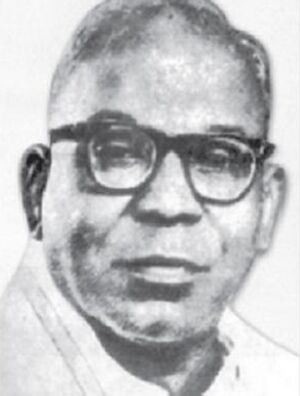 இந்தப் பக்கத்தை தமிழில் வாசிக்க: கா.அப்பாத்துரை ‎
Ka. Appadurai (June 24, 1907 - May 26, 1989) was a Tamil scholar, Tamil historian and translator. He was a polyglot who was fluent in five languages including Tamil, Malayalam, Sanskrit, Hindi and English.
Birth, Education
Ka. Appadurai was born on June 24, 1907, in the village of Aralvaimozhi in Kanyakumari district to Kasinatha Pillai and Muthulakshmi Ammal. After completing his primary education in Aralvaimozhi, he completed his schooling at Nagercoil and obtained his M.A in English from H.H. The Maharaja's College, Thiruvananthapuram in 1927. He later obtained his M.A in Tamil from the University of Travancore, graduated with a B.T. degree from the Teachers Training Institute, Saidapet and cleared the 'Visarath' exam on Hindi language. Around the same period he also learnt to read and write in Sanskrit.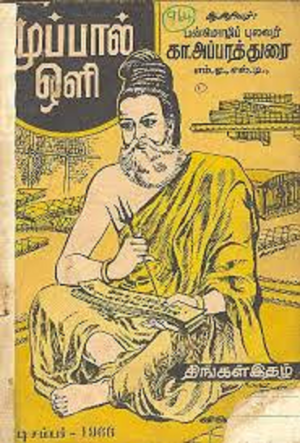 Personal Life
In 1937, Appadurai married Nachiyar, who passed away after two years. He later married Alamelu. Appadurai had no children of his own and so adopted his sister-in-law's daughter. This girl died at a young age.
Appadurai has worked in various educational institutions and publishing houses.
Ka. Appadurai worked as a Hindi teacher from 1937 to 1939 in M.D.T. Hindu college, Tirunelveli.
He was part of the teaching faculty in Pachaiyappan College for a brief period.
He took up the Headmaster's post in Subramaniam Chettiar Gurukulam, Karaikudi. While he was working as the headmaster in the Gurukulam School, Kannadasan was one of his students.
From 1947 to 1949, he worked under the central government's communication department. He was terminated from this job for writing the book, The Linguistic Complexities of India, in which he was accused of presenting ideas that went against national unity. This book was written in English.
From 1959 to 1965, he led the compilation of Madras University's English to Tamil dictionary as its chief editor, .
He was a member of the Tamil Nadu HistoryCommittee from 1975 to 1979.
Journalism
Ka. Appadurai worked for various magazines over a long period.
Dravidan
Justin
India
Bharatha Devi
Cinema Ulagam
Liberator
Viduthalai
Logo Pakaari
Darus Islam
Kumaran
Thendral
Politics
Ka. Appadurai was a nationalist during his early days. While studying in Trivandrum, he attended anti-British rallies at Pulimoodu junction (now Ayurveda College). Appadurai was influenced by Gandhi's speech when he visited his college. Inspired by the Mahatma, he wrote poems titled, 'Gandhi Rathina Thirupugazh', 'Gandhi Puranam' and 'Thaazhthappattor Kovil Nuzhaivu Vizha'.
He took part in the nationwide anti-Hindi protests in 1938-1939 when Hindi was made a compulsory subject in Tamil Nadu. Appadurai and his wife Alamelu Ammaiyaar played a major part in the anti-Hindi protests led by E.V. Ramasamy Periyar in 1948. Later, he became very close to E.V. Ramasamy Periyar's movement. He also worked on his magazines.
Literary Life
About 170 books have been written by Ka. Appadurai, five of these being in English. He has written on various subjects and genres including History, Biography, Critical Analysis, Short story, Play, Poetry, Dictionary, Text books, General Knowledge, Translations (from Malayalam, English and Hindi to Tamil). Many of his books were published by Tamizh Mann publishers. The Government of Tamil Nadu has nationalized his books.
Ka. Appadurai's intellectual contribution can be divided into four categories: journalistic writing, literary research, literature based historical studies and translations.
Journalistic writings
Ka. Appadurai was a supporter of the self-respect movement lead by E.V.Ramasamy Periyar. He contributed articles to several magazines such as Dravidan, Justice, India, Bharatha Devi, Cinema Ulagam, Liberator, Viduthalai, Logobakaari, Darul Islam, Kumaran and Thendral. These writings include numerous biographical references, political essays, and literary research. The History of the UN and Biography of Subash Chandra Bose are just two of more than fifty books that have been published.
Literary research
The play 'Kaatrum Mazhaiyum' written by Ka. Appadurai was staged by Silambu Theatre Group at Chennai Otraivaadai Theatre on 22/04/1956 presided by Annadurai. He wrote 'Thaenmozhi' and 'Thirukkural Mani Vilakka Urai' (6 parts).
History research
Ka. Appadurai created the sketches of history with the intrinsic literary evidences from literary texts, often based on conjecture. Historians do not consider the books on history written by him as primary. With Tamil literature as an evidence and based on speculations of the Theosophical Society, he wrote about the vast expanse of land that was submerged into the sea know as 'Kumari' continent or 'Lemuria' under the title, 'Kumari Kandam Allathu Kadal Konda Thennadu'. However, his book 'Southern Battlefields', based on literary evidences, is considered to be a significant work for its detailed recording of the historical events of Tamil Nadu.
Translations
He translated the books on Alexander, Chandragupta and Chankya. The Japanese book, 'The Tale of Genji' [1] has been translated by him and published under the tile Chenjee Kathai. He translated the early Malayalam novels Indulekha and Marthandavarma. His translation of 'The Tamil Eighteen Hundreds Years ago' [2] written by V. Kanagasabai Pillai that was published under the title 'Aaayirathennooru Aandukatku Murpatta Thamizhagam' is considered his foremost translation work.
Books
Research in History
Kumari Kandam Allathu Kanal Konda Thennaadu
Thennattu Porkalangal
Sariththiram Pesugirathu
Maruthur Maanikkam
Thennaadu
Krishnadevarayar
Vetri Thirunagar
Chennai Varalaaru
Kongu Tamizh Varalaaru
Dravida Panbu
Dravida Nagarigam
Sanga Kaala Pulavar Varalaaru
Ariyanatha Mudaliyar
General Essays
History of U.N.
Nethaji Subash Chandra Bose
David Livingston
Kalaiyulaga Mannan Raviverma
Winston Churchill
Ariviyal Munaivar Einstein
Arivulaka Methai Bernard Shaw
Kannada Naattin Porval Hyder Ali
Aangila Pulavar Varalaaru
Ariviyalaalar Benjamin Franklin
Literary Research
Linguistic Complexities of India
Thenmozhi
Thirukkural Mani Vilakka Urai (6 Parts)
Translations
Aayirathennooru Aandukatku Murpatta Thamizhagam (The Tamils Eighteen Hundred Years Ago)
Chenjeekathai (The Tale of Genji)
Indhulekha (O. Chandhu Menon, Malayalam)
Marthanda Varma (C. V. Raman Pillai, Malayalam)
Alexander (A. S. P. Iyer)
Chandragupta (A. S. P. Iyer)
Chanakyar (A. S. P. Iyer)
Plays
References
Notes
‎
---
✅Finalised Page