Isaac Arumairasan
From Tamil Wiki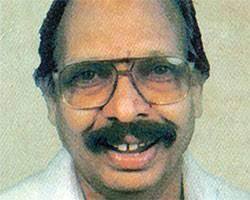 இந்தப் பக்கத்தை தமிழில் வாசிக்க: ஐசக் அருமைராசன் ‎

Isaac Arumairasan (February 19, 1939 - November 07, 2011) is a Tamil writer from Kanyakumari District. Isaac Arumairasan's novels and stories laid out the basic ideas of liberation theology. He termed this Christian Communism.
Birth and Education
Isaac Arumairasan was born on February 19, 1939 in Nagercoil to Isaac and Mary Thangam. Isaac Arumairasan's father was a pastor affiliated with the Church of South India (CSI). Isaac Arumairasan completed his high school education at Scott Christian School in Nagercoil and got his BA in Economics from Scott Christian College. He also holds a Masters Degree in Tamil from South Travancore Hindu College, Nagercoil.
Personal Life
Isaac Arumairasan married Lilavati in 1969. While working as an instructor at Scott Christian College, Nagercoil, he obtained his M.Phil degree from Kamaraj University, Madurai. He later got a position at the Marthandam Christian College (now Nesamony Memorial College) as a Tamil teacher and retired as Head of Department.
Literary Life
While studying at the Hindu College, Nagercoil, inspired by his professor S. Subramaniam, Isaac Arumairasan started reading literature. The pastor of Nagercoil Christ Church V.D.Sahayam encouraged him to write. In 1970, Isaac Arumairasan wrote his first verse drama, Mullaimaadam. His short stories started coming out in magazines including Anil, Anna, Kannadasan, Deepam and Tamarai. Isaac Arumairasan won a prize for his story Kakkaikkoodu published in Kannadasan magazine. In 1975, his first novel Keeralgal was published. In the novel he first introduced the idea of Christian Communism. His subsequent novels built upon this idea. He was the author of several novels including Azhukkugal, Valiyaveedu etc.
Demise
Isaac Arumairajan passed away on November 07, 2011.
Literary Place
Isaac Arumairasan's writing condemned the corruption prevalent in the Christian organizations of his day and their oppressive practices. He argued that Christianity was the first instance of Communism in the world and introduced the idea of Christian Communism in his novels. Although his writing was mostly propaganda, he was the first Tamil writer to introduce this idea in his work. He was thus an early pioneer of the ideological school that later came to be called Liberation Theology.
Books
Novels
Keeralgal (1975)
Azhukkugal (1980)
Kallairaigal
Valiyaveedu
Thavaraana Thadangal
Kaaranangalukku Appaal
Poetic Plays
Mullai Madam
Nedumaan Anchi
Vengaigal
Paarai
Research
Silambu Or Irattaikaapiyam
Tamil Navalgalil Samuthaya Maattram
References
‎
---
✅Finalised Page