Ilango Krishnan
From Tamil Wiki
இந்தப் பக்கத்தை தமிழில் வாசிக்க: இளங்கோ கிருஷ்ணன் ‎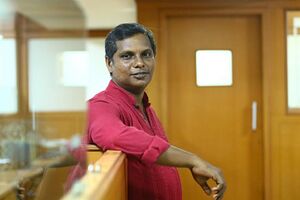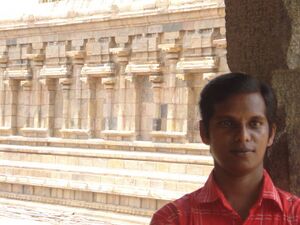 Ilango Krishnan (born March 15, 1979) is a poet in Tamil and writes modern poetry. Ilango Krishnan writes metaphorical and musical poems. Ilango is also known for his discussion on aesthetics and poetics and he is also known as a critic.
Birth, Education
Ilango Krishnan was born on March 15, 1979 in Coimbatore to the couple of Balakrishnan and Saraswati.
Ilango Krishnan completed his primary education at CSI Primary school, Pappanayakkan Palayam, Coimbatore and higher education at R.K. Sreerangammal Kalvi Nilayam, Coimbatore. Ilango Krishnan completed his higher education in Corporation Men's Higher Secondary School, Ramanathapuram, Coimbatore. He studied Chartered Accountancy at CA Foundation and Inter ICAI in Coimbatore. He also obtained Bachelor of Commerce degree through postal education in Annamalai University.
Personal Life
Ilango Krishna's wife's name was Yuvarani. They got married on on November 02, 2011 and have a daughter named Layasree (2012).
Ilango Krishnan worked as an assistant in the office of a Chartered Accountant. Currently he works is a journalist.
Movie Industry
Ilango Krishnan made his debut as a songwriter in the upcoming film Ponniyin Selvan directed by by Mani Ratnam.
Political Views
Ilango Krishnan is one of the poets who has written poems related to politics. When talking about his thought process Ilango says "Even though I am interested in Dialectical Materialism, I believe in allowing Idealistic views to an extend, which will help with my philosophical thought process. In politics it can be called Liberal Left Democratic View". Ilango Krishnan also says his political views are influenced by Kovai Gnani.
Literary Life
Ilango Krishnan started writing poetry during his college days. His poems from 2003 to 2005 were published in 2007 as Kayasandigai. Ilango Krishnan claims his poems are influenced by C. Subramania Bharathiar, Athmanaam and Manushya Puthiran. In fiction he is influenced by Kovai Gnani, Jeyakanthan, Jeyamohan, Ramesh Predahan. Ilango Krishnan writes ப்oems as well as micro narrative stories which are close to poems. He writes Literary Criticisms and General Political and socially critical essays.
Organizational Work
Ilango Krishnan gives Literary lectures on poetry. Conducts Literary Introductory Classes through online media.
Literary Significance
Ilango Krishnan is considered to be an important poet in modern Tamil poetry for his handling of traditional poetic images and myths in a new way, writing musical lines and his aesthetic expression of political consciousness and satire.
Critic Azhagunila states "When I finished reading Kayasandigai, Patchiyin Saritham, Basheerukku Ayiram Veligal Theriyum, Viyanulagu Vathiyum Perumalar collections all at once, as a reader, I saw Ilango as a bird who who clings to the tail of a two thousand year old bird and wanders between Sublimation and awareness"[1].
Awards
Devamagal Arakattalai Virudhu (2008)
Chennai Ilakkiya Virudhu (2015)
Vaasagasalai Virudhu (2021)
Books
Kayasandigai (Poems)
Patchiyin Saritham (Poems)
Basheerukku Ayiram Velaigal Theriyum (Poems)
Viyanulagu Vathiyum Perumalar (Poems)
Marutham Meetpom (Articles)
References
Footnotes
‎
---
✅Finalised Page