Ilakkiyavattam Malaysia (Magazine)
From Tamil Wiki
இந்தப் பக்கத்தை தமிழில் வாசிக்க: இலக்கியவட்டம் மலேசியா (இதழ்) ‎

Ilakkiyavattam Malaysia (1973-1974) is a quarterly magazine published by the 'Ilakkiyavattam' group created by R. Karthikesu in consultation with Professor. R. Dhandayutham. Ilakkiyavattam Malaysia Magazine was created using a typewriter. There was earlier a similar magazine in Tamilnadu of same name Ilakkiyavattam created by K.N. Subramaniam (See. Ilakkiyavattam).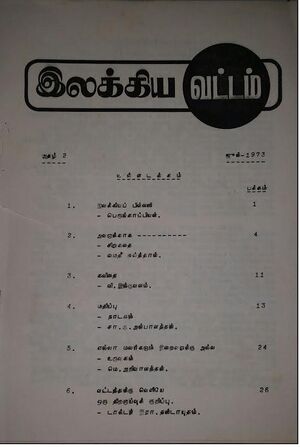 History
When he was working for the radio station, Professor R. Karthikesu collected works from writers and had it typed by the staff from the radio station to later discuss them in literary circles. These works later became part of Ilakkiyavattam magazine in Malaysia. The first issue of Ilakkiyavattam was published in February 1973 for private circulation without an authorised registration. Later, the magazine received a formal government registration number and was read only in certain circles. The contents of the magazine were determined by R. Karthikesu, in which the author M. Kumaran's (Malabar Kumar) address was given for the Government Registration. Ilakkiyavattam magazine came to a halt in May 1974 when R. Karthikesu joined Malaysian University of Science in Penang, leaving the radio station job.
The main intention of the magazine was quoted as "This circle does not consider circulation of thousand copies or fifty copies as important. It is dedicated for its experimentation, and the circle was only keen if the writers can make use of the magazine with their pure intent ".
Contents
Bairoji Narayanan, M. Arivananthan, R. Dhandayutham, V. Selvaraj, K. Krishnasami, C. Vadivelu, C. Velusamy, Aru. Su. Jeevananthan, S. Kamalanathan, S.A. Anbananthan, Malabar Kumar, R. Karthikesu, M.T. Sulthan wrote on this magazine. All 5 magazines feature about 5 short stories.
February, 1973 - Vattathukku Veliye - Aru. Su. Jeevananthan
June, 1973 - Avalukkaaga - M.T. Sulthan
October, 1973 - Munusami Thalaikunindhu Nirkiran - R. Karthikesu
January, 1974 - Pathurottil Oru Kadai Irunthathu - M. Kumaran
April, 1974 - Nathikal Kadalil Kalakkatum - Aru. Su. Jeevananthan
Reference
‎
---
✅Finalised Page