Gajambhikai
From Tamil Wiki
இந்தப் பக்கத்தை தமிழில் வாசிக்க: கஜாம்பிகை ‎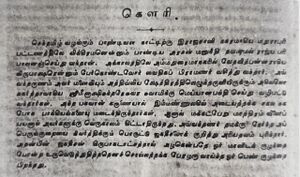 Gajambhikai is one of the earliest writers of Tamil. Srimathi alias Ambarishobhakiyanam is an important work. It saw three editions in a short span of time.
Personal Life
Gajambhikai was born in Trichy, Tamil Nadu as the youngest daughter of Brahmasree Sivananda Yogeeswarar. Her father was a religious philosopher who wrote books like Thiruchendil Venba Anthadi'. He continued to write many literary, spiritual and religious articles in Anandabodini magazine. Gajambhikai was the associate editor of magazines like 'Brahmavidya', 'Arya Jana Priyan'. Gajambhikai's elder sister Balasaraswathi Devakunchariammal is also a writer. Gajambhikai grew up in a literary environment. Other biographical records of her are not available.
Other Names
Gajambaal
Gajambikai Ammal
Literary Life
Gajambhikai wrote stories like Srimathi (A) Ambarishobhakiyanam and Gnanambaal. Ambarishobhakiyanam is a mythological story of King Ambareeshan. The third edition of the book appeared in 1917. 'Gnanambaal' is a social novel and in 1920 it saw a fourth edition. The reception of her stories can be seen from the fact that her stories saw many editions within a short period of time. A short story written by Chakravarthini in 1907 called Gouri is famous. It is not known whether she has written other short stories.
Books
Srimathi (A) Ambarishobhakiyanam
Gnanambaal
Gouri (Short Stori)
References
Viduthalaikku Munthaiya Tamil Sirukathaigal - 2 (Penezhuthu - 1 : 1907 - 1947) - Thervum Thoguppum: Arvind Swaminathan - 2021 - Yavarum Publishers
‎
---
✅Finalised Page