Brenda Beck
From Tamil Wiki

இந்தப் பக்கத்தை தமிழில் வாசிக்க: பிரெண்டா பெக் ‎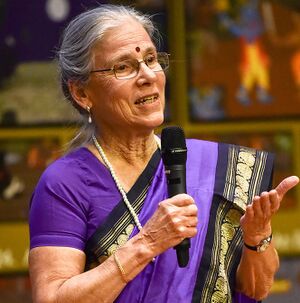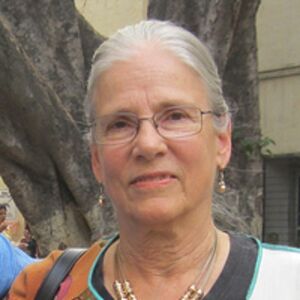 Brenda Beck (Dr. Brenda E.F. Beck) (1940) is a Canadian anthropologist. She has extensively researched about the folklore traditions of the Kongu region in Tamil Nadu. She compiled and recorded in its entirety the Tamil folklore epic Annanmar Sami Kathai ( Elder brothers' story) and published it along with her detailed research notes. She has published eight books and authored more than sixty research articles. Through her works, she has introduced the fundamental values of the Tamil culture to a global audience. She is actively involved in the Tamil cultural activities of Canada.
Birth, Education
Brenda Beck was born in Canada in the year 1940. Her father was employed in Beirut, Lebanon. When Brenda was 14 years old, her father took her on a tour to Syria, Lebanon, Turkey, Afghanistan, Pakistan and India. She was introduced to the Tamil culture during her travel from Coimbatore to Trichy. In 1964, Brenda revisited Tamil Nadu, while pursuing her doctoral research in anthropology from Somerville College, Oxford. During her stay at Olapalayam village near Kangeyam (previously under Coimbatore district) she learned Tamil. Brenda adopted the customs and culture of Olapalayam. Wearing sarees and traditional jewelry, she resembled a Tamil woman and became an active participant in the affairs of the village.
Annanmar Samy Kathai
In 1965, Brenda heard two village bards, Ramasamy and Palanisamy, narrating the Annanmar Samy Kathai, also known as Kunnudaiyar Kathai or Ponnar Sankar Kathai. This oral epic used to be performed like a series by many bards spread over several days. Thought to be set in the 14th century, Annanmar Swamy Kathai has been passed through generations in the form of songs, dance and plays. It is considered as an epic with historical merit among the many tales of different tribes, emerging from the Kongu region.
Brenda Beck recorded the folklore performance of Annanmar Samy Kathai, spanning 38 hours, spread across 18 nights. She said, "[t]he experience was magical. I was recording in cassettes and when I ran out of blank cassettes, I erased the North American folk songs and continued with the recording". Brenda has also collected the folk tales of Kongu region that is about twenty thousand pages in writing.
Brenda has been showcasing the Tamil folklore in different ways before the world. A. Muttulingam records Brenda's statement as follows: "I reminisce about the days that I spent in the small village 50 years ago. I cannot forget the love and support of those people. Their art has a tradition of 500 years. What have I done for them? I was tormented by guilt. I thought I should somehow take the Annanmar Kathai to the next generation".
Teaming up with the Indo-Canadian artist Ravichandran Arumugam, Brenda published the illustrated books of Annanmar Samy Kathai in Tamil and English. Based on Annanmar Samy Kathai, she created an animation video series in English consisting of 26 episodes, with a run time of 13 hours. Brenda Beck also created the graphic novel "Elder Brothers' Story: An Oral Epic of Tamil, The Legend of Ponnivala or Ponnar Shankar" . This novel was published by the Institute of Asian Studies and is now available online.
Service to Tamil
In 2016, Brenda Beck developed an online software to teach Tamil to Tamil children who have emigrated to Canada. In the same year, she donated 10,000/- dollars to the Toronto Tamil Education Center.
In 2018, Brenda Beck created the "Brenda Beck Tamil Programming Fund" and "Brenda Beck Tamil Digital Fund", with the objective of supporting the efforts for digitization of Tamil books. She donated 327,000 dollars to this fund.
In 2018 (September 1 and 2) Brenda Beck hosted the Kongu family reunion at Manassas on behalf of the Kongu Association in Manassas, Virginia.
Brenda Beck explores both the traditional folklore aspects and anthropological perspectives of the Annanmar Samy Kathai. She coordinates the activities of Tamil Education in Canada. Brenda Beck is the President of Sophia Hilton Foundation of Canada, a charitable trust that aims to promote learning through storytelling. The trust has published the Annanmar Samy Kathai in various forms.
In 2019, with the assistance of Brenda, University of Toronto held its first Tamil Heritage Month celebration at Scarborough. Tamil Folk arts like Villu Paattu, (a story telling performance, where the lead performer uses the bow like a musical instrument ) were performed in this celebration.
Cultural Contribution
Tamil folklore and anthropology have been documented in the past by cultural pathfinders of the likes of Robert Caldwell. This has a unique tradition as it operates with the awareness that a knowledge pool is being created for the future. Begun in the 1940s, this tradition has two major schools. Ki. Va. Jagannathan and Mu. Arunachalam recorded the side of the Classicists. Those like Na. Vanamamalai recorded the perspectives of the Marxists. Researchers from foreign countries started employing scientific techniques, influenced by the American-European universities' methodologies specific to humanities and social sciences. Brenda Beck is a forerunner among such researchers.
Brenda conducted her research even before an organizational set up was created to investigate Tamil folklore in the Indian universities. In fact, she began her research even prior to the acceptance of folklore as a separate discipline by these universities. She has recorded the oral folklore tradition before it could be ruined by the intervention of modern technology. In a way, Brenda's compliations can be deemed as cultural treasure troves. Brenda Beck's works on Annanmar Samy Kathai predates Professor Sakthikanal's publication of the same folklore. Brenda's live recording of Annanmar Samy Kadhai for 38 hours is one of the finest of its kind. The fact that this type of recording is not possible now confirms its significance. Brenda has authored many articles on Annanmar Samy Kathai taking into account its literary and cultural aspects. Brenda Beck's elaborate research notes of Annanmar Samy Kadhai, detailing the literary and cultural subtexts and nuances along with her continuing efforts to make it an important part of the wealth of the global folklore tradition is her major contribution to the Tamil cultural activity.
Books
Brenda has authored many articles in the research journals like Anthropologica, Current Anthropology, Journal of South Asian Literature, The Journal of Asian Studies, and Western Folklore.
Body Imagery of the Tamil Proverbs of South India
The Metaphor as a Mediator Between Semantic and Analogic Modes of Thought
The Logical Appropriation of Kinship as a Political Metaphor: An Indian Epic at the Civilizational and Regional Levels
The Right-Left Division of South Indian Society
The Three Twins
The Telling of a South Indian Folk Epic
A Praise-Poem for Murugan.
Reference
‎
---
✅Finalised Page