Asalambikai
From Tamil Wiki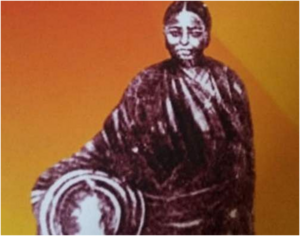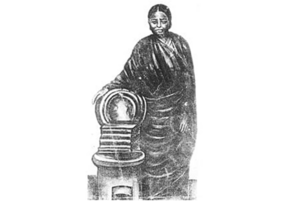 இந்தப் பக்கத்தை தமிழில் வாசிக்க: அசலாம்பிகை ‎

Asalambikai (July 16, 1875 - 1955) was a Tamil scholar, public speaker, writer and poet. She has authored poems that advocate women's literacy and empowerment. She was also a freedom fighter and wrote songs about the spirit of freedom.
Birth, Education
Asalambikai was born on July 16, 1875 in the village of Rettanai in Tindivanam Taluk, Vizhupuram district. Her father's name was Ra. Perumal Iyer. She was married at the age of 10 and widowed when she was 12. Her elder sister, Rukmani was a poet. Rukmani's husband's name was Baburao Iyer. Asalambikai's father Perumal Iyer relocated to Tipathiripuliyur, Cuddalore in order to educate his daughters. He invited Atheenam Swamigal Subramaniyam Thambiran to his home to teach his daughters Tamil and Sanskrit. After gaining expertise in literature and grammar, Asalambikai became a speaker and writer. She spent most of her life in Tirupathiripuliyur. She also lived in Valdalur for some time.
Literary contributions
Asalambikai wrote the following books: Thirivamathur Tiribu Andhadhi, Ramalinga Swamaigal Varalatru Paadal (History of Ramalinga Swamigal), Athichoodi Venba and Kuzhanthai Swamigal Pathigam. She also wrote volume I of Thiruvudaiyoor Thala Puranam, the second volume of which was written by Kuzhandai Velupillai, son of Villupuram Kathaperumal Pillai. She wrote in the women's section of Anandabothini for many years. She also wrote an eight-volume book describing the events in Gandhi's life spanning a period of 30 years.The first two volumes describing the events leading up to his arrest and imprisonment were published in December 1923 and the third and fourth volumes about Gandhi's services through the Khadi movement, in December 1925. The remaining four volumes were published after 1947. Asalambikai was 74 years old when all this work was completed.
Literary significance
After Karaikkal Ammaiyar, Asalambikai was the first one to write Anthathi Pattu – a type of poetry where the last word of the previous verse is used as the first word of the following verse. At a time when women and young widows were denied various rights, Asalambikai learned literature and grammar and became a Tamil scholar and a successful orator. She taught women, and authored poems promoting the progress of women and national independence. As her writings appeared in various magazines in the form of poems and essays, she became a familiar name to the public and was known as 'Tirupathiripuliyur Asalambikai Ammaiyar'.
Pundit Manonmani Ammaiyar wrote an encomium (saatrukkavi) for Asalambikai's Thiruvamathur Tiribu Andhadhi. Asalambikai's sister Rukmani Ammal wrote a special introductory verse (paayiram) for Thiruvudaiyoor Thala Puranam. Thiru V. Kalyana Sundara Mudaliyar wrote the following about Asalambikai in his autobiography: "Pundit Asalambikai Ammaiyar is today's Avvaiyar. She is comparable to some of our great old poets. I savor my interactions with her when I was young. Her Tamil was a feast to my mind. I became a child when meeting with this Tamil mother at Tirupathiripuliyur." While staying in Vadalur, Asalambikai wrote book about Ramalinga Adikalar called Ramalinga Swamigal Pathikam. She also wrote a book called Kuzhandai Swamigal Pathikam.
Contributions to Indian freedom struggle
When Gandhi visited Cuddalore on September 17, 1921, Asalambikai met him on behalf of the women's organization of South Arcot district. She followed Gandhi's non-violence philosophy and wrote Gandhi Puranam. She participated and spoke at the political and religious conferences held at various places like Tiruvannamalai during 1921, 1924 and 1929. She fueled the public's quest for independence through her songs. She wrote books about Gandhi and Tilak called Gandhi Puraanam and Tilakar Puraanam. Bharathiyar included Asalambikai's poems along with his in the January 1906 edition of the woman magazine Chakravarthini, in the section welcoming the Prince of Wales. Asalambikai participated in the South Arcot political conference organized by O.P.R along with 'The Hindu' Rangaswamy Iyyengar and Kancheepuram Krishnaswamy Sharma.
Death
During her last years, Asalambikai lived in Valdur and died in 1955.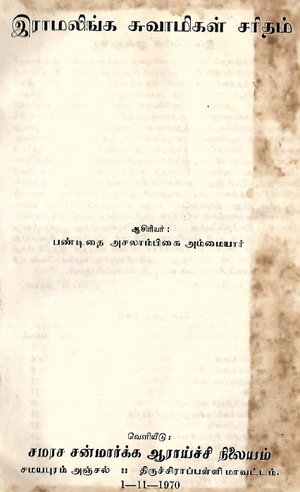 Works
Poetry
Thiruvidaiyur (Melsevoor) Thala Puranam (Volume I)
Thirivamathur Tiribu Andhadhi
Gandhi Puranam (8 Volumes, 2034 poems) - 1923, 1925, 1949
Tilakar Puranam
Ramalinga Swamigal Saritham (409 poems) - 1934
Kuzhandai Swamigal Pathikam
Athichoodi Venba
Tiruvotriyur Panchakam
Bharatha Thai
Essays
Links
https://www.dinamani.com/editorial-articles/special-stories/2020/mar/08/womens-day-special-19th-century-avvaiyar-3376070.html
https://silambukal.blogspot.com/2012/10/blog-post_24.html
http://www.tamilvu.org/library/kalaikalangiyam/lkk10/html/lkk10005.htm
https://www.tamildigitallibrary.in/marc_view?id=jZY9lup2kZl6TuXGlZQdjZh9kJQy
https://shodhganga.inflibnet.ac.in/bitstream/10603/18555/9/09_chapter%204.pdf
Women's Political Struggles and Achievements in Tamil Nadu
‎
---
✅Finalised Page