Arputha Thiruvandhadhi
From Tamil Wiki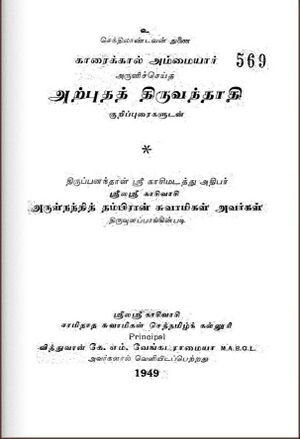 இந்தப் பக்கத்தை தமிழில் வாசிக்க: அற்புதத் திருவந்தாதி ‎

Arputha Thiruvandhadhi is a volume of hymns constituting the 11th Thirumurai (collection of Tamil hymns on Shiva). Karaikal Ammaiyar, one of the 63 Nayanmrkal wrote Arputha Thiruvandhadhi. This is the first book written in the andhadhi format and is known as Adhi andhadhi[1]. The songs are on Lord Siva and the book is known as Thiruvandhadhi (Devine Andhadhi)
Structure
Arputha Thiruvandhadhi (6th Century CE) is based on a specific prosody known as Venba. It is made of 106 songs.
Content
Arputha Thiruvandhadhi speaks about the norms of the Saivism and complete surrender to Shiva. The hymns describe the divine form, divine mercy and divine character of Shiva.
The collection includes the songs showing the manifestations of Karaikal Ammayar's Siva experience, pleadings to God such as "Nee enakku Udhavi Seyalakatha?" (meaning- "Can't you help me?"), ease of reaching the God, Karaikal Ammayar's calmness, and glorification of God disguised in the commands of an authoritative mother (Ninda Stuti).
Representative Songs of Arputha Thiruvandhadhi
Piranthu mozhi payindra pinnellan kaathal
Siranthunin sevadiye sernthen – niranthikagzhum
Mainjandra kandaththu vaanor perumane
Enjandru theerpathu idar (1)
Idarkalaiya renum emakkiranga renum
Padaru Neripaniya renum – sudaruruvil
Enbarak kolath theriyadu memmanark
Kanpara thennenju avarku (2)
Avarke ezhupirappum alaavom endrum
Avarkenam anbavav thallal – pavarchadaimer
Pakapozh soodum avarkallal matroruvark
Kaakappom enjandrum aal (3)
References
Footnotes
↑ meaning- first andhadhi
‎
---
✅Finalised Page