A. Rengasamy
From Tamil Wiki
இந்தப் பக்கத்தை தமிழில் வாசிக்க: அ. ரெங்கசாமி ‎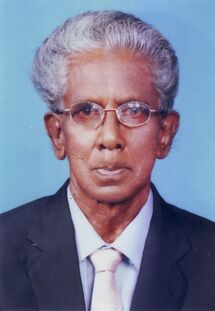 A. Rengasamy (Born: 1930) is a writer from Malaysia. His novels are themed around the complex history of Malaysian Indians. He is popularly known as Kolangad Rengasamy.
Birth, Education
A. Rengasamy's parents hailed from Sivaganga, Tamil Nadu. His father's name was Adaikan and his mother was Kathaayi. They emigrated to Malaysia in 1927. They worked on a rubber estate. They had five children and Rengasamy was their fourth child. Adaikin taught Rengasamy in his early years since he was a teacher and used to conduct thinnai pallikudam (Literally: Porch school. It means tutoring school.) In Tamil Nadu. Rengasamy later had to go to a certified school because of the Japanese Invasion. His teacher, M. Venkatachalam identified that Rengasamy's Tamil was better than most of his peers. He received a certificate after completing 6 years with the help of M. Venkatachalam.
Personal Life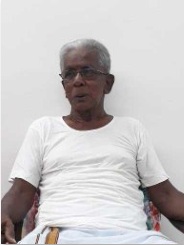 He married his niece Kathaayi on February 10, 1960. He has three daughters and a son. He further studied to become a teacher. He was a headmaster by the time he retired.
Literary Works
In the 1960s, Rengasamy, as a teacher, directed dramas on stage with his students as performers. With his prior experience in the field, he had also directed dramas with adults as performers to raise funds for organizations. He was also interested in writing and directing villupaatu (an ancient form of musical story-telling) during his time as a teacher.
Rengasamy developed his command over the Tamil language as he participated in various classes conducted by the Tamil Murasu Newspaper in the 1950s. He was inspired by Sandilyan's novels to write a novel based on historical events.
Rengasamy gained the confidence to write when he won the second prize for his novel Uyir Perum Unmaigal in a novel competition conducted by Tamil Nesan Newspaper. However, it wasn't published. In an interview A. Rengasamy said that competitions gave him the motivation to write. He participated in many literary competitions held in Malaysia. In 1988, he published a collection of short stories called Kamatchi Vilakku.
It was only after the 1990s that A. Rengasamy identified his ability to write fiction. He was over the age of 60. He gained recognition in Tamil literature during this time.
A. Rengasamy felt that it was important to write about the untold histories of the Malaysian Indians, and started to fictionalize them in his novels. He had lived through a famine during the Japanese Invasion when he was a child. He wrote about those experiences in his novel Puthiyor Ulagam (1993). This was his first published novel. Subsequently, he wrote and published the tragic history of the Siam-Burma Railway titled Ninaivuchinnam (2005). Similarly, he wrote the novel Langkad Nadhikarai (2005) about the Communist regime that lasted for two weeks in Malaysia following the departure of the Japanese. Nethaji's visit to Malaysia and the INA's (Indian National Army) formation were around the same time. A. Rengasamy wrote Imaya Thyiagam (2006) based on the role of Tamil people in this historical event. Subsequently, he wrote a novel titled Vidiyal (2012) based on the Killan Mutiny that took place in 1942. He wrote an autobiography titled Sivagangai Thodangi Sisangkong Varai (2014) believing that his 80-year life would speak the history of Malaysia. His short story Karungkanu (2018) was shortlisted as one of the top three stories in a competition conducted by Vallinam Magazine.
Social Work
In 1952, A. Rengasamy was a member of the Malaysian Indian Congress Party of the Kolakillon Sami Road branch. In 1964, he joined as treasurer of the Island Branch. He later joined as a propaganda secretary when V.T. Sambanthan founded the National Land Finance Co-operative Society (NLFCS)
In 1964, he joined as a member at the Thirukural Club and collected funds for the Thiruvalluvar hall. He conducted a stage drama named Vazhikaati along with the members of the club. Further, he continued to be in the Kolakillan youth wing as an advisor and a director to the team of Vazhikaati and directed dramas like Thirunithivan.
Literary Significance
Most of Rengasamy's works express his opinions and ideologies. His characters are also written in a way to represent these viewpoints. He focused on historical situations that deceived Indians. Imaya Thiyagam is a book that can offer a wide range of takeaways. He plays an important role when it comes to writing about the history of Tamilians in Malaysia.
Works
1988 - Kamatchi Vilakku (Shortstory)
1993 - Puthiyor Ulagam (Novel)
2005 - Ninaivuchinnam (Novel)
2005 - Langkad Nadhikarai (Shortstory)
2006 - Imaya Thiyagam (Novel)
2012 - Viṭiyal (Short Story)
2014 - Sivagangai Thodangi Sisangkong Varai (Autobiography)
2018 - Karungkanu (Shortstory)
Awards
2005 - P.P Narayanan Award for Langkad Nadhikarai
2005 - Malaysian Tamil Writer's Association Gold Medal
2010 - Keda Tiyana Mandrathin Vazhnaal Satanaiyaḷar Award
2012 - National Land Finance Co-operative Society Award for Viṭiyal
2014 - Vallinam Award
References
‎
---
✅Finalised Page