A. Raghavan
From Tamil Wiki
இந்தப் பக்கத்தை தமிழில் வாசிக்க: அ.இராகவன் ‎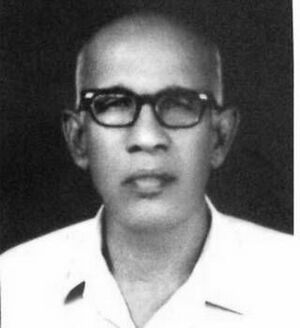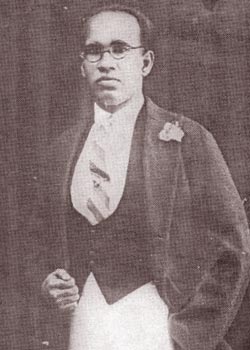 A. Raghavan (April 22, 1902 - March 8, 1981) Sathankulam Arunachala Kavirayar Raghavan was a cultural and fine arts researcher, collector of rare artifacts, and numismatist (specialist in coins). He expounded Tamil culture through jewels, lamps, and similar artifacts. He researched about ancient cities including Korkai.
Birth and Education
A. Raghavan was born on April 22, 1902 in Sathankulam of the old Tirunelveli district. His father was the noted Arunachala Kavirayar. A. Raghavan was trained as a teacher.
Private Life
He worked as teacher in Sathankulam from 1924 till 1930.
Political Life
While working as a teacher in Sathankulam he was inspired by E. V. Ramasamy. He became acquainted with K. Subramaniya Pillai, Thiru. V. Kalyanasundaram, and P. Dawoodsha who were working in Tirunelveli and became involved in cultural research. In 1930 he took charge as editor of Pagutharivu Noorpathipu Kazhakam (Rationalist Publishers) in Erode. Kudiyarasu Publishers released over 20 books under his supervision.
In 1935 Raghavan's book Pennurimaiyum Mathamum (Women's rights and religion) was released. He also wrote books denouncing religion named Kadavulai Ninthikkum Kayavarkal Yaar? (Who are the vermin that (actually) disrespects God) and Kadavular Kathaikal (Stories of gods). He worked with Periyar until 1935. When P. Jeevanantham separated from the self respect movement and started Suyamariyathai Samatharma Kachi (Self-Respect Equality Party) he joined him. He joined the communist party in 1937.
When India obtained independence in 1947 he gave up politics and moved to Colombo and started a printing press called Saraswathi Azhuththagam.
Journalism
In 1936 he cooperated with Jevanantham and published a journal called Arivu (Knowledge)
Cultural Research
While living in Sri Lanka he developed an interest in cultural research and antique collections. He worked with the Royal Asiatic Society and the Numismatic Society of India. In 1960 he returned to Palayamkotai, Tamil Nadu and researched the ancient cities of Tamil Nadu which were being excavated. He also collected research about Indus Valley excavations.
He wrote his research articles in Tamilmurasu magazine from Singapore. 'Thamizhar Panpaattil Thaamarai' (Lotus in Tamil Culture), 'Thamizh Natu Thiruvizhakukal' (Holy Lamps of Tamil Nadu) were two of his series of articles. He wrote about the evolution of shapes of lamps made from metal, mud, and stone that were used in rituals and their metaphorical meaning and their usage in traditional rites. The series on lotus details the significance and symbolism of Lotus in Tamil Culture.
His book Thamizh Natu Anigalankal (Jewellery of Tamil Nadu) catalogues jewelry from carvings, statues, and antiques, also it describes their symbolism and significance in rituals. It also talks about their forms, ways of making them, and metal compositions. He also lists the names of around five hundred jewel types with the help of inscriptions and books on sculpting.
A. Raghavan's book Isaiyum Yazhum (Music and Harp) researches the history of Tamil music through the evolution of the yazh (Harp). It explains how the yazh was transformed into various types of veena (an Indian string instrument). The book contains many illustrations to explain these points. Another book Nam Naatu Kapal Kalai (Ship Building In Our Country) details Tamil ship building techniques, history, the forms and shapes of ships, instruments used, and architecture with citations from various literary sources.
Thamizhaka - Savaka Kalai Thodarpukal ( Art connections between Tamil and Java cultures) and Konagar Korkai (Korkai - King's City) are his important contributions to Tamil cultural research. The books that connects and compares Athichanallur and Korkai is also a notable contribution. Many of his books were not printed, there was a list of books to be published that was given in the inner cover of Konagar Korkai. The list contained unpublished titles such as Iraivanin En Vakai Vadivangal (God's Eight Shapes), Tamizh Natu Padaikalankal (Tamil Nadu's Weapons of War), Tamizh Natu Kasukal (Coins of Tamil Nadu), Tamizh Natu Oviyam (Paintings in Tamilnadu) and Sindhu Samaveli Thiravida Nagarikam (Indus Dravidian Civilization). A. Raghavan's collection of artifacts antiques and coins were also not preserved properly.
Death
He died in March 8, 1981.
Books
Thamizh Natu Anigalankal (Jewelry of Tamil Nadu)
Thamizhaka - Savaka Kalai Thodarpukal ( Art connections between Tamil and Java cultures)
Arivu Ithaz Katturaigal (Articles from Arivu magazine)
Vellalar Varalaru (History of Vellalars)
Thamizh Natu Koil Kattida Kalai (Architecture of temples in Tamil Nadu)
Konagar Korkai (Korkai - King's city)
Thamizh Natu Anigalankal (Jewelry of Tamil Nadu)
Iraivanin En vakai vadivangal ( God's Eight Shapes)
Tamizh Natu Padaikalankal (Tamil Nadu's Weapons of War)
Tamizh Natu Kasukal (Coins of Tamil Nadu),
Tamizh Natu Oviyam (Paintings in Tamil Nadu)
Sindhu Samaveli Thiravida Nagarikam (Indus Dravidian Civilization)
References
‎
---
✅Finalised Page