A.P. Periyasamy Pulavar
From Tamil Wiki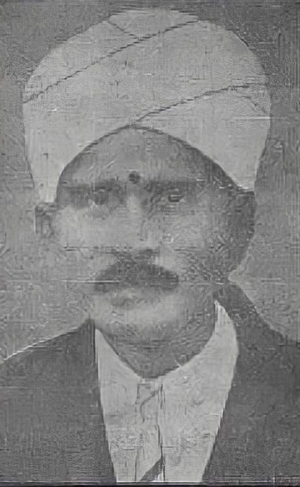 இந்தப் பக்கத்தை தமிழில் வாசிக்க: ஏ.பி.பெரியசாமி புலவர் ‎

A.P. Periyasamy Pulavar (1881-1939) was a Buddhist scholar. He embraced Buddhism along with Pandit Iyothee Thaas. He established a Buddhist Vihara in Tirupattur.
Early Life & Education
A.P. Periyasamy Pulavar was born on 14 March 1881 in Tirupattur. He received the title Pulavar from the Karanthai Tamil Sangam.
Personal Life
A.P. Periyasamy Pulavar married Pulavar Kamalabhushani Amma. He had a daughter, Manimegalai. His son, Thi.Pe. Kamalanathan, was a renowned Dalit intellectual.
Buddhist Works
He was a close associate of Pandit Iyothee Thass, and contributed to his Tamil-Buddhist revival movement. He converted to Buddhism in 1907 along with hundreds of others. On May 18, 1909, near the Tirupati Deputy Collector's office, he held a conference under the title "Who is the real Brahmin?" Bhikkhu Visuda presided over this conference. He successfully conducted twenty-two Buddhist conferences in various parts of the country including Kolar, Bangalore and Chennai.
In 1922, he established a Buddhist Vihara in Tirupattur. He was a regular contributor to Iyothee Thaas's Thamizhan magazine. In 1920, he helped Iyothee Thaas's son Rajaram form the Natal Durban Buddhist Society. He travelled to Natal to participate in the society's activities. Along with with Ayyakkannu Pulavar and G. Appathurai, he was involved in the activities of the Sakiya Sangam and Tamizhan magazine. Later he became a supporter of the Dravidian movement led by E.V. Ramasamy Periyar.
Death
A.P. Periyasamy Pulavar passed away in 1939.
(Based on an article by A.P. Vallinayakam)
Books
Sthouthya Pathu
References
‎
---
✅Finalised Page