A.P. Vallinayakam
From Tamil Wiki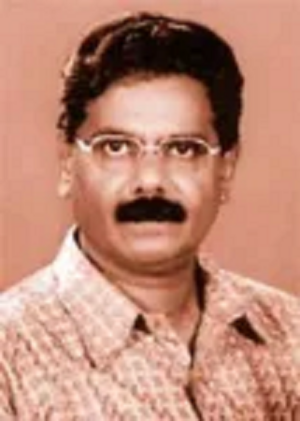 இந்தப் பக்கத்தை தமிழில் வாசிக்க: ஏ.பி.வள்ளிநாயகம் ‎

A.P. Vallinayakam (August 19, 1953 – May 19, 2007) was a Dalit historian, and a writer aligned with the Dravidian movement. He was also a journalist and political activist.
Birth and Education
A.P. Vallinayakam was born on August 19, 1953 to Arumugam, who worked in the education department at Thanjavur, and Pushpammal, in Arumuganeri, Thoothukudi district. A.P. Vallinayakam completed his secondary school education in Thanjavur and received his degree from the Government College, Kumbakonam.
Private Life
Vallinayakam was active in E.V. Ramasamy Periyar's Dravidar Kazhagam and married Oviya, a member of the same movement. They have a son named Jeevasagapthan.
Political Life
As a student, Vallinayakam participated in the anti-Hindi agitation in Tamil Nadu in 1965. Vallinayakam joined Dravidar Kazhagam under E.V. Ramasamy Periyar's leadership in the early 1970s. While studying at the Government College, Kumbakonam, Vallinayakam served as the president of Dravidar Kazhagam Students Association of Kumbakonam, the secretary of Thanjavur district Dravidar Kazhagam student youth wing and the secretary of Thanjavur regional Dravidar Kazhagam student youth wing.
In the 1980s, Vallinayakam was involved in supporting the Eelam movement and backed one of the organizations, Eelam People Revolutionary Liberation Front (EPRLF). Vallinayakam became a close friend of its leader Padmanabha. Due to differences of opinion, Vallinayakam left Dravidar Kazhagam and joined Dravidar Kazhagam (E Ra), an organization with Coimbatore Ramakrishnan as the general secretary. Vallinayakam for some time served as state secretary of workers union of Dravidar Kazhagam (E Ra). Tamil Nadu People Front, a popular organization, was founded on the principles of Marxist, Leninist and Maoist ideologies. Vallinayakam assumed field work for some time to build this organization.
Vallinayakam returned to his hometown Tiruchendur in 1990, established a social justice center and trained youths through classes about politics. He served as state president of Periyar Ambedkar Marxist philosophical wing of Pattali Makkal Katchi for seven years in the early 1990s. During this time, Vallinayakam functioned as one of the organizers of Tamil Life Rights conference. When Babri Masjid in Ayodhya was demolished in 1992, Vallinayakam founded the Brotherhood Movement along with Kodikkaal Sheikh Abdullah and S. Natarajan.
Vallinayakam formed the 'Thatha Rettamalai Srinivasan Peravai' (Thatha Rettamalai Srinivasan Council) along with S. Natarajan in 2000 and served as its general secretary. He coordinated the 'We are not Hindus' event, a motor rally from Chennai to Kanyakumari.
Other Major Works
Vallinayakam served as a visiting professor at the Ambedkar Education Centre, Madurai, an organization managed by the Dalit Resource Centre, Madurai and affiliated with the Madurai Kamaraj University. Vallinayakam spearheaded the campaign for the formation of Tamil Nadu Maatru Pathirikaiyalar Ezhuthaalar Peravai (Tamil Nadu Journalists and Writers Alternate Forum) in 2006.
Journalism
Vallinayakam edited the magazine Sangami in the 1980s and Alaigal, a monthly magazine, in the 90s.
Death
Vallinayakam passed away on May 19, 2007 in Chennai, due to a heart attack. He was cremated in Madurai.
Memorials
The Dalit Murasu Library run by Dr. Ambedkar Mayyam was renamed the Samaneedhi Ezhuthalar A.P. Vallinayakam Memorial Library.
Awards
2005: Viduthalai Ver Viruthu from Madurai Dalit Patronage Centre
2007: Dalit Murasu - Paalam Kalai Ilakiya Virudhu posthumously
Publications
Vallinayakam wrote the following books from 1993 to 2007:
| | | | |
| --- | --- | --- | --- |
| Sl. No. | Year | Book Title | Remarks |
| 01 | 1993 | Thalaivar Ambedkar Sindanaigal | |
| 02 | 1994 | Porali Ambedkar Kural | |
| 03 | 1994 | Pattali Makkalum Thozhar Periyarum | |
| 04 | 1995 | Vilimbil Vasappatta Maanudam | |
| 05 | 1996 | Puratchiyalar Ambedkar | |
| 06 | 1996 | Periyar Prapitha Pennurimai Pragadanangal | |
| 07 | 1997 | Maanudam Nimirumpodu | |
| 08 | 1999 | Periyar Pen Maanudam | |
| 09 | 1999 | Periyar Prapitha Pennurimei Pragadanangal | |
| 10 | 1999 | Maanudathil Azhaganavargal Theendathagadavargal | |
| 11 | 2000 | Adimaigalin Thalaivar Ayyankali | |
| 12 | 2001 | Naam Indhukkal Allar - Bouthargal | |
| 13 | 2001 | Kudisayilthan Maanudam Vasikkirathu | |
| 14 | | Urimaipporali Rettamalai Srinivasan | |
| 15 | | Ambedkar Araikooval | |
| 16 | | Boutha Markkam Patri Vivekanandar | |
| 17 | | Boutham Or Arimugam | |
| 18 | | Maanudathil Kolochiyavargal Bouthargal | |
| 19 | | Namadhu Thalaivargal - L.C. Gurusamy, H.M. Jaganathan | |
| 20 | | Samaneedhi Porali Immanuel Sekaran | |
| 21 | | Adimaigalin Thalaivar Ayyankali | Enlarged 2nd edition |
| 22 | | Phoolan Devikku Mun Ramkali: Munni | |
| 23 | | Thennattu Ambedkar Thalapathi M. Krishnasamy | |
| 24 | | Indhuthuva Verarukkum Uyirayudhamum Mudarkkudigalum | |
| 25 | 2005 | Mahathma Phulekku Mun Maharasan Vedamanikam | |
| 26 | | Thathri Kutty | |
Unpublished works of Vallinayakam:
Sl. No.
Title
Remarks
01
Viduthalai Iyakka Vergalum Vizhuthugalum
From 2001 to 2007

A series of articles written in Dalit Murasu magazine. These articles talk about the biographies of L. C. Gurusamy, U.A. Perumal Peter, R. Veeraiyan, H.M. Jaganathan, Balasundarraj, T. John Rethinam, P.M. Madurai Pillai, M. Palanisamy, P.V. Subramaniam Pillai, Maharasan Vedamanickam, Meenambal, Sathyavani Muthu, Pallikonda M. Krishnasamy, V.G. Vasudeva Pillai, Jyothi Ammal, M.C. Raja, Annapoorani Ammal, G. Appaduraiyar, E.N. Ayyakannu, Poet K. Poosamy, M.C. Madurai Pillai, M.Y. Murugesam, Kumaran Aasan and Periyar.

02
Melaadai Puratchi
03
Budha Markkamum Maanudathin Poruthappadum
04
Thamizhan Ayodhi Dasapandithar
05
Maavirar Thekkampatti Balasundararasu
06
Hitlarismum Hinduismum
07
Chellappa Muthal Sheik Abdullavarai
08
Ambedkarin Aasaan Buddhar
References
‎
---
✅Finalised Page