Thanavan Entra Police Nibunan Kandupiditha Arpudha Kuttrangal
From Tamil Wiki
இந்தப் பக்கத்தை தமிழில் வாசிக்க: தானவன் என்ற போலிஸ் நிபுணன் கண்டுபிடித்த அற்புத குற்றங்கள் ‎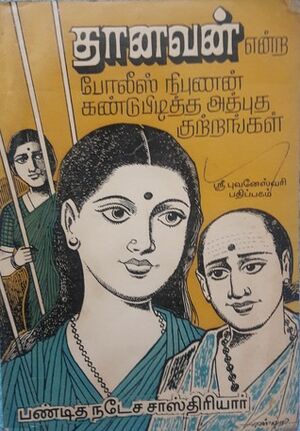 Thanavan Entra Police Nibunan Kandupiditha Arpudha Kuttrangal (five stories) (1894), written by Pandit Natesa Sastri, was the first collection of detective stories in Tamil. It can be taken as a novel as the five stories have a connecting thread. Thanavan was the first fictional detective in modern Tamil literature.
Creation, Publication
An Englishman named A. Porteous, who was a friend of Pandit Natesa Sastri, asked him whether there were any detective stories written in Tamil. This inspired Natesa Sastri to write a collection of detective stories with the Police detective character Thanavan as its protagonist. Thanavan was based on the character Dick Donovan from the detective stories written by Joyce Emmerson Preston Muddock (1842-1934). "At the request of Inspector General Charles A. Porteous, we dared to write and print this little book, Thanavan Entra Police Nibunan Kandupiditha Arpudha Kuttrangal' for the benefit of all our Tamil Police officers", Natesa Sastri mentions in the preface.
Literary Significance
As the first the detective novel written in Tamil, this inspired several later Tamil writers to write detective and mystery novels.
Verse Preface
This novel, like the classical Tamil texts and epics, carries a dedicatory verse and a Kaapu verse, written by Brahmasri V. Swaminadha Iyer from the Kumbakonam College.
Contents
The below stories are featured in the book
Samarthiya Thiruttu (Artful Theft)
Visithra Kolai (Strange Murder)
Visha Kolai (Murder by Poison)
Summon'ai Kizhitha Muthannavin Case (Case of Muthanna, who tore up the summon.)
Neeliyin Kadhai (Story of Neeli)
‎
---
✅Finalised Page