T.V.Jegatheesan
From Tamil Wiki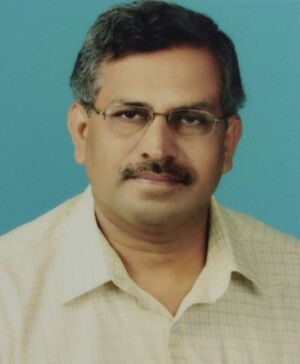 இந்தப் பக்கத்தை தமிழில் வாசிக்க: தெ.வே.ஜெகதீசன் ‎

T.V.Jegatheesan (16 May, 1965) is a Tamil scholar, folkloristics researcher and academician. He is the Head of the Department, Tamil, at the South Travancore Hindu College, Nagercoil.
Birth, Education
Therisanangoppu Velayudha Perumal Jegatheesan was born to T.S.Velayudha Perumal Pillai and Madhammal on 16 May 1965 in Arumanallur near Nagarcoil. He completed his primary education at Arumanallur Primary School and high school at Bhoothapandi Government High School. He got his undergraduate degree from South Travancore Hindu College following which he got a Masters degree in Tamil from Annamalai University. He obtained an M.Phil degree from South Travancore Hindu College where he stayed on to complete his PhD under the supervision of Prof. Srikumar. His dissertation was titled Valangai Noolkadhai - a study. His research was at the interface of literature and folkloristics.
Personal Life
T.V.Jegatheesan has been working at the South Travancore Hindu College since 1997 where he currently serves as Head of the Department of Tamil. His wife's name is A. Nagalakshmi. They have a son, Raghav Karthikeyan.
Academic Contributions
As a student and close collaborator of Prof. A.K.Perumal, Prof. T.V.Jegatheesan has contributed to Prof. A.K.Perumal's folklore research. T.V.Jegatheesan is acknowledged as a research collaborator in most of A.K.Perumal's books. He has also worked as a translator along with Dr. M.Subramoniam. He has organized literary symposia and classical language conferences at the South Travancore Hindu College.
Research
T.V.Jegatheesan's dissertation Valangai nool kadhai has been published as a book under the title Bhadrakaliyin puthirargal (Sons of Bhadrakali). The full version of Vengalarasan kadhai, one of the Tamil folk epics was published for the first time in this book, along with the myths associated with the story and became a subject of lively discourse.
Books
Badrakaliyin Puthirargal, Tamizhini Pathippagam
Links
‎
---
✅Finalised Page