Madhusudhanan Sampath
From Tamil Wiki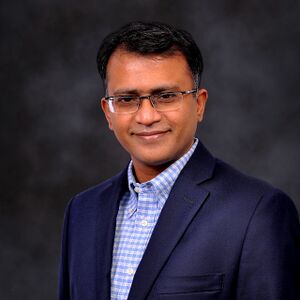 இந்தப் பக்கத்தை தமிழில் வாசிக்க: மதுசூதனன் சம்பத் ‎

Madhusudhanan Sampath (17 September 1974) is a coordinator of the Tamil Wiki encyclopedia. He also looks after the functioning of the websites of the writer Jeyamohan and the Vishnupuram Literary Circle.
Personal Life
Madhusudhanan Sampath obtained a BSc degree in Science from Guru Nanak College, Chennai and a post graduate diploma from ICFAI, Hyderabad. Later, he completed his masters in business and information science from University of Rochester, USA. He has worked across the domains of business consultancy and artificial intelligence in both India and USA.
He lives in Chennai with his wife and two sons.
Work as a Coordinator
He coordinates the content management and technical management of the Tamil Wiki encyclopedia. He is part of the technical team that runs writer Jeyamohan's website. He also created a website to consolidate the events and activities of the Vishnupuram Literary Circle.
He participates in studies about Tamil culture by using visualization methodologies, artificial intelligence and language processing techniques as well as through the use of modern information science.
Links
‎
---
✅Finalised Page