Karunguyil Kundrathu Kolai
From Tamil Wiki
இந்தப் பக்கத்தை தமிழில் வாசிக்க: கருங்குயில் குன்றத்துக் கொலை ‎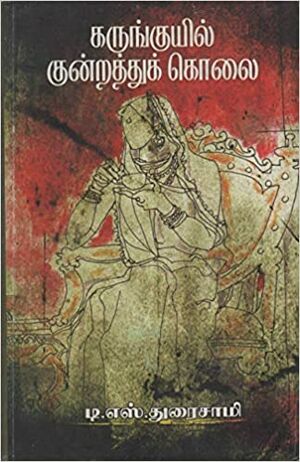 Karunguyil Kundrathu Kolai is one of the earliest novels written in Tamil by D.S. Duraisamy. It was an adaption of a novel by Sir Walter Scott. Written at a time when popular writing had just begun in Tamil, the novel set a precedent. It had echoes in later popular writing.
History of Publication
D.S. Duraisamy serialized the novel Karunguyil Kundrathu Kolai[1] in Sarvavyabi[2], a Christian magazine published in the Pondicherry Diocese.
It came out in book form in 1925. According to the archival news of Guardian Publications, Chennai Publication 7, 1925, Page 327 (Roja Muttaiah Research Libarary - Number 035861, 042328, 048945), no other novels were published that year. Second part of the novel came out in 1926. In the same year, both parts were published together as a single novel, many reprints followed. "As the book came out as two parts and sold out quickly. Seeing the high demand, 3rd part of the book was published. But the 3rd part did not get the attention from public like the 1st two parts" says K.V. Jeganathan in his book Tamil Navalin Thottramum Valarchiyum[3]'.
The long out of print book was reprinted in 2008 as a Thozamai publication by Jerry, a film director who inherited the family heritage of D.S. Duraisamy. The first two parts are presented as a single novel. The third part seems to be lost.
Movie Form
Karunguyil Kundrathu Kozhai was released in 1959 as a movie called 'Maragatham or Karunguyil Kundrathu Kozhai''. Sivaji Ganesan, Veenai Balachandar, Padmini all starred on it. Veenai Balachandar wrote the screenplay for the movie. S.M. Sriramulu Naidu directed it.
Synopsis
Anandaran known as Maramarthanda Prabhu, the king of Karunguil Kundram, is accused of murdering his older brother. Circumstantial evidence is against him. He escapes from prison and goes to Africa. Later on his way back he learns that his wife is going to marry another man. So he takes his daughter, Alamu, with him and flees to Sri Lanka and lives a secret life there. A Rajagiri Zamindar who comes to Sri Lanka is taken hostage by a bandit named Vikramasingan. Alamu helps to rescue him. Alamu had saved Vikramasingan from danger once before and while in recovery Vikramasingan fell in love with her. She likes him too but Anandaran is against their union. While searching for Ranam, he tells his old story. At that time Wickramasinghan, who wants to marry Alamu, attacks them. They survive and reach Colombo. Taking a vow to clear her father's reputation, the daughter comes to India to her mother's hometown, Arungilipuram and then to Karunguyil Kundram. There, she works for her mother as a maid, investigates and catches the criminals. She also marries her boyfriend.
Characters
Alamu - The heroine of this novel. Princess She lives a nomadic life as her father renounced his native
Anantharan - A royal name. King of Karunguil Kundram, a noble lord of Marthandam, deported because of wrong accusations
Wickramasinghan - Bandit from Sri Lanka. He loves Alamu
Rajagiri Zamindar - Alamu's Lover
Literary Influence
The literary influence of this novel is twofold; one is its style and two, the adventure element in it. Its prose imitated the English novels and therefore differed from prose that existed during the time which was closer to the verse form. The novel is a pioneer in modern Tamil prose and was read widely because of it. It also exerted a profound influence on later writers.
"The child loved her father from the moment he stole her. She considered him as her own god. She remained a consolation for his suffering. He stole her away from her mother and left her to mourn her daughter's death, perhaps can be considered wrong. But Alamu, just think…" is an example of the novel's style.
"He knows his brother's blood cries out for revenge…" this line is an example of the positive effects that English produces in Tamil. "The voice of the mesmerizing king fell clearly on Alamu's ears and she was very disturbed" it also has the finer sensibilities of English phrasing.
The novel consists of murder investigations and adventures. This led to the creation of such novels later on. The peculiarity of this novel is that the central character is a woman. Alamu comes across as an independent woman and a brave adventurer. This was an innovation and a violation at a time when women were restricted from leaving home and getting an education.
Cultural Base
The novel does not reflect the actual cultural context. Karunguyil Kundram and Arunglipuram are inappropriate fictional names for minor kingdoms in the Tamil context. The palace conspiracies and banquets in the palace are all European in style. Especially the caste system of the period is not mentioned in the novel.
References
‎
---
✅Finalised Page