Kannan (Magazine)
From Tamil Wiki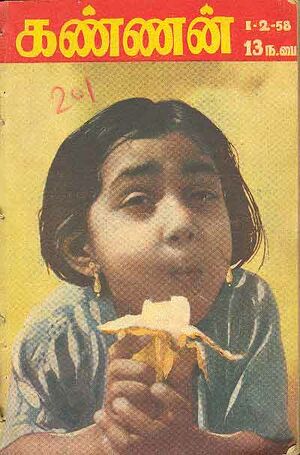 இந்தப் பக்கத்தை தமிழில் வாசிக்க: கண்ணன் (இதழ்) ‎
Kannan (1949-1971) was a children's monthly published in Tamil. Published by Kalaimagal Corporation with N. Ramarathnam as publisher. Author Writer RV has been its editor for 22 consecutive years. (See Children's Magazines)
Publication
Kannan, which started as a monthly magazine in 1949 by Kalaimagal Corporation, was later published bi-monthly at a price Irandana.
Content
D.J. Ranganathan, K.V. Jagannathan and Kothamangalam Subbu wrote in this magazine. Special editions were released upon Diwali Festival. Prizes were awarded by a story competition. Short stories and stories with pictures were released.
Organizational Works
Kannan magazine established Kannan clubs through Kannan children's magazine, recruited members and formed them as an organization.
Kannan created an organization called Kannan Penna Nanbargal (Pen Pals) to encourage children to write and correspond.
Collections
The short stories published in Kannan magazine have been compiled and published as Kannan Kathai Kalanjiyam' in twelve volumes by Mr. Masilamani.
References
‎
---
✅Finalised Page