Kanmani Gunasekaran
From Tamil Wiki
இந்தப் பக்கத்தை தமிழில் வாசிக்க: கண்மணி குணசேகரன் ‎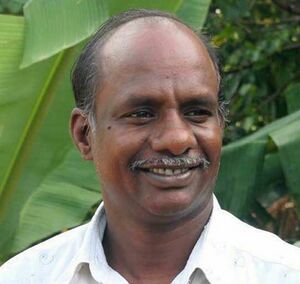 Kanmani Gunasekaran (May 19, 1971) is a Tamil writer. He writes the stories and struggles of downtrodden people of Villupuram and Cuddalore regions, also known as Nadunadu' (middle lands). Kanmani Gunasekaran began writing poems and extended his creative expanse to short stories and novels.
Birth, Youth
Kanmani Gunasekaran (A.Gunasekaran) was born on May 19, 1971, in Manakkollai, Cuddalore district. He was the third son of Ayyathurai and Chinnammal. Kanmani Gunasekaran studied in Irulakurichi till the fifth grade, and in Aladi Government School, Ulundurpet till the tenth grade. Later Kanmani Gunasekaran completed his vocational training at the Government Polytechnic College, Ulundurpet.
Personal Life
After completing his vocational education, Kanmani Gunasekaran worked as an apprentice in the Senji Periyar branch of the Periyar Transport Corporation. Since 1999, Kanmani Gunasekaran has been working in the Virudhachalam branch of the Tamil Nadu State Transport Corporation. Kanmani Gunasekaran also looks after his farm during his spare time.
Kanmani Gunasekaran's wife's name is Kasimani. He has three children: Tamilmathi, Arivumathi and Ilamathi.
Literary Contribution
Early writings
Kanmani Gunasekaran initially wrote poems with pen name Kanmani. Later, he started writing stories, impacted by Tha. Pazhamalai's works.
Poems
Kanmani;s first collection of poems, Thalaimuraikopam was published in 1994 and received extensive appreciation.
Short Story
Kanmani is considered one of the important naturalist short story writer in Tamil. His first short story collection is uyirthanneer, published on 1997
Dictionary
Nadunaata Sollakradhi a lexicon of ancient and regionally used Tamil words; the book received an award from the Government of Tamil Nadu.
Novel
Kanmani;s novel Anjalai portrays women and their exploiters through nuanced character arcs. The novels Nedunjalai, which focuses on the transport sector, and the novel Vandharangudi, which depicts the people whose livelihoods are affected by government development projects, are novels with nuanced characterisations — the novels were read widely.Kanmani Gunasekaran's novels include the myths and the Gods of the Cuddalore region. His novel Anjalai is used as a textbook at Kozhikode University.
Awards
Neithal Award in memory of Sundararamasamy (2007).
Nadunaata Sollakradhi won 'The best book' award from the Tamil Development Department, Government of Tamil Nadu.
kalaignar Porkizi Award 2019
Ki.Ra Award 2020
Criticisms
Kanmani Gunasekaran is directly involved in Vanniyar caste organization and the caste's political party Pattali Makkal Katchi which raised discussions on whether it is appropriate for a modern literary writer to take direct part in Caste based organizations. Even in the year 2021 the discussions surfaced.
Literary Significance
Kanmani Gunasekaran's novels depict the life of peasants of north eastern side of Tamandu, which is called as Nadunadu (Central Land) with naturalistic aesthetics. He uses details from folklore freely. He is considered the bard of central land. Vengat Saminathan says 'Kanmani writes about the people who are known to him without any ideological colours . A writer with a deference. He lives among the peasants with a consciousness of a peasant'  
Works
Poems
Thalaimuraikopam (1994)
Kaatrin Paadal Kavithaigal (2001)
Kanmani Gunasekaranin Kavithaigal
Mundram Naal Pen (2020)
Uthimaakulam (2021)
Kaalirangi Peyyumothu Ganamazhai
Milirkondrai
Kaalidayil Kuviyum Nizhalgal
Short Stories
Uyirthanneer
Aathandaar Koyil Kudhirai
Vellerukku
Puraniporkalai
Kikulinjan
Samanadha Kari
Pullipottai
Vaadamallo
Sitrukalil Thotriya Theethuli
Novels
Nedunjalai
Anjalai
Korai
Vandharangudi
Dictionary
References
‎
---
✅Finalised Page