Kambadasan
From Tamil Wiki
இந்தப் பக்கத்தை தமிழில் வாசிக்க: கம்பதாசன் ‎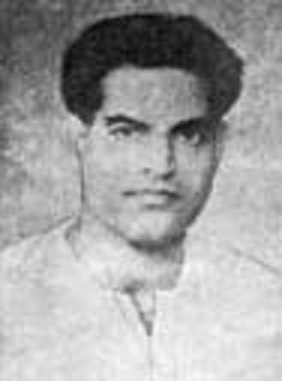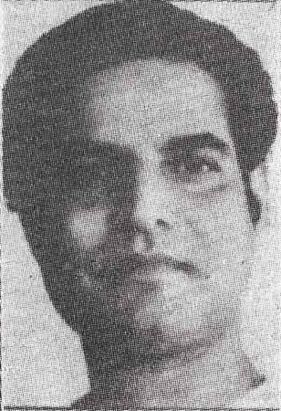 Kambadasan (September 15, 1916 - May 23, 1973) was a Tamil poet, songwriter and journalist. He wrote rhythmic verse and short epics in the style of traditional Tamil literature.
Birth, Education
Kambadasan was born Appavu on September 15, 1916, in his mother Balambal's hometown Ulagapuram near Tindivanam. His father Subramanian hailed from Villianur in Pondicherry. He was the only son of his parents, the other five being girls. His father sold clay dolls for a living.
When he was young, Kambadasan's family moved to Purasaiwakkam, Chennai. He studied till the sixth standard in the City Council School, Kuyapettai. He dropped out of school due to his interest in acting.
Personal Life
A proficient actor and singer, Kambadasan was closely associated with the world of dance . He married Chithraleka, a dancer and the daughter of Malayalam poet Vallathol Narayana Menon. The marriage soon fell apart. He later married Susila, a schoolteacher and a poet. When that marriage too failed, he married a dancer named Anusuya.
Kambadasan lived a freestyled life. He was also an excessive drinker. He lived the last days of his life in poverty, fell ill and died.
Film career
Assuming the name C.S. Rajappa, Kambadasan sang and acted in stage plays. He wrote songs for stage plays. He played minor roles in films like Droupathi Vasthiraparanam (1934) and Srinivasa Kalyanam (1934). But the opportunities for acting did not come along. He first wrote a song for the 1940 film Vamana Avatharam under the name C.S. Rajappa. He continued to write lyrics and dialogues for many films like Venu Ganam, Mahamaya, Poombavai, Mangaiyarkarasi, Gnanasoundari, Avan, and Vanaratham. He is considered to have brought social and political ideas into film songs at a time when songs were written in a traditional manner for mythological movies. He continued to write songs until the last film he contributed, Kubera Theru, was released in 1969.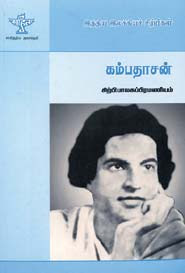 Literary life
Kambadasan, who was heavily inspired by the rhythms of Sitrilakiyam in his youth, later fell in love with Poet Kamban and changed his name to Kambadasan (A devotee of Kamban). He wrote rhythmic poetry in the traditional meter, and made several attempts in the short epic form. Kambadasan, who was fluent in Hindi, was also involved in dubbing Hindi films.
Ceylon Vijayendran, who was an admirer of Kambadasan, methodically compiled and republished his books.
Awards
Kalaimamani award, Tamil Nadu Government.
Death
Kambadasan passed away on May 23, 1973, at the Royapettah Government Hospital, Chennai, after a long illness and poverty.
Literary Significance
Kambadasan's poems are influenced by Bharathidasan. They present social ideas encased in a rhythmic meter. Borrowing the figures of speech and metaphors from the traditional literature, his poems presented them in a fresh language. His short epics are noteworthy.
Books
Poetry collections
Kanavu (1941), with a preface by the Bengali poet Harindranath
Vidhiyin Vizhippu
Mudhal Mutham
Arunodhayam
Avalum nanum
Pattu mudiyumunne
Pudhukkural
Thozhilali
Plays
Short Story
Compiled by Ceylon Vijayendran
Kambadasan Kavithai Thirattu (1987)
Kambadasan Thirai Isai Padalgal (1987)
Kambadasan Kaviyangal (1987)
Kambadasan Sirukathaigal (1988)
Kambadasan Nadagangal (1988)
Kambadasan Kavitha Nutpangal (1997)
References
‎
---
✅Finalised Page