Kalvanin Kadhali (novel)
From Tamil Wiki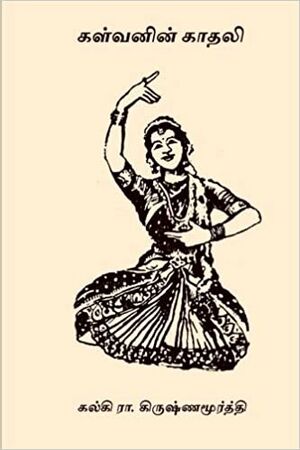 இந்தப் பக்கத்தை தமிழில் வாசிக்க: கள்வனின் காதலி ‎
Kalvanin Kadhali (1937), Kalki's second novel and the first novel written under the pen name Kalki, was serialized in Ananta Vikatan and was later adapted to the big screen.
Creation, Publication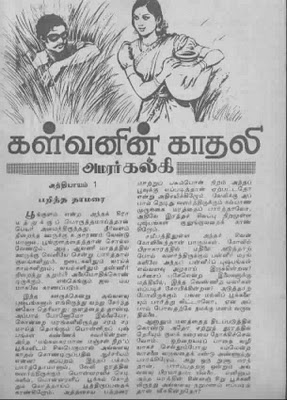 A robber named Sembulingam from Thirunelveli district in 1929, who was beloved by the people, was killed by a police officer named Mutthaiya Pillai. This incident was widely talked about during the period. Kalki met Mutthaiya Pillai at a Vattathotti (round courtyard) meeting organized by Chidambaranatha Mudaliar and got to know about this incident from him. He later fictionalized the incident and took inspiration from the Robin Hood tales for the creation of his heroic robber protagonist.
Synopsis
Mutthaiyan, the protagonist, becomes a thief due to circumstances. He is framed by a corrupt man named Karvar Sangupillai and is forced to lead the rest of his life as a thief. His sister is Abirami and his lover, Kalyani. Mutthaiyan escapes prison and hides near the Rajan canal, with Inspector Sarvotthama Sastri at his heals. Kalyani sees Mutthaiyan talking to his friend Kamalapathy, who is disguised in female garb, and reveals Mutthaiyan's hiding place to the police. Sarvotthama Sastri kills Mutthaiyan. Kalyani grieves her mistake and resorts to a life of prayer and penance. Sarvotthama Sastri, also troubled by guilt turns towards Vedantic study, and places Abirami in an orphanage.
Cinema
Kalvanin Kadhali was made into a film in 1955 directed by V.S. Raghavan, starring Sivaji Ganesan and Bhanumathi.
Literary Significance
Kalvanin Kadhali launched an era of popular commercial fiction writing in Tamil literature. In his previous work 'Vimala', Kalki had tried to realistically portray the social climate surrounding the freedom struggle. In Kalvanin Kadhali he created a formulaic, carefully planned out story to satisfy the popular fiction readers of his period.
Links
‎
---
✅Finalised Page