Kalpana Jayakanth
From Tamil Wiki

இந்தப் பக்கத்தை தமிழில் வாசிக்க: கல்பனா ஜெயகாந்த் ‎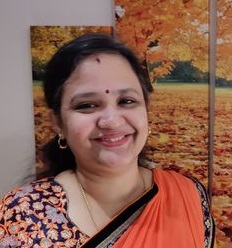 Kalpana Jayakanth is a contemporary Tamil poet, whose poems are expressions of the emotions and spiritual quests associated with modern life.
Birth, Education
Kalpana Jayakanth was born on September 7th,1975 in Srirangam to Subramanian and Lalitha. She completed her primary education at Ramakrishna School, Kailasapuram, Trichy and graduated from Holy Cross Girls' High School, Trichy. She received her bachelor's degree in Computer Science from Seethalakshmi Ramaswamy College, Trichy. She completed her post graduate degree in Computer Science from Sikkim Manipal University, Kuwait Chapter. She also holds a Bachelor of Education degree from Indira Gandhi National Open University, Kuwait Chapter. She was involved with the Samskrita Bharati organization in Abu Dhabi. Later she did her Post Graduation in Sanskrit from Srirangam (Govita) Shastra University, Thanjavur.
Personal Life
Kalpana Jayakanth married Jayakanth Raju on January 19, 1997. She has two daughters named Tejasree and Amruta. Kalpana Jayakanth worked as a mathematics and a computer science teacher, and as a Sanskrit teacher at Samskrita Bharati.
Literary Activites
Kalpana Jayakanth has written numerous poems. Her poems written from 2020 till 2021 were compiled and published under the title 'Imm' Enramaintirukkum Aalkadal. She cited La. Sa. Ramamirtham, Thi. Janakiraman and Jayakanthan as her literally influences.
Literary Contributions
Kalpana Jayakanth symbolically represents her spiritual quests and inner feelings as images through her poetry, which are often abstract and metaphorical. Critic Cuddalore Seenu mentions that "Kalpana's poetic diction effortlessly oscillates between three states: the inner world, the outer world, and the one where both these worlds merge."
Works
'Imm' Enramaintirukkum Aalkadal- Collection of poems 2021
References
https://kalpanajayakanth.wordpress.com/ ‎
---
✅Finalised Page