Kalamohini
From Tamil Wiki
இந்தப் பக்கத்தை தமிழில் வாசிக்க: கலாமோகினி ‎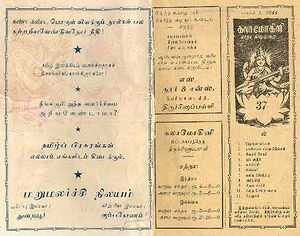 Kalamohini (1942 - 1946) was a Tamil literary magazine published by V.R.Rajagopalan (Salivahanan), as a means to fill the void created by the cessation of Manikkodi magazine. This magazine featured some of the best literature of the time.
Release
The literary magazine Manikkodi stopped being published in 1935. The writers of the literary wave created by Manikkodi needed a medium to write. One of them, V.R.Rajagopalan (Salivahanan) started a bimonthly magazine to cater to their needs. The first magazine was released in July, 1942. Its first editorial states its raison d'être thus: "Kalamohini has been born, wishing to provide its service, just like the (legendary) squirrel, for the Sethubandhanam (Rama's Bridge) which is the rejuvenation of the Tamil language, as long as it exists in this land of Tamils."
Kalamohini was run out of Tiruchinappalli Mattakkaara Street belonging to the old Chennai presidency. Its first issue was released in the Chitrabhanu year, on the15th day of the Aani month (1 July, 1942 ). Each issue carried only the Tamil year, month and date on its cover. The first 13 issues were demy sized (the old size of Ananda Vikatan) and from the next issue, the magazine was published in crown size. For three and a half years, Kalamohini was published out of Tiruchirappalli. The editor contemplated transferring the office to Chennai due to war-time transport restrictions. He also wanted to raise funds to convert Kalamohini to a Limited Company. His efforts did not bear fruit. On April 18 1946, Kalamohini's new edition was published out of Chennai. The same year, the magazine saw its last issue on September 20.
Content
Kalamohini is best known for its efforts to carry on the literary legacy created by Manikkodi. It proclaimed itself to be a literary magazine right from the beginning,. The first issue carried a picture of N. Pichamoorthi on its cover. The second issue carried that of K.P.Rajagopalan and the third one had writer Chitti on its cover. Each issue was published with the image of a writer on its cover and introduced the writer under the section Here is Our Guest'. WhenChitti was approached for his picture, he refused on the grounds of him being a government employee. The editor then secretly took permission from Chitti's manager, who was known to be strict, brought a photographer, took his picture and featured him as the guest. This was narrated by Chitti in his foreword to the Kalamohini compilation.
Kalamohini released works of serious literature. Apart from publishing the works of famous poets like N. Pichamoorthi, K.P. Rajagopalan, Saalivaahanan, it also showcased lesser known names like E. Saravanamuthu, Appulingam, Nallai Ilangovan. N. Pichamoorthi has written a long poem called Saagaamarundhu' (Elixir of Life) in it. Short stories of Manikkodi writers such as K.N.Subramaniam, Thi. Janakiraman, Swaninatha Athreyan, Chitti, K.P. Rajagopalan. M.V. Venkatram, Karichan Kunju have also been featured. K.P.Rajagopalan's Verottam novel was serialised and published in four parts.
Kalamohini also had its share of controversies by featuring literary feuds. Vaalikkannan wrote a piece called Mareecha Ilakkiyam condemning the plagiarism of stories by certain writers. It ran a story called Ainthaam Padai Rasikargal or Fifth Column Fans (written by Salivahanan) that condemned T.K.Chidambaranatha Mudaliar's rejection of certain Kambaramayanam songs citing that they were not actually Kamban's.
Kalaignan publication house published a compilation of Kalamohini issues with the foreword by Chitti.
Role in Literature
Kalamohini gave the Manikkodi league of writers a place to progress. It featured them as literary pioneers and paved the way for modern Tamil literature to cement its position by focusing only on the aesthetics of literature.
References
‎
---
✅Finalised Page