Kalam Selvam
From Tamil Wiki
இந்தப் பக்கத்தை தமிழில் வாசிக்க: காலம் செல்வம் ‎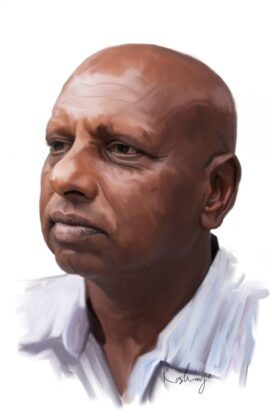 'Kalam' Selvam (Selvam Arulanantham) (June 30, 1953) is the Editor of the Canada-based literary magazine Kalam. He is also a writer, the founder of the literary organization Vazhum Tamil,' and an active participant in street theater and other literary activities.
Birth, Education
Selvam was born on June 30, 1953 to Savarimuthu and Thiresamma in Sillalai, Jaffna. 'Kalam' Selvam completed his primary education at Sillalai Roman Catholic School and his bachelor's degree at St. Henry's College. He learnt French at St. Augustine French Language School, Paris, France and obtained a diploma in nursing from St. Daniel College, Toronto .
Personal Life
Selvam married Devarani on October 29, 1986 and has three children: Nirupan, Senthuri and Kasturi. 'Kalam' Selvam works as a medical assistant.
Literary Life
'Kalam' Selvam wrote his first poem in 1975 in the magazine Naan. He considered Jayakanthan, S. Ponnuthurai, Sundara Ramaswamy, and Janakiraman as his literary predecessors. Selvam initially wrote poetry and did not write much for a log period. His book Ezhuthi Theera Pakkangal, about his life as a refugee, is popular for its natural humor. He followed this up with a sequel named Sorkalil Suzhalum Ulagam.
Journalism
Selvam established two magazines on diaspora life. The magazine Kalam which he started with his friend Kumar Murthy is being published from Toronto, Canada for the last thirty years. Kalam published and featured literary documentations for Eelam and Tamil literary scholars:
Paarvai Sanjigai (1987-1989) (Editor) (Montreal, Canada)
Kalam Sanjigai (1990 - Present) (Toronto).
Organizational Activities
Selvam is a member and administrator of several literary organizations operating from Canada. Vazhum Tamil organization that he coordinates, conducts book fairs and literary meetings every year.
Tamil Literary Garden (2001 - Present) (Founding Member/Board Member) (Toronto)
Tamil Resource Center (1989 - Present) (Founding Member) (Toronto)
Vazhum Tamil (Book Exhibition Series) (1990 - Present) (Toronto)
Literary Meeting Organizer (1990 - Present) (Toronto).
Literary Significance
Literary organizations and literary magazines have been published by the Eelam Tamil diaspora since 1990. Among them Kalam is the magazine, which has been published continuously for thirty years. Vazhum Tamil is a literary organization that has been operating continuously for thirty years. Selvam laid the foundation for the formation of literary movements in Canada. The special issues on Tamil writers published in Kalam magazine are significant. He wrote about the tragic life of refugees with a touch of humor in his two autobiographical books.
Literary Works
Ezhuthi Theera Pakkangal ( Autobiography)
Sorkalil Suzhalum Ulagam ( Autobiography)
Links
‎
---
✅Finalised Page