Kalaimagal
From Tamil Wiki
இந்தப் பக்கத்தை தமிழில் வாசிக்க: கலைமகள் ‎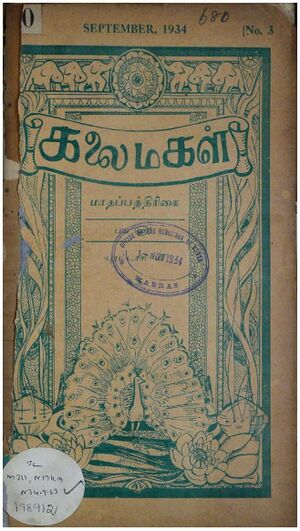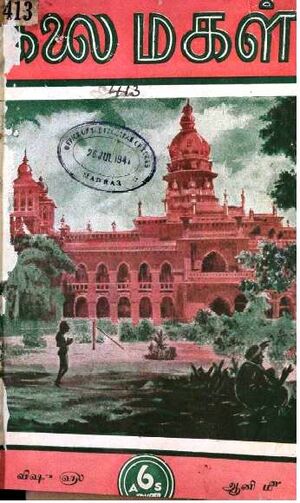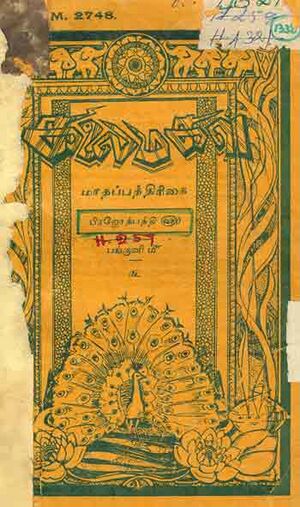 Kalaimagal Magazine (1932) is a Tamil monthly that was started with the objective of supporting a traditional cultural outlook and a nationalistic vision. In its early years, Kalaimagal published works by writers like Pudhumaipithan, but later it transformed into a family magazine.
Publication, History
Narayanaswami Iyer, the owner of the Madras Law Journal press, founded Kalaimagal in 1932. D.S. Ramachandra Iyer was the first editor of Kalaimagal. P. Sri Acharya, S. Vaiyapuri Pillai, P.N. Appuswamy, Prof. K.A. Nilakanta Sastri, Ka. Sri. Sri and many other scholars were on its advisory board. Ki. Va Jagannathan was appointed as the editor in 1937. Currently, Kizhambur Sankara Subramanian is the editor of Kalaimagal.
Content
The back cover of the third issue published in 1932 contains a list of the contributors. It evidences the intellectual culture that existed during that period.
M. Ananthanarayana Iyer
B.S. Acharya
D.G. Aravamuda Iyengar
S. Alwar Iyengar
Ra. Ragavaiyankar
M. Ekambaranatha Iyer
G. Ganapati Sastri
A. Kandasamy Pillai
Thiru. V. Kalyanasundara Mudaliar
Reverend Kinsbury
R.V. Krishnaiah
R. Krishnamurthy (Kalki)
Murari Krishnamurthy Iyer
T.M. Krishna Swamy
S. Kumaraswamy Rettiar
D.G. Kuruswamy Rettiar
R. Gopala Iyer
S.V. Gopalakrishna Iyer
Y.M. Gopalakrishnamachariyar
K.G. Sankara Iyer
M.S. Sabasa Iyer
P.P.N. Shastri
P.R. Chidambaram Iyer
K.N. Sivarajah Pillai
M.S. Sundara Sharma
K. Subramania Iyer
N. Subramania Iyer
V.P. Subramania Mudaliar
S.S. Suriyanarayana Shastri
R.P. Sethupillai (RP Sethupillai)
K. Seshadri Iyer
N. Seshadri Iyer
S. Somasundara Desikar
G. Dadachariyar
M.B.S. Duraisamy
V. Thuraisamy Iyer
V.R. Thuraisamy Naidu
S. Desikavinayakam Pillai
O. P. Desigam
A. Nagaswamy Iyer
V. Narayana Iyer
Bhavani Swaminathan
B.A. Pashyam Iyengar
J.S. Ponnaya Naidu
A. Makarapushanam Iyengar
M. Meenampal
P.R. Meenakshi Sundara Mudaliar
B.A. Pearl
Muthiah Bhagavatar
N.R. Raghunathacharya
D.S.S. Raghavacharya
R. Rama Iyer
N. Ramasamy Iyer
N. Ramaswamy Iyer
M.R. Ramaswamy
C.K. Lakshmi Ammal
C. Lakshminarayana Iyer
E.S. Varatharaja Iyer
C. Veerapaku Pillai
V. Vishalakshi Ammal
K.C. Veeraragava Iyer
S. Venkatasamy Iyer
D.L. Venkatarama Iyer
Miss. Joseph
P.P. Sreenivasacharya
D.C. Srinivasa Iyengar
P.V. Srirama Iyer
Shanthi Rangarao
S. Satyamoorthy Iyer
V. Sanathana Iyengar
K. Savitri Ammal
K.N. Sitarama Iyer
Literary Contributions
In its initial days, Kalaimagal tried to bring together old literary traditions with avant garde literary attempts. U. V. Swaminatha Iyer, Desigavinayagam Pillai, T. K. Chidambaranatha Mudaliar, and others have written for this magazine. Manikodi's writers including Pudhumaipithan wrote for the Kalaimagal magazine for a brief period between the closing of Manikodi and the founding of Kalamogini. Na. Pichamurthy won the first prize in a short story competition held by Kalaimagal in 1935. When Kalaimagal later turned into a family magazine, many women writers contributed to it, viz., Anuthama, C.S. Rajamma, R. Chudamani, Rajam Krishnan and Kamala Sadagopan. They are commonly referred to as 'Kalaimagal writers'. Many important writers debuted through the "Narayanasamy Iyer Ninavivu Novel Competition" and the "Amarar Ramaratnam Ninavivu Short Story Competition" organized by Kalaimagal. For instance, writer Akilan, the Jnanpith awardee, won the Narayanasamy Iyer Ninavivu Prize for Pen, his first novel, in 1944.
Magazine Collection
Kalaignan Publishing released the collected issues of the Kalaimagal magazine in three parts.
Links
‎
---
✅Finalised Page