Kadalukku Appal
From Tamil Wiki
இந்தப் பக்கத்தை தமிழில் வாசிக்க: கடலுக்கு அப்பால் ‎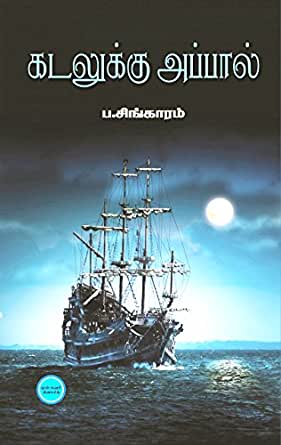 Kadalukku Appal (Beyond the Sea) (1959) by P. Singaram, was the first of his two novels, to be published. This is considered as a Tamil novel that expressed emotions strongly.
Creation, Publication
P. Singaram wrote this novel in 1950. Critic C. Mohan mentions that the writer took a sabbatical and traveled to Chennai in search of publishers. Yet the book remained unpublished for many years. Singaram sent the novel to the Kalaimagal Novel Competition and won the first prize, after which it was published in 1959 by the Kalaimagal Kaariyalayam.
Although the novel was published by Kalaimagal it did not receive any literary attention. In 1959 the magazine had become a family magazine and moved out of literary critics' attention. The major reason for the novel winning the prize was the fact that the heroine did not go against her father's decree in the interest of her love. Inspired by the award, P. Singaram wrote a sequel, Puyalile Oru Thoni (A Boat in Storm), in 1962. It was published only ten years later in 1972 by Kalaignan Publishing. This novel too was not noticed by literary critics when published.
Comeback
The focus fell on P. Singaram in 1987 when C. Mohan wrote an article on him in the magazine Pudhu Yugam Pirakkirathu. After the demise of P. Singaram in 1998, his novels Kadalukku Appal and Puyalile Oru Thoni were published as a single book by Tamizhini Publishers. In the edition, writer Jeyamohan wrote a detailed analysis on P. Singaram titled Varalatru Abathathin Dharisanam (The Vision of Historical Absurdity). After that Puyalile Oru Thoni was weighed as one of the best literary creations in Tamil and Kadalukku Appal was rated as one of its most remarkable novels.
Synopsis
Chellaiah, an Aduthal (assistant) under his relative, Chettiar in Maidan, Indonesia, had joined the Indian National Army, and returns to Chettiar after the war. Chettiar, who once had intended to have his daughter Maragadam, marry Chellaiah now refuses to do so, saying that the man who went to war will not be a good fit for his profession. Maragadam loves Chelliah but hates to disobey her father. Chelliah could never speak a word against Chettiar. Despite being among great historical events such as the war and the Indian National Army, social relations and human sentiments and emotions remain the same. No one is able to cross their boundaries.
Literary Significance
This novel does not have P. Singaram's signature jumping style, satire and poetic moments which are found in Puyalile Oru Thoni, however, there are emotionally dramatic moments. It depicts the boredom and emptiness of returning to daily life after being a part of something big like the World War II. Chellaiah, who was known as a great warrior in the war, becomes a meaningless entity in the post-war world. This novel portrays everyone's helplessness when it comes to crossing their boundaries. "There is no such thing as unbearable misery for man. We have nothing to lose until we lose our minds," is a famous line in this novel.
References
‎
---
✅Finalised Page