K. Vigneswaran
From Tamil Wiki
இந்தப் பக்கத்தை தமிழில் வாசிக்க: க.விக்னேஸ்வரன் ‎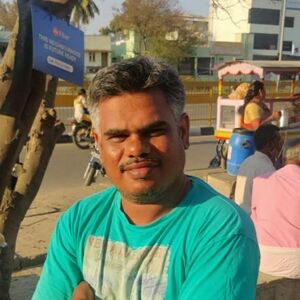 K. Vigneswaran (Kanali Vigneswaran) (May 16, 1984) is a Tamil writer, editor of an online magazine, and literary critic. His Kanali online magazine publishes Tamil literature for intense readership.
Birth, Education
Vigneswaran was born to Kannan and Mala on May 16, 1984, in Vellore, Tamil Nadu. He attended Vellore High School, Voorhees College of Vellore for his degree in Physics, and the University of Madras for his master's degree.
Personal Life
Vigneswaran married V. Santhi on November 6, 2009. The couple has two daughters, V. Yazhini and V. Kalaisri. He is working as a Senior Marketing Manager in the medical company, Sanofi India Ltd.
Literature
His first piece of work was published in his magazine Kanali. He mentions Puthumaipithan, Ku. Azhagirisamy, Thi. Janakiraman, Asokamithran, Dostoyevsky, Leo Tolstoy, Albert Camus, S. Ramakrishnan & Su. Venugopal as his influences in Literature.
Awards
Kanali's centennial special on Thi. Janakiraman has received the best essay compilation award from Padithurai Puthaga Arakattalai.
Journalism
As of 2019, he runs the online magazine Kanali, which focuses on art, literature, and ecology. It is his wish that Kanali stays away from global trends outside of literature and politics and focuses only on serious literature. He strives to give prominence to emerging writers, new translations, and special editions dedicated to pioneers in the literary world.
In two years, Kanali published 16 e-magazines, 6 special editions, and 6 paperback books.
Books
Books released by Kanali,
Thi. Janakiraman Nootrandu Sirapithazh (Editor) - 2021
Nakulan 100 - Nootrandu Sirapithazh (Editor) - 2021
Links
‎
---
✅Finalised Page