K. Subramania Pillai
From Tamil Wiki
இந்தப் பக்கத்தை தமிழில் வாசிக்க: கா.சுப்ரமணிய பிள்ளை ‎

K. Subramania Pillai (Kaa. Su. Pillai) (Kandhimathinathapillai Subramania Pillai) (November 5, 1888 - April 30, 1945) was a Tamil scholar and a Tamil literature history teacher. He was a Shaivite, a lawyer, a Tamil professor, a translator, an orator, and a speechwriter. He was multilingual with fluency in Tamil, English, Sanskrit, and Malayalam.
Birth, Education
K. Subramania Pillai was born on November 5, 1888, to Shaiva Vellalar Gandhimathinatha Pillai and Meenakshiammai. He received his primary education in a thinnai (porch) school in Tirunelveli. In 1906, he obtained the first rank in the Chennai Matriculation exam. In 1908, he topped the F. A (Fellow of Arts) examination in the University of Madras. He won first place as a student in a 'Pulavar' (Pundit) examination conducted by the Madurai Tamil Sangam. He won a prize organized for Tamil research, by Powermurket, an Englishman. In 1910, he graduated with a B.A. History. In 1913, he received his M.A. in English Literature and in 1914, he received his M.A. in Tamil Literature.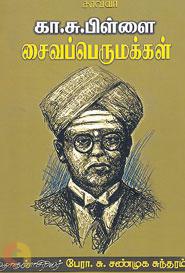 Biography
In Chennai
In 1919, he joined the Madras Law College as a lecturer, with the help of Judge Sheshadri Iyer. In 1920, Kaa. Su. Pillai delivered 12 lectures on the subject, Principles of Criminology, at the University of Calcutta; he received the "Tagore Legal Lecture Award" created by the Rabindranath Tagore family. In 1922, he became a member of the glossary terms committee created by the Madras presidency. In 1926, he was elected as a member of the governing body of South India Saiva Siddhantha Works Publishing Society Tinnevelly Limited, which was formed to publish books in pure Tamil, without mixing words from other language. He held that position until 1932. Sir Pitti Theagaraya Chetty, who was one of the founding members of the South Indian Welfare Association, helped Kaa. Su. Pillai to become a law professor. In 1927, he resigned as a law professor due to a new regulation at the Madras Law College.
In Nellai
Kaa. Su. Pillai returned to his hometown, Nellai (Thirunelveli), after resigning as a law professor. From 1927 to 1929, he engaged in historical research on 'Saivakuravargal' Sundarar, Seikizhar, and Manivasagar. He also engaged in writing the history of Tamil literature. In 1930, he resigned from Annamalai University and again returned to Nellai. He contested in the local elections and served as a member of the Tirunelveli Municipality. He served as the trustee of the Gandhimati Amman Udanurai Nellaiyappar Temple located in Nellai. Later, he established Thevara and Saiva Agama schools to lay the foundation for worship in Tamil.
In 1934, the Madras Presidency Tamil Conference convened for the first time in Nellai. Kaa. Su. Pillai took charge as the chairman of the reception committee of the conference, where he spoke about the greatness of Tamil language and the Tamil people. In 1934, Madras Presidency Tamil Association was started at Palayankottai as decided in the conference. Kaa. Su. Pillai held the post as president until 1938.
In Kanchipuram
Kaa. Su. Pillai lived in Kanchipuram from 1938 to 1940. He stayed with his friend, Isaimani Sundaramoorthy Oduvar, and researched about 'Thamizisai' (Tamil music).
In Chidambaram
He was a professor in the Tamil department, in Annamalai University, Chidambaram, during the academic year 1929-1930. Ten years later, he served as a professor again there for four years, from 1940-1941 academic year to 1943-1944 academic year. He retired on July 1, 1944.
He suffered from rheumatism while working as a Tamil professor for the second time at the Annamalai University. Therefore, he wrote his research papers and texts through his assistant. In 1944, he returned to Nellai, from Chidambaram.
Literary Life
Kaa. Su. Pillai wrote a book titled Tamil Ilakiya Varalaru, published in two parts, when he lived in Nellai, from 1927-1930. This was the first book that tried to define Tamil people and Tamil literature. He has written forewords for Thiruvasagam, Tirukural, Tirumurugatrupadai, and Siva Gnanapotham and the biographies of Appar, Sundarar, Sambandar and Manickavasagar.
Awards
In 1940, he was awarded the Palkalai Pulavar at Tirunelveli, by the Madras Presidency Tamil Association.
In 1940, a member of the Needhi Katchi (Justice Party), in the South Indian Welfare Association, and the prince of Chettinad, A. Muttaiah Chettiyar presented Kaa. Su. Pillai, a bronze badge in appreciation of his work.
Biography, Memorials
Kaa. Su. Pillai Varalaru- E.Mu Subramaniyapillai 1958 (Tirunelveli Saiva Siddhanantha Printing Society)
A pillar was erected in memory of Kaa. Su. Pillai on October 13, 1947 at the main junction in Tirunelveli, in the Kailasapuram Town Park, on the west bank of the Thamiraparani River.
The Kaa. Su. Memorial Literary Group was established in Kulithalai. One of the leaders of the Dravidian movement, Mee. Su. Ilamurugu founded this group. Kaa. Su. Pillai's Centenary year was celebrated on behalf of this group, at Kulithalai.
Death
Kaa. Su. Pillai died on April 30, 1945, at the age of 56.
Literary Significance
Kaa. Su. Pillai is notable for being one of the earliest researches in Tamil literature. He did not follow the research methods used by Manonmaniam P. Sundaranar or K. N. Sivaraja Pillai. It was noted that his studies were mostly written in accordance with the linguistic data of the texts. His Shaivite leaning had limited his researches. His foreword for Thirukural, which was written on the basis of Shaivism, is an example.
Works
S. No
First Edition
Second Edition
Third Edtion
Books
Pages
Publisher
01
1920
Principles of Criminology
02
1923
1927, July
Indhiya Samayangalin Surukka Varalaru
42
03
1932, August
Saiva Sithandha Vilakka Surukam
16
04
1924
1927, May
Saiva Sithandha Unmai Varalaru
40
05
1924, April
Sambandar Thevaram Eyarkai Porulazhagu
2+42
06
1925
1939, July
Arivu Vilaku Vaasagam
5+66
07
1925, August
Pandara Saathiram Pathinaanku
08
1925, December
1958, August
Saiva Siddhantha Sathaanasariyarkalum

Avarkalin Arul Noolgalum Saiva Sithandha Vilakkamum

4+90
09
1926
1947, June
Appar Swamigal Sarithiram
164
10
1927
1953, June
Gnanasambadha Swamigal Sarithiram
10+205
11
1927
Nandhanasaariyar Sarithiram (An excerpt from the novel, Saivasithandha Uraikothu)
12
1928
1947
Natharamoorthy Swamigal Sarithiram
8+208
13
1928
1954, September
Seikizhar Swamigal Sarithiramum Periya Puranam Aaraichiyum
154
14
1928
1947, March
Manivasaga Perumal Varalaru
8+124
15
1928
1958, June
Ilakiya Varalaru (Part 1)
20+269
16
1928
1958, June
Ilakiya Varalaru (Part 2)
20+516
17
1929
1955, June
Thirukural Pozhipurai
10+370
18
1929, March
Murugan Perumai
36
19
1929, May
Metaphysics of the Saiva Siddhanta System
4+38
20
1930, June
1955, March
Thaayumana Swamigal
4+207
21
1930
1958, February
Pattinathadigal Varalarum Noolaraichiyum
8+112
22
1932, June
1947
Kumaragurupura Adikal Varalarum Noolaraichiyum
4+6+134
23
1932, August
1949, November
Meikantaarum Sivagnana Podhamum
18+177
24
1933
Suthaathuvitham
25
1934
Andaal Varalarum Noolaraichiyum
26
1938
1952, December
India Varalaru Kadhaigal- Book 1
4+74
27
1938
1949, November
India Varalaru Kadhaigal- Book 2
4+92
28
1939
Pazhanthamizh Naagarigam Allathu Poruladhikara Karuthu
29
1938
Vanool
30
1939, May
1941, May
Ulaga Perumakkal, Part 1
136
31
1940, August
Ulaga Perumakkal, Part 2
6+141
32
1940, August
1948, May
1963, April
Sir P. C. Roy
6+122
33
1949, December
Sivagnanapotham Pozhipurai
6+81
34
1953
Tamizhar Samayam
14+134
35
1955, November
Sivagnana Swamigal Varalaru
36
Thiruvaasagam Pozhipurai
37
Thirumurukatrupadai Kuripurai
38
Kumaragurupararin Kandhar Kalivenba Kuripurai
39
Pala Pulavargal Iyattriya Thanipaadatriratu- Volume 1
40
Pala Pulavargal Iyattriya Thanipaadatriratu- Volume 2
41
Naalvar Varalaru (Meikandaar, Arunadhi Sivachariyar, Maraignana Sithiyar, Umapathi Sivachariyar)
42
Irayanaar Agaporul
43
Tamizh Noorkolgaiyum Tamizh Mozhiamaippum
44
Thirucholiyar Thurai Vilakkam
45
Thirunaan Marai Vilakkam
46
Saiva Sadangu Vilakkam
47
Meikanda Noolgalin Urainadai
48
Dhyanamum Vazhkai Uyarvum
49
Kadavulum Vaazhkai Nalamum
50
Ulaga Nanmaye Oruvan Vaazhvu
51
Makkal Vaazhkai Thathuvam
52
Vaazhkai Inbam
53
Udal Nool
54
Sivaprakasham- English Translation
55
Needhineri Vilakkam- English Translation
56
A Short Sketch of the Hindu Religion
57
A Note on Hindu Religion Endowment Bill
58
Tamil Blooms
59
Nature of Thevaram and Ancient Tamil Scripture
60
Porut Sattam
61
India Dhandanai Thogudhi- Volume 1
62
Lectures on the Indian Penal Code
63
Pathivu Vidhi
64
Kuttra Sattam
65
Thiruvandhiyar Thirukalittrupadiya
‎
---
✅Finalised Page