K. S. Venkataramani
From Tamil Wiki
இந்தப் பக்கத்தை தமிழில் வாசிக்க: கா.சி.வேங்கடரமணி ‎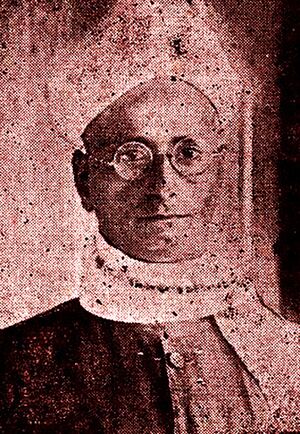 K. S. Venkataramani (1891-1952) or Kaveripatnam Siddhanatha Venkataramani was a lawyer who also wrote novels set in Tanjore. He incorporated Gandhian principles in his novels. He wrote the novel - Murugan the Tiller (1927) - based on the economic deterioration in rural regions, and the alienation of urban people due to urbanization, from the Gandhian perspective. It was translated into Tamil as Murugan Or(u) Uzhavan.
Birth, Education
K. S. Venkataramani was born in 1891, in Mayiladuthurai, to Siddhanatha Iyer and Yogambal. His father was a customs officer. Their ancestors were tax collectors since the Tanjore Maratha period. K. S. Venkataramani completed his schooling at Mayiladuthurai National High School. He completed his bachelor's degree from the Madras Christian College and obtained a degree in Law from the Madras Presidency College. He worked as an assistant advocate to C. P. Ramaswami Iyer.
Personal Life
There is no information available about his personal life. He worked as an advocate in Chennai briefly. Later, he was involved in rural reconstruction activities. He lived in Thirukadaiyur for a few years and then moved to Mayavaram. He worked as a rural development advisor in Alwar.
Journalism
K. S. Venkataramani wrote a letter to the 'Indian Patriot' newspaper in Chennai when he was in ninth grade, condemning the Mayuram municipality's corruption. It was published as an article (Oru Nirubarin Seythi). He wrote articles in 'The Hindu' and 'Indian Patriot' as a freelancer while studying at the Madras Christian College, staying at Victoria hostel. Students here functioned as a think tank and called themselves Olympians.
In 1922, he started a magazine titled Tamil Ulagu. However, he couldn't continue it after 2 years. In 1938, he started a magazine titled Bharathamani along with the then sub-editor of The Hindu newspaper, N. Ragunathan and popular writers such as Vigneshwara. P. N. Appusami, P. Sri and many other acclaimed writers wrote in Bharathamani Magazine. Pogurapokkil was a series in the Bharathamani magazine, written by K. S. Venkataramani when he was the editor, which became very popular.
Literary Life
K. S. Venkataramani has written articles and stories for 'The Hindu', 'The Madras Mail', and 'Triveni'. They were released as collected volumes titled 'Paper Boats' (1921) and 'On the Sand-Dunes' (1923). Only after this he wrote the novel Murugan the Tiller (1927) in English. In 1928, he met Rabindranath Tagore in Santiniketan. Following Tagore's advise to write in his mother tongue, he founded the Tamil Ulagu magazine. He wrote and published Jadadharan Mudhaliye Kadhaigal with Ragunathan's foreword. He wrote the novel Desabhakthan Kandan and translated it into English himself, under the title, Kandan the Patriot (1932).
Political Life
K. S. Venkataramani joined the Congress party to work as a Gandhian supporter. He was involved in Gandhi's rural development schemes. He founded an ashram "Markandeya" in Thirukkadaiyur for the development of villages. He was dejected with India's partition during independence, "I wasn't even able to smile on the 15th of August. The whole world seemed like a big lie, a hoax. It did not feel like our country got independence. It felt like a bee sting whilst harvesting honey. I was unhappy, although the government had declared a paid holiday, sweets were distributed to the children, Nehru delivered a speech in Delhi, and Thiruvaduthurai Adheenam handed over a golden scepter to Nehru. I too, like my leaders, have served in politics for thirty years, giving speeches." wrote K. S. Venkataramani in Bharathamani. Subsequently, he withdrew from politics.
Spirituality
K. S. Venkataramani was inspired by Annie Besant's principles and joined the Theosophical Society. Annie Besant wrote the foreword to his book "Paper Boats". Later, his focus shifted to Aurobindo from Pondicherry. He was a follower of Sri Annai as well.
He ran Swetharanya ashram for a brief period, near Kaveripoompattinam. Paul Brunton, who wrote about Ramana Maharishi in his book 'A Search in Secret India', mentions meeting Venkataramani, a spiritual seeker.
Death
He died in March 1951 in Chennai. He had tuberculosis and was being treated for the same.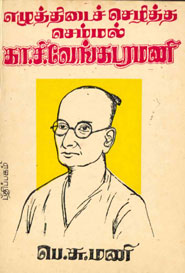 Biography
Literary Significance
K. S. Venkataramani was the second person in India to write a novel in English (the first one was Bankim Chandra Chatterjee, who wrote Rajmohan's Wife in 1864), says researcher, Aravind Swaminathan. One of the most important novels written with a Gandhian perspective is Desabhakthan Kandan. He mentioned that the character "Kandan" was based on Mahatma Gandhi, in his novel, City-Sivapathasundaram, .
Works
Short Stories
Pattuvin Kalyanam
Kagidha Padagugal
Manalmettin Midhu
Sambuvudan Orunaal
Articles
Marumalarchi Perum India
Adutha Nilai
Padaippu Kalayin Iyalbu
India Gramam
Jothidathil Nerpathai
Novels
Murugan Or Uzhavan
Kandan Oru Desabhakthan
English
Paper Boats (1921)
On the Sand-Dunes (1923)
Murugan the Tiller (1927)
The Next Rung (1828)
Renascent India (1929)
Kandan the Patriot (1932)
Jatadharan and Other Stories (1937)
The Indian Village (1936)
The Nature of Creative Art (1950)
Highways in Astrology. (1959)
My Pial Teacher & Other Stories From South-India
A Day with Sambu
References
‎
---
✅Finalised Page