K. Mohanarangan
From Tamil Wiki
இந்தப் பக்கத்தை தமிழில் வாசிக்க: க. மோகனரங்கன் ‎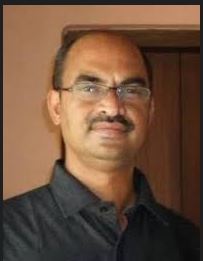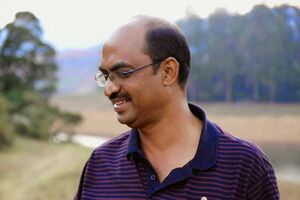 K. Mohanarangan (b. 18 May 1967) is a Tamil poet. K. Mohanarangan writes poetry, essays, articles and reviews, and does translations from other languages to Tamil.
Birth, Education
K. Mohanarangan was born to the couple: Kandan and Pachaiyammal on May 18, 1967, at Arasampattu village, Kallakurichi district, TamilNadu.
K. Mohanarangan completed his schooling in Arasampattu village. Obtained degree in engineering from Government Polytechnic College, Vellore and Government Engineering College, Salem.
Personal Life
K. Mohanarangan works as a vocational training teacher at Government Higher Secondary School, Vaiyappamalai, Namakkal. He married Kalpana in 1998 and they have a son Nirmaalyan.
Literary Life
During childhood, K. Mohanarangan was interested in reading comics and trace drawing the pictures of them. K. Mohanarangan says that he was introduced to the poetry of Abdul Rahman in the library in his village and later he familiarised other contemporary poetry through Deepam and Kanaiyazhi magazines.
K. Mohanarangan names Brahmarajan, R. Sivakumar, Yuvan Chandrasekhar and Jeyamohan as his ideals in literature.
K. Mohanarangan mentions that a poem which he wrote in 1987 during his college final years was published in the Kanaiyazhi magazine. Neduvazhitthanimai, (overlong solitude) his debut collection of poems, was released by Tamizhini in March 2000.
Literary Position
K. Mohanarangan continues writing about modern Tamil poetry, its trends and authors. K. Mohanarangan discourses regularly on the genres of modern Tamil literature and is one of its top critics and translators.
According to Poet Kandaraadhitthan K. Mohanarangan "adopted layers of imagery in his early efforts. The construct of his poetry's scenes, emotions, thoughts, and reflections somewhat deviates its time and distinctive in the way they are recounted, and so they are subjective as expressed by a traditional language, by theme, and through the modes of expression".
Awards
Devamagal Arakattalai Virudhu - 2003
Kavignar Aatmaanaam Virudhu - 2016
Books
Poem Anthology
Neduvazhitthanimai, (overlong solitude)
Meekaamam (marine trade)
Kallaap Pizhai (unlearned error)
Idam Peyarntha Kadal (deported sea)
Essay Collections
Maipothi ViLakku (gas-filled lamp)
Sol Porul Mounam (word purport silence)
Short stories Collections
Anbin Iynthinai (love's five locales)
Translated Works
Neerin Thiravukol: Piramozhi Kavithaigal (Poems from other languages)
Angey Sorkalukku Avasiyamillai (Romantic verses from other languages)
Kurangu Valarkkum PeN (of Leonard Michaels's A Girl with a Monkey - New and Selected stories)
References
‎
---
✅Finalised Page