K. Ganeshram
From Tamil Wiki
இந்தப் பக்கத்தை தமிழில் வாசிக்க: கே. கணேஷ்ராம் ‎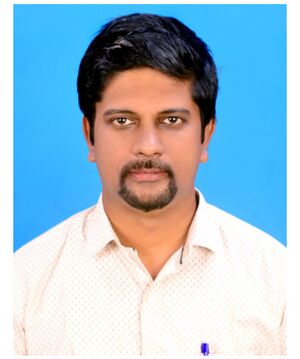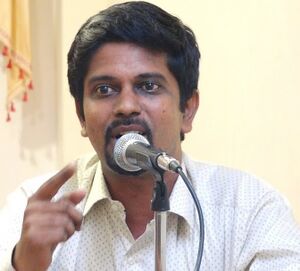 K. Ganeshram (b. January 19, 1981) is a Tamil writer, Translator.
Birth, Education
K. Ganeshram was born on January 19, 1981, in Cuddalore to couple, Krishnan & Rajarajeshwari. His schooling was in St. Joseph's Higher Secondary School, Cuddalore. He did his MA in English Literature from Puducherry University. His research topics were Comparative Literature, American Literature, and Post-Modern Fiction for receiving his PhD in English.
Personal Life
Ganeshram is an Assistant Professor in the Department of English at Annamalai University, Chidambaram. His Wife C. Bhuvaneswari is a Lecturer at Government College of Nursing, Cuddalore. They have two Daughters, Mathura Sri and Mithuna Sri.
Literary Life
K. Ganeshram's first story 'Gokulam' was published in 1994. The prize-winning story was published in Manikkathaikal (gem of stories) anthology published by Palaniappa Brothers publishers. In 2009, his first translation was published in Kalkuthirai magazine. His translations got published in independent magazines like Puthu Ezhuthu, Neetchi, Pavalakodi, Adavi, Kanali, Puravi, Sirukathai, Thanimai Veli.
Awards
In 1995, the short story 'Gokulam' won first prize in Azha.Valliappa Memorial Short Story Competition.
Vaasaga Saalai Award 2019 for Suzhalum Chakkarangal (wheels that spin)
Ananda Vikatan Award 2019 for Suzhalum Chakkarangal (wheels that spin)
Books
Translations
Kafkavin Nun Mozhigal (2020), (Orig. Franz Kafka's 'The Zurau Aphorisms')
Patthu Iravugalin Kanavugal (2021), (Orig. Natsume Sōseki's 'Ten nights of Dreams')
Suzhalum Chakkarangal (2019), (Orig. Ryūnosuke Akutagawa's 'Spinning Gears')
Moondru Rattha ThuLigal (2022 September), (Short story translations)
Links
‎
---
✅Finalised Page